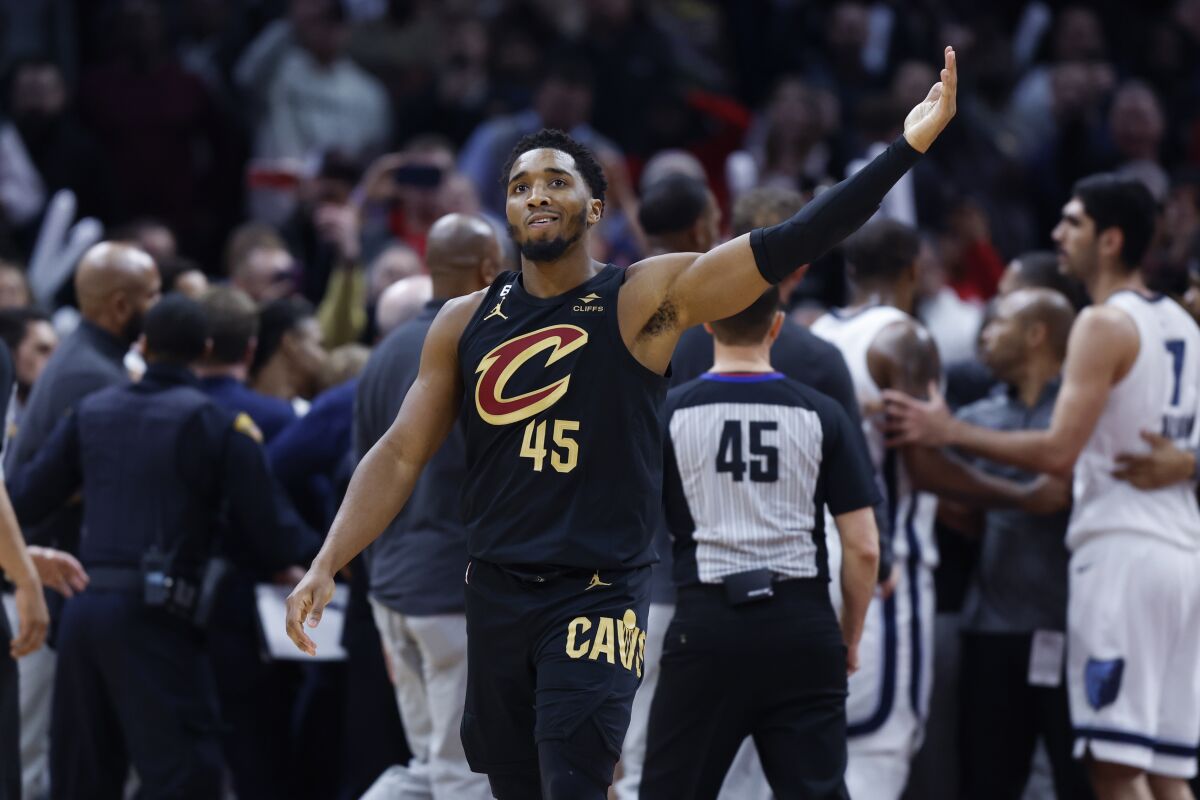 Cleveland – Cavs star, Donovan Mitchell, is done playing games with Grizzlies Dillon Brooks. After the game, he called on the NBA to act regarding Brooks' history of dirty plays. "A line has to be drawn. The NBA has to do something about it. I'm not the only person this has happened to and there's no place for that in this game."
What happened
In the third quarter, Cleveland was up 81-76 as Brooks missed a shot and fell. Mitchell was standing over him as the Memphis guard hit him in the groin area. Mitchell is recovering from a groin injury and dropped after being hit. He then threw the ball at Brooks and took it a step further by shoving him.
Dillon Brooks smacked Donovan Mitchell below the belt. Mitchell responded by throwing the ball at him.

Both players got into a shoving match and were ejected from Cavs-Grizzlies. pic.twitter.com/03PrK7NiRs

— HOTTOPIC SPORTS (@Moore256D) February 3, 2023
Rocket Mortgage Fieldhouse erupted in mayhem as the scuttle continued on near the seats. The officials were able to contain the two heated players before any additional physical contact happened. Mitchell and Brooks were both ejected from the game.
Darius Garland steps up
The Cavs point guard put up 32 points along with 11 assists to propel the team to a 128-113 victory over Memphis. Garland was a big factor in Cleveland's win with the loss of Mitchell. Cavs coach J.B. Bickerstaff spoke about Garland's performance after the game saying, "He was brilliant, he knew how important this game was to us and what we needed from him. That's what leaders do."
🔥 32 PTS
🔥 11 AST
🔥 4 Threes

Darius Garland leads the Cavs to victory. pic.twitter.com/UhKRNTLDTI

— NBA (@NBA) February 3, 2023
Garland is having a great start to the season however was not chosen as an All-Star reserve by the coaches. Mitchell was voted an All-Star last week.
Mitchell & Brooks beef nothing new
The bad blood between Mitchell and Brooks has been ongoing for years. As Mitchell was a player with the Utah Jazz, he faced Brooks frequently. "That's just who he is," said Mitchell. "We've seen it a bunch in this league with him. Him and I have had our personal battles for years. There's no place for that in the game. This has been brewing for years with me and other guys in the league…this isn't new."
Mitchell spoke about the typical back and forth trash talking between players. He said "that's fine, that's all a part of basketball. We all grew up playing that way." He went on to clarify, "But when you start doing cheap shit, that ain't it. That's where my frustration lies."
Brooks declined to talk about the incident after the game. His teammate Ja Morant answered for Brooks, stating that no one would be discussing it with the media.
Donovan has more digs on Brooks
Although, Brooks declined to speak on it, Mitchell had more to say. He left no doubt on how he feels about Brooks and how he chooses to play the game.
"It's tough when you can't guard somebody you gotta resort to that." Mitchell said "and that's what he's done to a lot of players…off of the top of my head I know he does it to Dame and Steph… it's just one of those things you resort to and it's cool I'm just glad my guys held it down tonight and had my back like I said, If you can't guard somebody just say that and get a switch."
The Junkyard Dog chain was given to Mitchell after the win. Coach Bickerstaff introduced the chain last year as a reward given to a player after each team win. It symbolizes not only being an underdog but being gritty and scrappy. On Thursday night, there wasn't a more appropriate way to acknowledge Mitchell defending himself.

NEO Sports Insiders Newsletter
Sign up to receive our NEOSI newsletter, and keep up to date with all the latest Cleveland sports news.