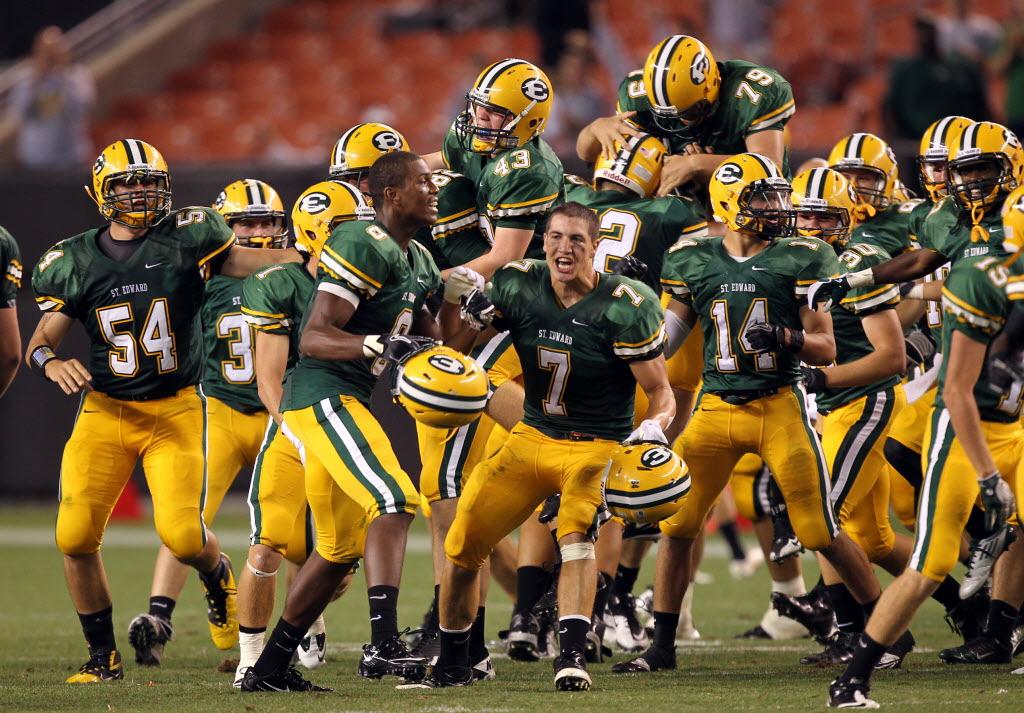 Lakewood St. Edward will face its biggest test of the season with the most on the line.
The Eagles (13-1) will square off with Huber Heights Wayne (14-0) in the Division I state championship game for the second season in a row and third time overall. The game is scheduled for 3 p.m. Saturday, Dec. 5 at Ohio Stadium on the campus of The Ohio State University.
St. Edward defeated the Warriors, 31-21, last season and topped them, 35-28, in 2010 when they had a highly-ranked recruit, Braxton Miller, at quarterback.
This year, in looking for the third state championship in school history, St. Edward will have to contend with another standout quarterback, perhaps the best it has faced since Miller…Michigan State signee Messiah deWeaver, a 6-3, 215-pound pro-style quarterback that has put up incredible numbers in leading Wayne to a perfect season thus far.
deWeaver, who transferred from Trotwood-Madison, is the 10th-ranked recruit in the state. He has completed 158 of 258 passes for 2,754 yards with 30 touchdowns and just two interceptions this season. His favorite target, 6-4, 215-pound sophomore L'Christian "Blue" Smith, has 51 catches for 1,197 yards and 16 touchdowns.
"He's right in the realm of great ones," St. Edward coach Tom Lombardo said of deWeaver. "We've run the gambit (of quarterbacks). Some of our guys will be able to tell their kids on Sundays that they remember playing against these guys. He's got a great arm and is accurate. He's got great poise. He's always looking down the field and has a lot of maturity."
The Warriors have a running game as well. Although they do not have a 1,000-yard rusher, the trio of Fred Pitts (5-9, 190-pound junior), senior Antwand Wilson (5-9, 220) and senior Daryl McCloskey (5-9, 180) give deWeaver three weapons that can pick up yards on the ground.
Pitts carried the ball 129 times for 789 yards and 12 touchdowns. Wilson picked up 586 yards and eight touchdowns on 57 carries while McCleskey gained 463 yards on 42 carries and found the end zone 10 times.
McCleskey is also a threat catching the ball out of the backfield. His 34 receptions was third on the team and were good for 730 yards and five touchdowns.
"This year's team is a much more complete team," Warriors coach Jay Minton said. "We have it in all three phases of the game. Last year we lacked it in special teams and our run game. Our defense is continuing to play lights-out. Our special teams made a bunch of big plays the other night. The defense has stepped up and our offense hasn't turned the ball over, which is why we defeated our last two opponents."
The Eagles have been a bit susceptible to the pass this season, giving up 2,449 passing yards so far while picking off just eight passes. They have also surrendered 104 first downs through the air.
Lombardo knows Wayne has many more weapons than just deWeaver.
"Wayne is the complete team," Lombardo said. "They have athletes everywhere who can run and throw the ball and catch. They have a similar to ours in style. They have good defensive tackles and a secondary that can run. They are as good as anyone we have played."
St. Edward, when it has the ball, will be difficult for the Warriors to contain. Senior running back Cole Gest, the career rushing record-holder at St. Edward, has gained 1,975 yards with 23 touchdowns on 247 attempts this season. He sits just 25 yards short of 2,000 this season and broke the school career rushing record previously held by Raishon Stover (1999-2001, 3,829 yards) in the Eagles' 33-0 third-round win over Euclid.
Gest has verbally committed to play in college at Indiana.
"Congratulations to him; he's a super back," Lombardo said of Gest breaking the record against Euclid. "Right from that opening drive and throughout the time he was in he had it going."
St. Edward quarterback Jimmy Keefe has had a solid season, completed 142 of 270 passes for 2,298 yards with 24 touchdowns and eight interceptions. Keefe also has 375 rushing yards with five touchdowns.
"We stress accuracy and decision-making," Lombardo said about his quarterback. "Sometimes a throwaway is more important than making a completion. He's capable of doing it when called upon. A lot of it has to do with whom we play."
Keefe's favorite target, Matt Gonzalez, has 40 receptions this season for 683 yards and nine touchdowns. Seniors Teddy Gordon (29 catches for 465 yards and five touchdowns) and Carl Jones (26 receptions for 452 yards and four touchdowns) are active targets for Keefe as well.
Defensively senior Mike O'Malley, the Ohio defensive player of the year, is a difference-maker. O'Malley had 15.5 sacks this season and eight tackles for a loss.
Minton knows his Warriors have a difficult task in front of them against the top-ranked Eagles.
"We lost to a great St. Ed's team last year, maybe the greatest they have had," he said. "I don't know that they are much different (than last year's state championship team). They have Cole Gest back there.
"They have a good run game. The quarterback who has stepped in this year has done just a great job. When we look at St. Ed's we see a lot of what we saw last year. They have a great defensive line. They have linebackers who can run to the ball. The secondary is very smart.
"They might not be as talented as last year there (in the secondary), but they have (Tony) Butler there. This year they play great angles and don't get beat. Their offensive line is sensational the way they come off the ball and control the line of scrimmage. They can do a lot with Cole Gest. Along with the kicking game, it is a lot like last year."
Wayne is the second-ranked team in the state (after St. Edward) and is one of three undefeated teams left in the state across all divisions. They beat Cincinnati Colerain last weekend in a game that was tied 7-7 at halftime. Colerain mistakes led to 21 straight second half Wayne points…a bad snap on a punt gave the Warriors the ball at the Colerain 10-yard line that allowed the Warriors to take a 14-7 lead into the fourth quarter.
After that a 33-yard interception return by Daryl McCleskey set up a one-play touchdown drive that deWayne cashed in with a 26-yard touchdown pass to Matt Wilcox. The Warriors went up 28-7 before Colerain stormed back in the fourth, scoring a pair of touchdowns before being unable to come up with a late onsides kick.
Lombardo knows the Warriors are hungry for the first state title in school history.
"We played one of the toughest schedules in the country, including against teams still alive in their respective playoffs in New Jersey and Florida," he said. "The Ohio teams we played are formidable. We've weathered storms, we've been ahead in games, we've been behind…we've had to make runs at the end of games.
"Our resiliency (defines this team). We've had games when the defense had to make big steps and the offense has had to convert. We've run the ball well in certain games. We've passed the ball well in certain games. Our players' resiliency and wanting to prove they belong when a lot of people doubted the could do this after all the great players graduated from last year."
NOTES: St. Edward and Wayne have two common opponents, Canada Prep and Cincinnati Moeller. The Eagles defeated Canada Prep, 42-10 while Wayne knocked them off, 38-0. St. Edward defeated Moeller, 49-17, while the Warriors defeated them in a tight game, 24-22. … St. Edward is looking for its third Division I state title in the last six years. … The Eagles' lone loss of the season came on the road at St. Joseph Regional in Montvale, New Jersey, 22-20. … This is Tom Lombardo's first season at the helm at St. Edward. He was 23-7 in three seasons at Mentor Lake Catholic, winning the state title in 2001. Lombardo next spent eight years at Medina Highland where he compiled a 61-29 record and took the Hornets to the playoffs five times. … Wayne's Jay Minton is in his 17th season at the school. He has a 163-48 record at the school. … Huber Heights Wayne plays in the Greater Western Ohio Conference, a Dayton-area big-school conference. … St. Edward has a streak of seven straight shutout quarters defensively. … Messiah deWeaver, Wayne's quarterback, took Trotwood-Madison to a pair of state championship games, losing to Akron St. Vincent-St. Mary in the 2013 Division III contest and falling to Toledo Central Catholic in the 2012 Division II title game.
Contact Mike Perry at macsportstalk@gmail.com

NEO Sports Insiders Newsletter
Sign up to receive our NEOSI newsletter, and keep up to date with all the latest Cleveland sports news.