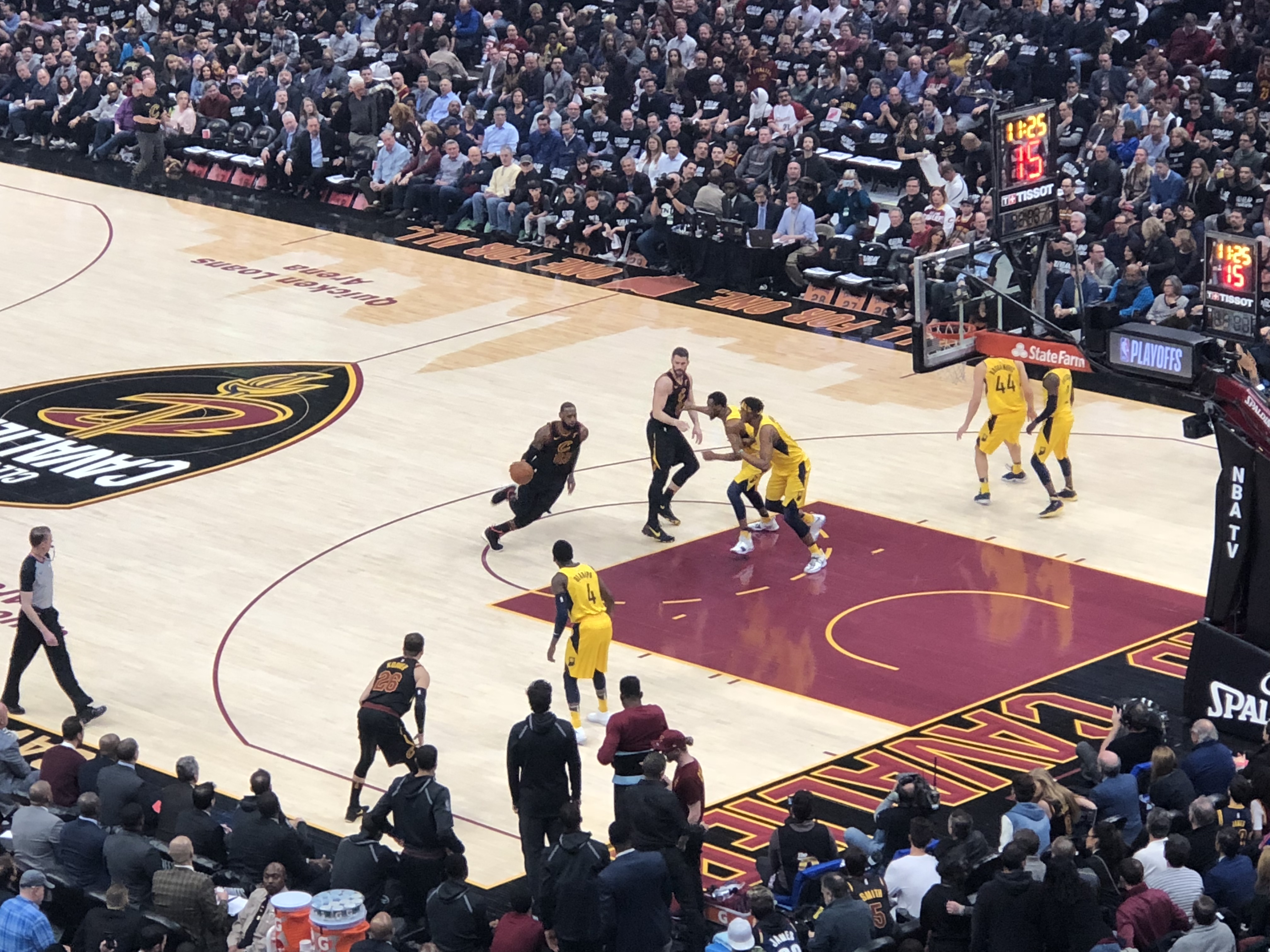 CLEVELAND– The Cleveland Cavaliers still have plenty of questions they need to answer heading into Game 3 of their opening round playoff series against the Indiana Pacers.
Whether or not they have the best starting lineup isn't one of them.
In Game 2 on Wednesday night, head coach Tyronn Lue made two key changes to the Cavs' starting lineup: substituting Kyle Korver and JR Smith for Rodney Hood and Jeff Green. That new lineup of Korver, Smith, LeBron James, Kevin Love and George Hill gives us something we have seen plenty of times throughout the last four seasons: James and four shooters to help spread the floor.
Over the years, it's been pretty effective. Opposing teams' defenses are forced to respect the other four shooters on the court, which allows James to take advantage of gaps and driving lanes. Throughout the first quarter yesterday, it worked as well as the Cavs hoped. James went on a 16-1 run by himself in the first six minutes of the game. It was the most points that any player has scored in the opening six minutes of a playoff game in the last 20 seasons, per ESPN Stats and Information.
According to James, the reason the lineup worked so well is the familiarity it provides. After Wednesday's shootaround, James said that he felt like the Cavs had to get used to so many new players that they were never able to really prep for the postseason. With this new lineup, those issues aren't necessarily the same.
"I mean I think it's just familiarity, that lineup to start tonight," he said following the 100-97 win. "You got four guys that's played in postseason games before, and then you have G-Hill who's got his own postseason experience as well. That definitely helps from that standpoint. It allowed JG and Rodney to get settled into the game before their numbers were called, so I think it worked well for us tonight."
LeBron said the biggest thing with the new starting lineup was familiarity pic.twitter.com/LHbK9Gn5id

— Ashley Bastock (@AshleyBastock42) April 19, 2018
Lue said that he had wanted to start Korver in the playoffs for awhile now. But given everything Korver has been through in the last month, between the death of his younger brother, Kirk, and a bruise in his foot that also caused him to miss games, both Lue and Korver wanted to make sure he was in a rhythm before they put him in the first unit.
From there, the addition of Korver opened things up to add that fourth shooter in the lineup in Smith.
"By putting him in the starting lineup, we had to also insert JR because I'm comfortable with JR, I've been there before with JR, I know what JR brings, and then he can guard (Victor) Oladipo as well," Lue said.
On lineup change, Lue says e had wanted to start Korver for awhile but given all that he went through over the last month wanted to make sure he was in a good rhythm. Says with JR he is comfortable and knows what he brings. pic.twitter.com/5sTU2SpikY

— Ashley Bastock (@AshleyBastock42) April 19, 2018
To go along with James' game-high 46 points, the only other starters to join him in double figures were Love with 15 and Korver with 12. But Smith certainly did make a difference on Oladipo defensively, and Hill wasn't as productive as he would have liked to be due to foul trouble.
Of course, despite the lineup change, this team is far from perfect. The Cavs still required an other-worldly performance from James to pull this one out, and they still had plenty of opportunities where the game could have gotten out of control. Most notably, with 27 seconds left, the Cavs had a miscommunication on a defensive assignment that gave Oladipo a wide-open 3-pointer that would have tied the game had it gone in.
"We got lucky," James said. "We gave up a wide-open 3 to Oladipo, and he missed it. I'd rather be on time and on target than [us] being lucky, so we've got to do a better job late in games, and not give up a shot like that. That's easily something he can make."
LeBron on that open Oladipo 3 on end the game: "We were lucky. I would much rather be on time, on target than be lucky." pic.twitter.com/8ArabPtCnU

— Ashley Bastock (@AshleyBastock42) April 19, 2018
It also certainly didn't hurt the Cavs that Oladipo played just 28 minutes because of foul trouble. He still, however, managed to drop a team-high 22 points. After the game, Indiana head coach Nate McMillan said he thought Oladipo never really found his rhythm. If he had, it is certainly a possibility that the Pacers would have over-powered the Cavs down the stretch.
The starting lineup isn't an issue anymore, but even Lue acknowledged afterwards that the Cavs are going to need more than James' heroics going forward.
"I need to see more out of a lot of guys," he said bluntly.
Even though one problem has been solved, the Cavs still have plenty more to take care of if they hope to advance.

NEO Sports Insiders Newsletter
Sign up to receive our NEOSI newsletter, and keep up to date with all the latest Cleveland sports news.