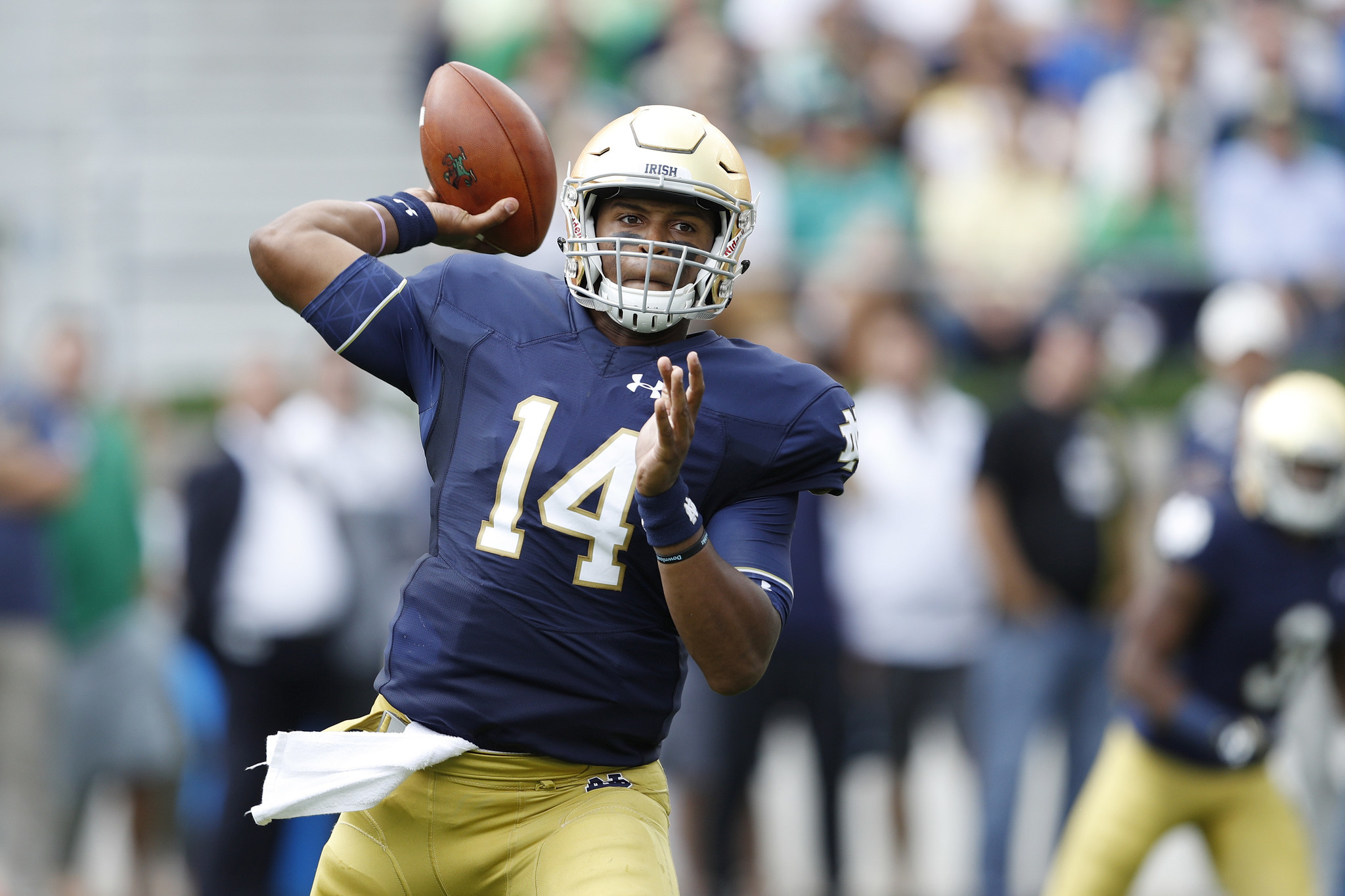 QB DeShone Kizer:
On the first two days of the NFL Draft:

"It's definitely a different experience. Obviously, being in Philly yesterday was a unique experience. I had a great time. To sit there and wait and try to figure out where you are going to land is definitely new to me. Obviously, the wait was well worth it now that I'm going to be able to stay at home and call myself a Cleveland Brown."

 

On if he was a Browns fan growing up:

"I was never really a big Browns fan, but obviously, I have much respect for them being from Ohio. There are so many fans around, and my whole family is Cleveland Browns fans. After making the decision to go to the NFL, there is an obvious connection between myself and their situation. From the experiences I was able to go through in this 2016 season, the experiences of going through the 2015 season and comparing them, from having some success to not as much success, I will be able to hopefully bring that over and continue to learn as much as I possibly can, and then try to do whatever I can to contribute to winning some games."

 

On where he is currently:

"I'm in Toledo right now."

 

On his pre-draft contact with the Browns and if he believed there was a possibility to be picked by the team:

"Absolutely. I was able to create a pretty good relationship with both Mr. (Executive Vice President of Football Operations Sashi) Brown and (Head Coach (Hue) Jackon, (quarterbacks) and Coach (David) Lee. Being from this area and playing right down the road at Notre Dame, I was able to already get to know those guys through the relationships I was able to create off of the field. Going into the Combine, I had two informal (interviews) with them, a formal and then they came and saw me before my pro day. I was able to work out for them and then finish it up with a facility visit. I was able to go complete circle with those guys, get to know them and explain who I was to them. Obviously, I owe it to them for pulling the trigger on me."

 

On his comments during the Combine about enjoying the game more:

"I think that fun needs to come out on the field. The serious sense and the preparation that it takes to be successful is something that I will continue to have, always. Obviously, my process is going to continue to grow now that I'm able to do this for a living. I will put as much time and effort that I possibly can into understanding the playbook and doing whatever I can to contribute. As far as being on the field and actually doing it, that is going to be the opportunity to let loose and play the game. That is when the fun comes. You are not having fun if you're not winning. The seriousness and the preparation will continue to remain the same, but out on the field is where I will be able to have my good times."

 

On if he can improve his accuracy in the NFL and why he may not have been as accurate as he desired in college:

"Absolutely. I think accuracy and consistency are two good questions that have been asked quite a bit in the past couple of months going into the draft. I have already made some adjustments, and I am very confident. Through workouts with Coach Jackson and Coach Lee, I was already able to make some minor switch-ups with them. It has helped me out quite a bit already. With that, I am very confident that once I get into their system and I am able to be in their facility with them that those improvements will continue and I will be able to become a much more accurate thrower."

 

On further explaining his comments about himself and Patriots QB Tom Brady and Panthers QB Cam Newton:

"I was talking about where I wanted to aspire to be. A guy like Tom Brady, who is a guy who has won quite a few championships, that came from his preparation and his understanding of his offense and the defense that he's playing against. Cam Newton is a guy who has an extreme amount of athletic ability, and that is a guy that I aspire to be. If I can set some goals for myself, those are two guys that I am going to try to emulate, as far as the preparation that it takes to get to the elite level."

 

On clarifying his current location:

"I'm actually in Toledo, Ohio. I'm back home. I came back from Philly last night and was able to come to Toledo, which is obviously right down the road. I'm only about two hours away. If I yelled loud enough off of this balcony, I am sure you guys could hear me."

 

On digesting negative comments from individuals who say he may not be ready for the NFL and could have benefited from another year in college:

"To digest that is just to understand that there is a lot of room for improvement. I do have a lot of room for growth, and I will grow consistently. I just can't wait to get into that facility and start to learn and to pick up all of the different things that I need to pick up in order to try to contribute to the team as much as I possibly can. Once again, there is a lot of room to go ahead and grow into the NFL and I can't wait to do that."

 

On learning from Hue Jackson:

"I cannot wait to learn from Coach Jackson. Even these last couple of months getting to spend a little time with him, he has been able to make a couple of adjustments to my footwork and to my mentality that allowed me to be a little more consistent and accurate within just a month or two. I can't wait to actually be with them where we can spend as much time together as needed to maximize the potential that I think I have." 

 

On what he learned being on a team that wasn't as successful as desired last season:

"I learned that there is so much that goes into winning. So many guys take it for granted. Especially elite college athletes who experience success in high school and in college, they really don't understand what goes into that. I was able to understand that there is a lot more that goes into winning games then just throwing a tight spiral. There is leadership, there is culture and just so many things that go into that. I will continue to learn from it as I move forward. I will be able to evaluate what situation I'm in and try to be the best asset that I can be for the team." 

 

On assessments of him being successful in most areas but not necessarily consistent:

"I believe there is a lot of potential. I believe there is a lot of room for growth. I think coaches like Coach Jackson and Coach Lee will be able to make some of these things a little more consistent. Absolutely."

 

On possibly being the guy to end the long run of QBs in Cleveland:

"Absolutely. My goal right now is to figure out a way to figure out a way to learn as much as I can to even get myself on that list and to try to find some success. There is a lot for me to learn in the next couple of months. I just look forward to getting there and learning those things."

 

On if he is comfortable in a leadership role:

"I'm very comfortable. Coming from a school like Notre Dame, you are required to have responsibilities on and off the field. I think I'm well-polished in that area. I'm looking forward to taking it to the next level under the lens of one of the greatest coaches out there in Coach Jackson. I can't wait to be a sponge and take in everything he has to say and try to apply it to my game and to my off-the-field leadership."

 

On his familiarity with the Browns roster and the team's three first-round picks:

"I'm pretty familiar with it. I was able to get to know a little bit about it as I moved forward. I know the quarterback room is very talented. I'm going to have to come in and compete, and I look forward to it. As far as all the skill positions, there are going to be a lot of weapons around me and an offensive line that is anchored with one of the best tackles in the game, if not the best tackle in the game. I just can't wait to get there and learn more about it and to do whatever I can to help the team as much as I can."

 

On having periods of success and periods of inconsistency last season during the course of one game:

"As a quarterback you need to be able to be the same guy every play, every rep. Last year, I wasn't able to do that as much as I would have liked to. I think that has a lot to do with mechanics and footwork. There is a lot that goes into being a good quarterback. I honestly think this is the best opportunity for me as far as teams to be selected to and to be around a great coach who can fix those lulls and create some consistency. I can't wait for Coach Jackson to go back and continue to allow me to improve from that last year and to take those spurts of greatness and allow that to push forward for a long time."

NEO Sports Insiders Newsletter
Sign up to receive our NEOSI newsletter, and keep up to date with all the latest Cleveland sports news.