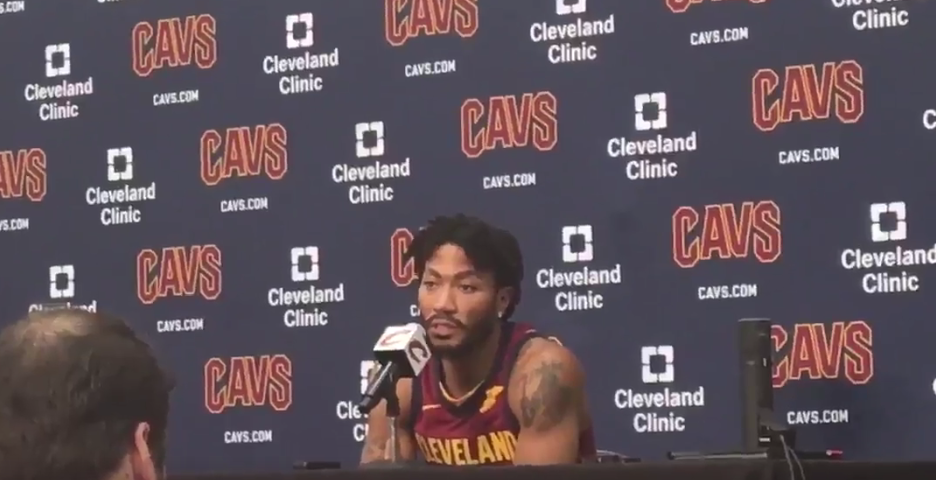 INDEPENDENCE, OHIO– Considering all the offseason drama that surrounded the Cavaliers, it's understandable that Derrick Rose joining the team has been pushed into the backs of most people's minds.
Rose has arguably been the most overlooked Cavs acquisition this offseason, especially considering that he signed a veteran-minimum contract, and was expected to come off the bench behind Isaiah Thomas.
Prior to the start of Cleveland's 2017 Media Day, the team offered an update on Isaiah Thomas' hip. With Thomas likely out until January, head coach Tyronn Lue confirmed that Rose would be named the starting point guard.
Last year, Rose had a quietly good year, averaging 18 points, 3.8 rebounds and 4.4 assists in 64 games for the New York Knicks. But, considering those within and around the league still tend to think of Rose for his injury-riddled years following his league MVP win in 2011, and considering the fact the Knicks had a 31-win season, those individual numbers hardly got much attention.
"That's every year with me, that's every year," Rose said at media day when asked about if he felt like he has been overlooked. "I don't really know why. That's not my job to really get into it."
"I take bits and pieces of material that I do think will fuel me into the offseason that I'll work on. But, my job is not to listen to what everybody says. I'm the player, I know how good I am. And, I'm 28. People act like I'm 38 years old. I'm 28. But my job is not to brag or boast about it. It's to let them see me on the court and they judge and they make their opinions after that."
Derrick Rose on whether or not he feels he is overlooked, how it fuels him. pic.twitter.com/i30cP0rzA6

— Ashley Bastock (@AshleyBastock42) September 25, 2017
Rose clearly has the self-confidence the Cavs will need from him in the starting role, but it's clear that his teammates and coaches also feel that way, particularly after seeing him out in pre-camp workouts in California.
"I'm excited more than anybody about Derrick, D-Rose. The kid has a lot to prove," LeBron James said.
"I've been a fan of him for a long time, and I never thought in my wildest dreams that I'd be a teammate of his. I think he had a hell of a season last year and people don't really see it because of the chaos that was going on in New York. … I'm excited to have him here because I want people to know that D-Rose can still play the game at a high level."
"A guy getting a second chance, so to speak," Kevin Love said, echoing James' sentiments. "A chance to compete for a championship. I think he's hungry for that. He's continued to be vocal about wanting to win, and I think he's going to speak that into existence."
While the confidence is there, there is no doubt that a Cavs team with Rose at the primary point guard spot looks very different than a team led by Kyrie Irving. While Rose said he considers Irving to be a "hell of a player," he recognizes they do not have the same job.
"My job is to get guys open," Rose said. "I've been working on my game with opening the floor. Of course, when you're playing with LeBron you've gotta be ready for open shots. But, I think playing up here, playing in Calabasas they saw the way that I passed the ball and were surprised with I guess my IQ and the way that I did pass."
Derrick Rose in being the starting point guard pic.twitter.com/ZH7jsvyca4

— Ashley Bastock (@AshleyBastock42) September 25, 2017
Regardless of all his past injuries, the drama he is leaving behind in New York, and the drama the Cavs are leaving behind in the summer, the thing that Rose seems most appreciative of is the environment he is coming into.
Even with the loss of Irving, the Cavs are still the favorites to win the East, clearly a fact that isn't lost on Rose.
"Everyday you have to bring it," he said. "It's very exciting. That's one of the reasons I chose to come here."