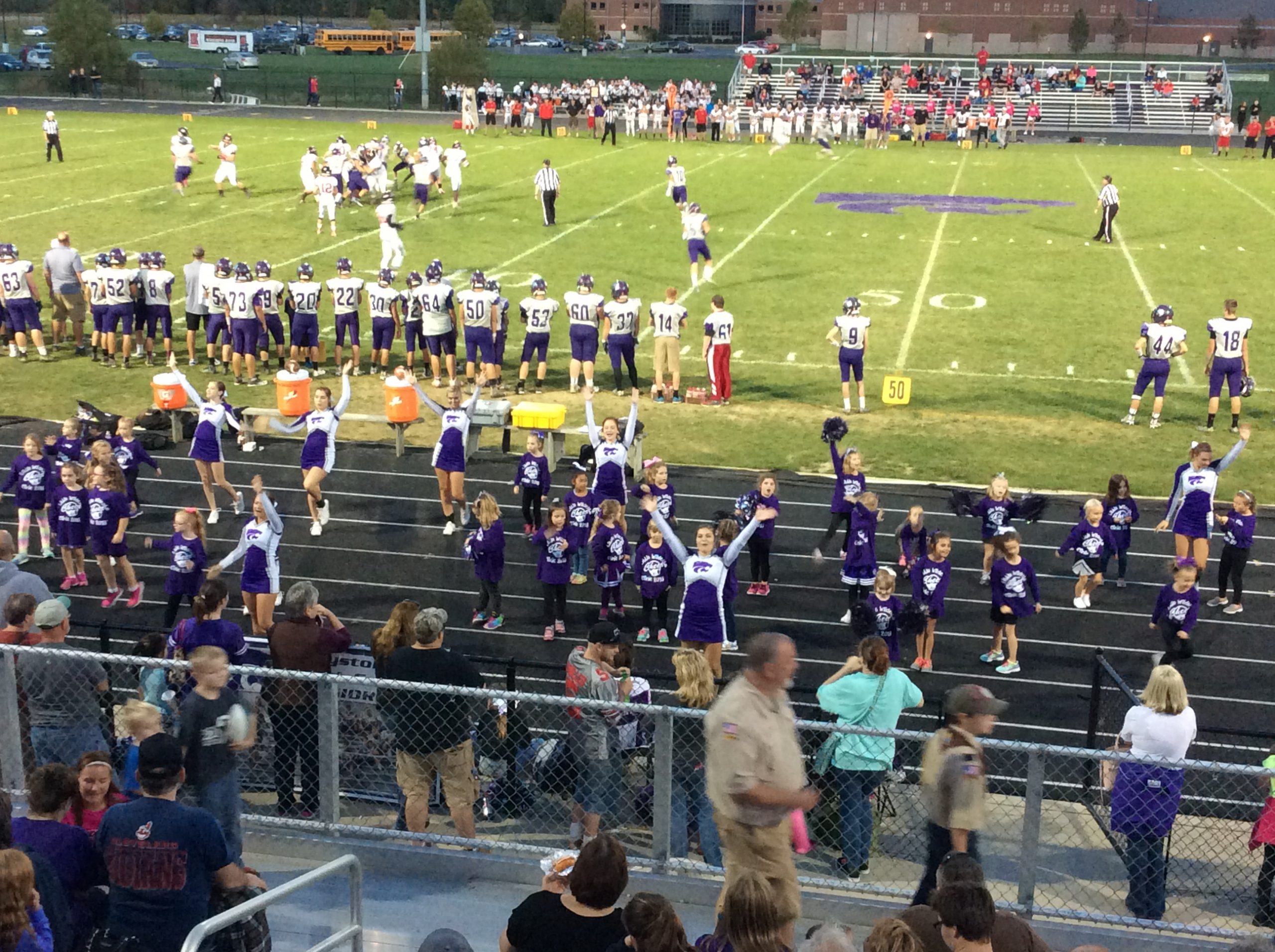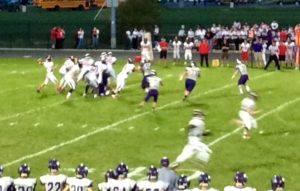 This game recap is brought to you by B.A. Sweetie Candy Company, 6770 Brookpark Road, Cleveland, Ohio.
LaGrange, Ohio – Keystone put up impressive rushing numbers against visiting Brookside Friday night, but it was the Wildcats defense that won the game.
With less than two minutes remaining in the game, and the score tied 14-14, Brookside had the ball and a chance to win. Not so fast. The Wildcats defense had put Brookside quarterback Jonathan Hice on his back three times in the game, and with the Cardinals backed up to their own 2-yard line, the Keystone defense went after him again, this time forcing an errant throw, which was tipped in the air and fell right into senior linebacker Cade Christoff's hands, as he trotted two yards to paydirt, winning the game for the Wildcats, 21-14.
"I've been talking about getting an interception all year long, and it just so happened that it came at a real good time in the game, and I took it into the endzone," Christoff said. "I had to get it into the endzone – there was no way I was going down before crossing that line."
Keystone (6-1, 2-0) started the scoring in the game on two Kyler Staller 2-yard touchdown runs, and went into halftime up 14-0. But, Brookside changed its strategy in the third quarter and Hice threw for two touchdowns, with the first coming on a short 3-yard pass to Tim Knapp in the third quarter, but it was the 82-yard bomb Hice threw to Charles Liggitt in the fourth quarter that tied up the game at 14-14.
"The Keystone defense is stellar, but our kids found a little flaw there and we made plays," Brookside coach Paul Ferguson said. "The bottom line is that their defense won them the game."
"We said that whatever success we have this season is going to revolve around our defense," Keystone coach Rob Clarico said.
The loss puts Brookside at 1-6 (0-2 in the PAC Stars Division).
Game Stats:
Keystone 21, Brookside 14
Keystone 7 7 0 7 – 21
Brookside 0 0 7 0 – 14
SCORING
(K) Kyler Staller, 2 run (Joey Grega kick)
(K) Staller, 2 run (Grega kick)
(B) Tim Knapp, 3 pass from Jonathan Hice (Owen Rozanc kick)
(B) Charles Liggitt, 82 pass from Hice (Rozanc kick)
(K) Cade Christoff, 2 interception return (Grega kick)
Team Statistics K B
First downs 21 5
by rushing 13 1
By passing 6 4
By penalty 2 0
Yards rushing 232 3
Yards passing 83 237
Total offense 315 240
Passes att./comp. 11/20 10/19
-Intercepted by 0 1
Fumbles/lost 1/1 1/1
Penalties/yards 3/20 6/60
Individual statistics
RUSHING – (K) Kyler Staller 24-119, Bobby Weber 22-102, Cory Hartle 2-6, Trey Minnich 2-5; (B) Tim Ackerman 9-15, Jonathan Hice 9- (-12).
PASSING- (K) Weber 11-20-83-0-0; (B) Hice 10-19-237-2-1.
RECEIVING- (K) Minnich 6-59, Ty Cowling 2-26, Patrick Shippy 2- (-4), Justin Cooper 1-2; (B) Liggitt 3-89, David Chambers 2-93, Brad Huhn 2-31, Ronald Rivera 2-21, Tim Knapp 2-3.

NEO Sports Insiders Newsletter
Sign up to receive our NEOSI newsletter, and keep up to date with all the latest Cleveland sports news.