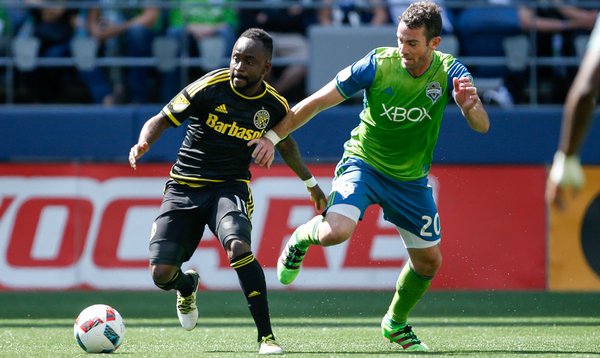 Today's match in Columbus didn't really get exciting until the final few minutes when Seattle's Jordan Morris hit a left-footed close range shot into the bottom left corner past Crew goalie Steve Clark.
"Three in three for the U.S. international and a late late goal for your Seattle Sounders!" #SEAvCLBhttps://t.co/bydVZ4Wd4w

— Seattle Sounders FC (@SoundersFC) May 1, 2016
Aside from that goal, Clark had a great game making seven saves on eight shots.
That's a big NO from Steve! #CrewSC #SEAvCLB pic.twitter.com/NpAHNQlTzs

— Columbus Crew SC (@ColumbusCrewSC) April 30, 2016
The Crew only managed to put a quarter of their shots on goal (4 for 16) to Seattle's 8 of 16.
The Sounders were better on defense and able to limit the Crew's shot attempts by not allowing the Crew to take a variety of distance shots from various locations, while the Sounders were able to take more shots from a variety of locations from farther away which drew the Crew's defense out just long enough and at the right moment during the 88th minute to sneak past them and score from only a few feet away. Seattle was better on defense by forcing the shots more toward the inside of the field where the defensive help was more readily available.
After the only goal of the game, the Crew would get off 3 shots in the 90th minute from Ethan Finlay, Waylon Francis and Kei Kamara, all blocked by Seattle's goaltender Stefan Frei who needless to say had himself a good outing in front of the home crowd of Seattle. Time of possession was split down the middle 50-50.
After the loss today against Seattle, the Crew now sits in 9th place in the Eastern Conference with 8 points (3 for a win, 1 for a draw, and 0 for a loss) and an overall record of 2-4-2 (wins-losses-draws). The Montreal Impact is currently in first place of the Eastern Conference with 14 points and the Colorado Rapids are atop the Western Conference with 17.
Next up for the Crew is a home match on Saturday May 7th against the top team in the Western Conference, Montreal Impact SC. Match begins at 7:30 ET. Go Crew!