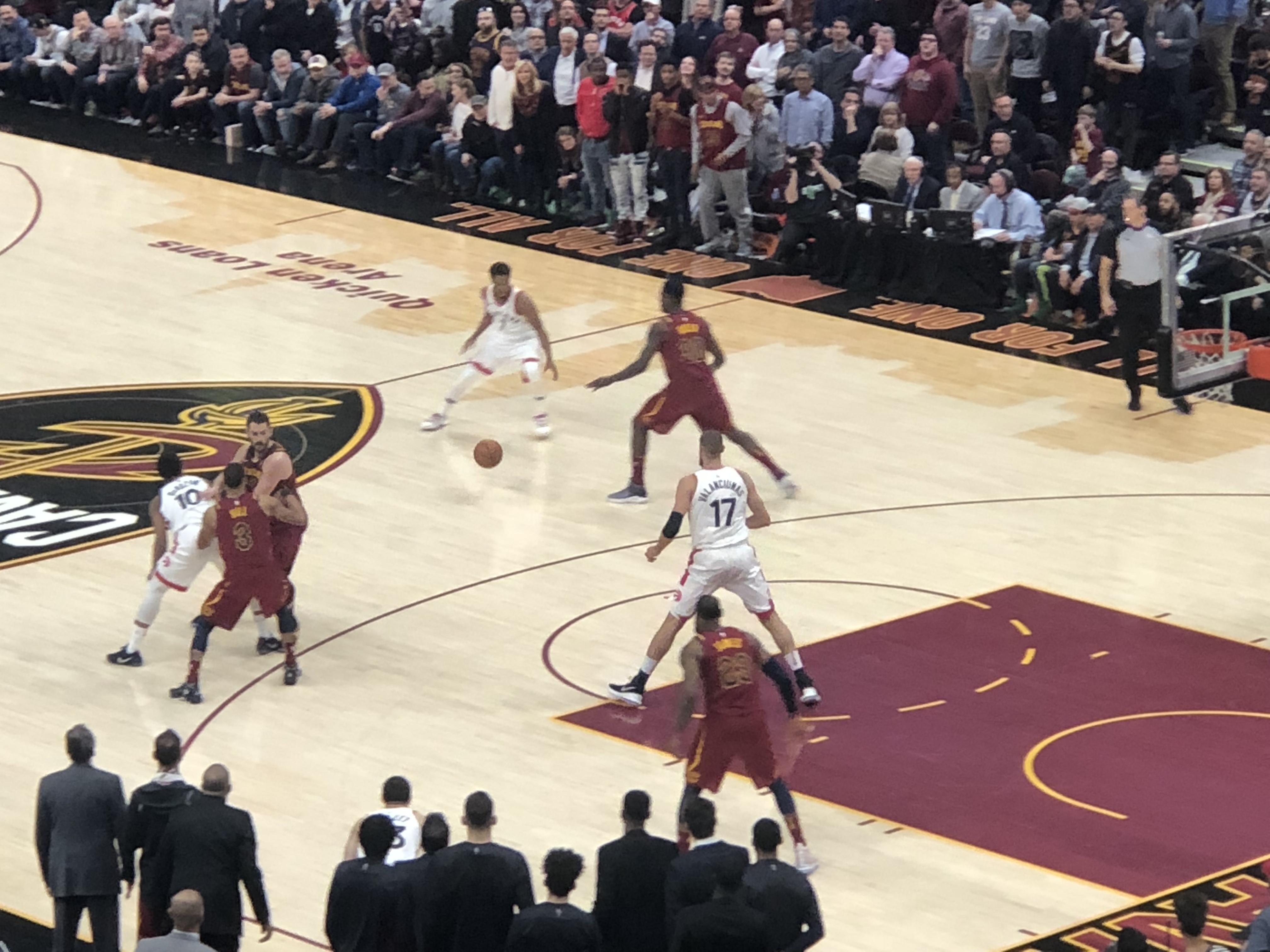 CLEVELAND– At halftime of Wednesday night's Cavaliers-Raptors game, it looked like Cleveland's extinction was an inevitability.
The Cavs were down, 79-64, in a shootout with the team that currently has the best record in the Eastern Conference. The 79 points were the most the Cavs have given up this season, and the most the Raptors had ever scored in a single half in franchise history.
But following a halftime where the team talked about their lack of defensive effort rather than looking at game clips, the Cavs came out reinvigorated and ultimately outscored the Raptors, 68-50, to come away with a 132-129 win.
"I always say there is one game during the season that changes your team," Cavs interim head coach Larry Drew said after the win. "That game can be early, it can be midway, it can be late. But there's always one game that kind of changes your team, the mindset. And I really believe tonight's game might have done that for us. Particularly because number one, we're shorthanded, number two because we played a really good basketball team. And then the fact that we came back from a deficit, which very few teams do against this team."
Coach Drew says he believes there is one game every year that changes your team's mindset. Thinks tonight could have been it for the Cavs. pic.twitter.com/lrVwqCDCMO

— Ashley Bastock (@AshleyBastock42) March 22, 2018
During the first two quarters, Toronto was lights out, shooting a whopping 32-of-51 (62.7 percent) from the field. In the second half, the Cavs held Toronto to just 15-of-36 shooting, cutting in half their makes but also severely limiting their opportunities.
It's no secret that throughout the 2017-18 season, the Cavs have had a tendency to come out slow in third quarters, especially when they face an early deficit. But on Wednesday, it was clear that they had a different energy and sense of urgency, and were more willing to accept the challenge in one-on-one situations.
"I hope it changes our identity to get up in guys and play a little better defensively and things like that," said George Hill, who ended the game with 22 points. "It was just a great overall team win. I think every guy on this team chipped in and did a hell of a job."
That defensive energy ultimately helped fuel their offense down the stretch, as the Cavs were able to get open looks and convert on 9-of-15 attempts from behind the 3-point arc during the final two frames. The most crucial one came with 27 seconds remaining in the game, as LeBron James drove into the lane and found Kevin Love on the right baseline. Love nailed the 3 to put the Cavs up, 128-124. Love ended the game with 23 points, 12 rebounds and four assists.
"More than anything it just feels like even when we're down, we're not out," Love said. "I think it's definitely a big win for us as I mentioned coming back from a 12-day road trip. We've gotta get another win on Friday but this is big for us, as far as knowing we're never out, and they're a great team."
James once again played out of his mind, ending the night with 35 points, 20 of which came in the second half, 17 assists, seven rebounds and zero turnovers. After the game, James said that it's a little late in the season for the Cavs to have a game that turns everything around. After all, there are only 11 regular-season games remaining.
But did this win serve as a reminder to the Raptors that they still have to get through James and his squad in the Eastern Conference Playoffs?
Not exactly.
"It's a good win for us just because of how we're depleted with our roster and with everything that's been going on, it's a good win for us versus a very good opponent," James said. "But I don't need to remind anybody what my team is capable of doing."
LeBron says he didn't feel like he had to remind the Raptors what his team is capable of doing. pic.twitter.com/9pLv2n5nPd

— Ashley Bastock (@AshleyBastock42) March 22, 2018

NEO Sports Insiders Newsletter
Sign up to receive our NEOSI newsletter, and keep up to date with all the latest Cleveland sports news.