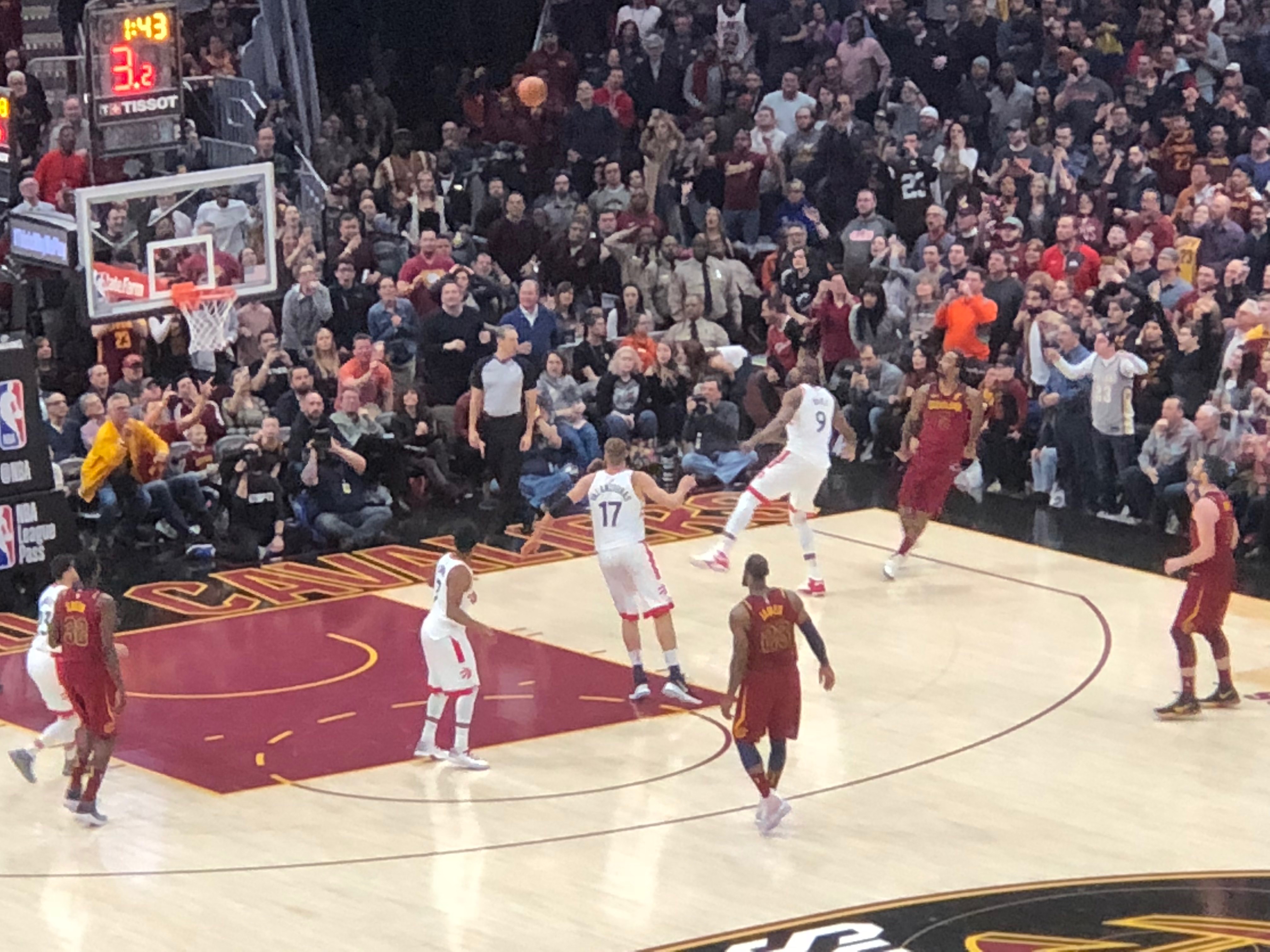 CLEVELAND, Ohio- Sometimes, a season is defined by one game. If you ask Larry Drew, Wednesday might have been that night.
The Cleveland Cavaliers battled from fifteen down at halftime to snatch a 132-129 victory out of the hands of the Toronto Raptors, giving them a three-game winning streak. With Tristan Thompson, Larry Nance Jr., and Rodney Hood out due to injuries, it could've been an ugly loss due to an undermanned squad. Instead, it turned into a remarkable rally that gave Cleveland life and a whole lot of momentum heading into the Eastern Conference playoff race.
LeBron James finished with 35 points, seventeen assists, and seven rebounds in the win, going 11-of-19 from the floor and 12-of-14 at the charity stripe. Kevin Love continued to welcome himself back into the fold as well, putting up a double-double stat line consisting of 23 points and eleven rebounds. Cleveland shot 62.5% from the three-point line, perhaps the most telling stat offensively.
But honestly, one must not forget about the twenty-two points point guard George Hill scored for Cleveland. Though he has had a few twenty-point games for the Cavs, this was by far his most comfortable performance. Hill controlled the offense and really doubled down on the defensive end.
Let's look at the three takeaways from tonight's game:
1. The Love Is Back For Cleveland- How fun is it having Kevin Love on the floor again? Like, honestly?
The Cavs forward put together a solid night of work, returning back to double-double form in just his second game back with Cleveland following his January injury that sidelined him for two months. Love was active on the boards and many times outworked Jonas Valanciunas and Serge Ibaka, leading to Jakob Poeltl and Pascal Siakam both seeing minutes in the high-twenties to attempt to stop him.
By far the biggest moment of the night was when Love received a dime of a pass from LeBron James while in the corner. Love didn't hesitate and pulled the trigger on the three-point basket that brought Cleveland's lead to four. Not only was it a big play for Love and the Cavaliers in that moment of time, but it also was Love's 1,000th three-pointer made in his NBA career.
"I didn't even know until after I got on the radio that that was the play," Love told reporters after the game. "It makes it even that much more special because it was Bron that found me."
Glad to have you back, Kevin.
2. Steady As He Goes, Jose Calderon- When Jose Calderon was the first free-agent signing the Cavaliers made in the off-season following the departure of Kyrie Irving, many fans scoffed at the thought of a thirty-six-year-old starting point guard. Man, do those fans look silly right now.
Yes, Calderon isn't starting every game. But when he does, it's well-known how well the Cavs play. Cleveland is now 20-8 when Calderon gets the starting nod, as he did Wednesday night alongside running mate George Hill. And while Hill had a standout game, do not discredit the performance put out there by the elder statesmen of the roster.
Calderon finished with fourteen points on 5-of-7 shooting including a perfect 4-for-4 from the three-point line. It's the fourth time Calderon has put up that point total and it's just three points shy of his season-high.
"He's a true professional at the end of the day," LeBron told reporters after the game on Calderon's play not only tonight but all season long. "We don't ask for him to make shots. He's just solid, just a solid point guard. He's not going to do anything he can't do and he's not going to make mistakes."
Though Calderon will head back to the bench once everyone gets back to full health, he'll remain ready and provide production at an efficient rate when called upon.
3. Second Half Woes For Toronto's Three-Ball- The Raptors were shooting the lights out in the first half from all over the floor. In the paint, mid-range, and behind the arc, Toronto was hurting the Cavs every chance they got. Then Cleveland put their foot down.
Toronto only scored fifty second-half points after tying a franchise-record for first-half points with 79 points and a large part of it was Cleveland making the only available shots from within the arc. And those shots weren't easy to capitalize on either.
Cavs interim head coach Larry Drew talked about the game-altering changes at halftime which helped spark the Cleveland rally.
"It was our defensive effort. Went into halftime and talked about…just our effort. It wasn't there that first half," Drew told media members following the victory. "Usually, we go in at halftime and we'll watch clips of some of the things we did in the first half but I told the guys there's no need to watch that because we were not putting forth the effort and until we decide to put forth the effort, this is what's gonna happen. We give up almost eighty points in a half. We come out in the second half and start playing with a little bit more energy, a little bit more intensity. Defensively we started to get after them a little bit. Clearly, it was our defense that sparked everything and then we made some timely shots."
It was apparent that the team took the defensive liability issues to heart and shut down Toronto in an effort to show the rest of the league that they can defend when willing. Come May and June, defense will not be an optional activity. It's a mandatory duty that will make or break a team in a playoff series.

NEO Sports Insiders Newsletter
Sign up to receive our NEOSI newsletter, and keep up to date with all the latest Cleveland sports news.