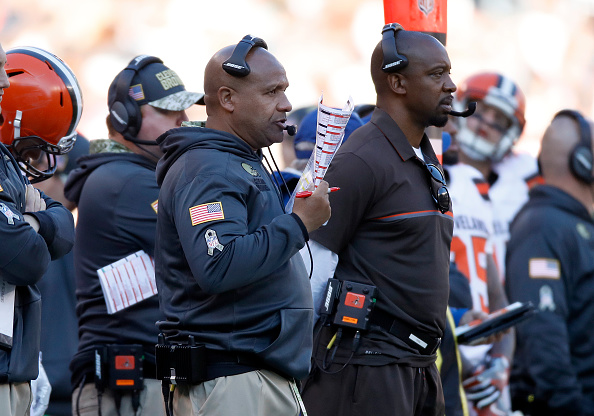 CLEVELAND – It was another ugly effort by the Browns Sunday, as the Cowboys did what they expected to do, which is come in and run over Cleveland for a rather easy 35-10 win.
When you consider the following – the Browns between last season and this are reaching futility of historic proportions.
* Losers in 19 of their last 20 games
* First team since the 1964 Denver Broncos to allow at least 25 points or more in their first nine games
* Have allowed 30 or more points in 6 of their 9 games this season
* The offense put up just 28 yards in the second half
* Averaging six points in the second half this season, none on Sunday
Add in the fact that the new regime with coach Hue Jackson and a front office that promised improvement has looked nothing close to competitive, and there's a real thought this team could actually go 0-16 in 2016.
"We did not play good enough. It starts with me," Jackson said.
"We have to coach better to get them to play better and put them in better situations. That is just what it is. It is unfortunate. There are some things that I know we can do better and we will do better, but there are things that keep rearing its ugly head. We just have to get it right, and I get it and we will keep fighting."
Things 'rearing its ugly head' is an understatement. The Browns from both sides of the ball don't look they are getting any better from when they lost opening day to the Eagles, and despite two fast home starts against the Ravens in week two and the Jets a week ago, they look further away from winning a game than ever.
"It starts with me. It starts with me. I want to make sure everybody understands that. It starts with me," Jackson said.
"It starts with me getting our players and everybody involved in this organization to do things right. We have to slow the run down, obviously, and we have to make sure that we control the other teams' better players. We just have to get better in some areas, no doubt."
The team now has the task of a short week against a division foe as they travel to play the suddenly first-place Ravens Thursday. Baltimore beat the Steelers Sunday 21-14, and Pittsburgh is struggling as they have lost three straight after a 4-1 start.
How they respond after back-to-back losses at home will be interesting to see, but Jackson assured the media they will be more prepared this week as they get ready for an AFC North game on the road.
"It is Baltimore. We have to go to Baltimore. We will bounce back," Jackson said.
"One thing about this group, and I think you guys still see it, they are not giving up. I want you guys to know that they are fighting and they are playing their tails off as hard as they can. We just are not doing it as well as I think we can.
"It is not effort related at all. Our guys will come in here tomorrow, we will move on from this and we have to get ready for Baltimore."

NEO Sports Insiders Newsletter
Sign up to receive our NEOSI newsletter, and keep up to date with all the latest Cleveland sports news.