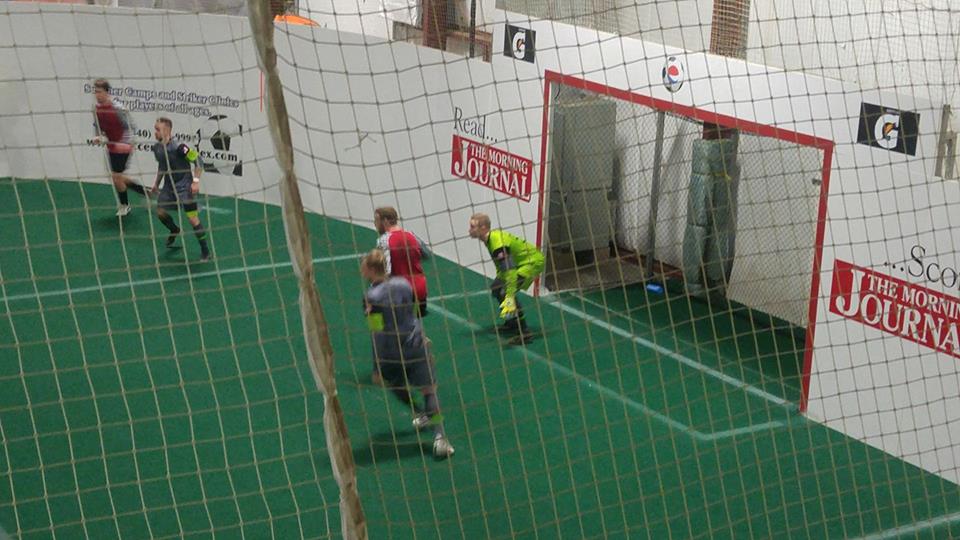 The first place 3-0-2 Cleveland Legacy hosted the Muskegeon Risers tonight in some fast paced PASL action.  It was the battle for first place as the Risers came into the game 2-1-1.  In the end, after yet another wild finish, the Legacy remained undefeated and took over sole possession of first place with a 11-8 victory on the strength of a Mikey Derezic Hat Trick.
I had the chance to speak with head coach Lou Kastelic about the teams hot start this season, "I'm very proud of our guys and how well they are doing with very little practice and not much scouting.  What little we do know, we do some good work to prepare.  Anytime you're undefeated at this point in the season you are very pleased.  Games like this will help us grow and possibly win this league."
The Legacy jumped out to the early lead when Ryan Minnick connected perfectly on  a scoring strike at the 11:53 mark of the First Quarter.  Josh Grossman got into the act with 1:38 left in the opening quarter and it gave the Legacy a 2 -0 lead after one quarter of play.
The Legacy would explode for 5 more goals in the second quarter and take a commanding 7-1 lead into the half.  Sami Mutemwa used some beautiful footwork on both of his Second Quarter goals.
Coach Lou explains why the fancy footwork and stylish play of Sami has led to so many goals this year, "Sami is great, I can't say enough about his footwork.  I need him to be the player he is, and he is a dribbler.  He is going to create things with his feet which opens up a bunch of things for us going forward."
The Risers would wake up in the second half however and begin to make things interesting by outscoring the Legacy 4-1 in the Third Quarter, and making the score a much closer at 8-5 heading into the final quarter.  The four goal quarter came on the strength of 2 goals by Miguel Flores, who would also finish with a hat trick.
There was a lot of pushing and shoving between teams as the quarter came to a close.  The Risers had been playing dirty all night and the referee's had been letting it slide.
Coach Lou explains what happened there at the end of Third Quarter that led to some pushing and shoving, "Basically that is what happens when you let a team back in the game, they get feisty and scored a bunch of goals.  They were believing they could win and our guys were taken out of our game and getting caught up with the ticky tack fouls.  It was stemming from frustration of not getting the calls and getting hit hard by them without it being called."
Less then three minutes into the Fourth Quarter, Flores capped off his Hat Trick and brought the Risers to within two goals at 8-6.  From there the scoring got fast and furious.  The Legacy would respond with two quick goals from Mikey Derezic and Mike Matlock to make it 10-6.
The Risers were not finished yet however, and once again it was TJ Ifaturofi and Miguel Flores both scoring to pull it back to within two goals at 10-8.  Ifaturofi finished with 3 goals and Flores with 4.
At 10-8 with less then 90 seconds to go, the Risers had a goal kick opportunity.  Time out was then called and Head Coach Lou Kastelic pulled the Legacy together for a few words of wisdom and set the defense for the big play.  It worked, as the Legacy came up with the stop and secured the win moments later with Mikey Derezics third goal.
Coach Lou shares with us what he told his team in that pivotal moment, "Honestly, I told the guys we needed to play with a little more intensity and close the game out.  The biggest thing I was preaching there was the fact that the Risers were likely to bring out a sixth striker.  So I wanted to sort my guys out and make sure our target striker was in the right spot where we needed him to be.  I was a little fired up, the guys were fired up, but we got on the same page and closed it out."

It was hard to see them amongst the many fans in the crowd for this very heated affair, but, Indoor Soccer Legends Hector Marinaro and Zoran Karic were in the crowd tonight to watch the action.  Coach Lou Kastelic had this to say about what that meant to his team, "Honestly, we all know those names and we are all pretty much from around here.  So when legends come out and support it gives you a sense of urgency when you step on the field because you want to represent them.  Our logo represents the 1978 beginning of soccer in Cleveland along with the three stars for our championships.  We have a lot of respect for those guys and what they accomplished.  I'm very happy they came."
Just a few facts coming into tonight's big showdown with the Risers.  Cleveland came in with a well balanced attack having scored 31 goals with no player having scored more than 3.  While Cleveland had scored 31 goals versus Risers SC's 18, they had also given up 27 to Risers SC's 18 goals against.

The Cleveland Legacy is next in action on February 25th at home, as they host the visiting Youngstown Nighthawks.  After that, they cap off the regular season Sunday afternoon March 5 at 2:55 against the Waza Premier at home.
Box Score
1Q Legacy 2 Musk 0
2Q Legacy 5 Musk 1
3Q Legacy 1 Musk 4
4Q Legacy 3 Musk 3
Goals
Ryan Minnick -1
Josh Grossman – 1
Mike Matlock – 2
Sami Mutemwa – 2
Mikey Derezic – 3
John Gulden – 1
Admir Suljevic – 1
Miguel Flores – 4
TJ Ifaturofi – 3
Cody Ross – 1
You can reach the writer of this article on twitter at VinceTheAuthor

NEO Sports Insiders Newsletter
Sign up to receive our NEOSI newsletter, and keep up to date with all the latest Cleveland sports news.