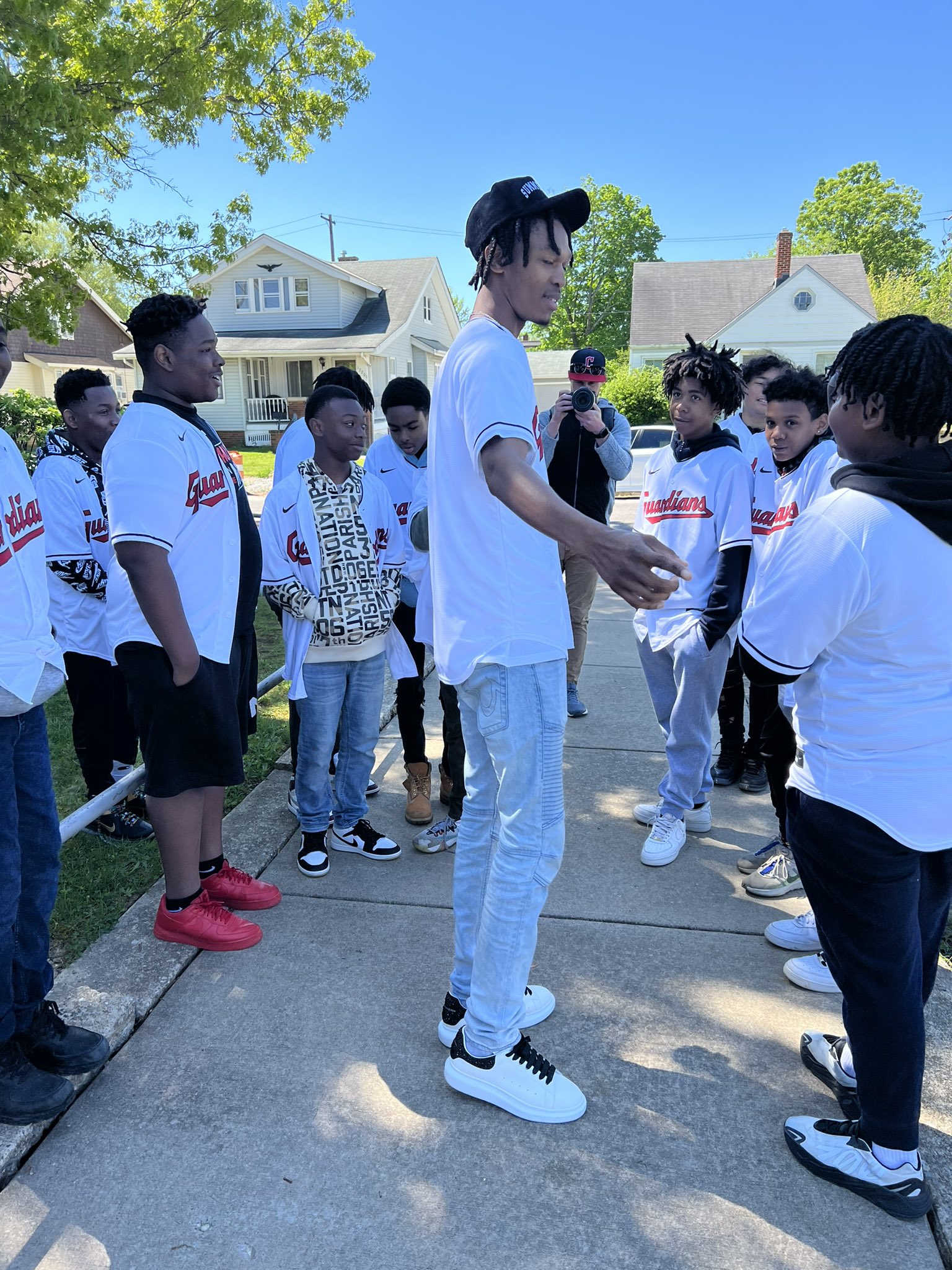 Cleveland pitcher, Triston McKenzie joined the volunteer program, True2U in 2021. The mentoring program helps eighth graders in the Cleveland Metropolitan School District. The focus is to develop good decision-making skills.
The program was done virtually due to the pandemic. The Cleveland pitcher spent 2021 mentoring students of Valley View Boys' Leadership Academy via zoom.
McKenzie started his second year mentoring in April of 2022. He continued with the next class of students at VVBLA.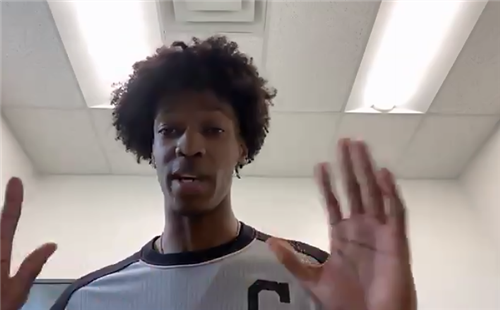 On Tuesday, the Guardians' pitcher was able to meet the students in person. I spoke to him about the experience and reflected on mentors he had growing up.
Being able to meet the kids in person was important to McKenzie.
"I definitely enjoyed it in person. I feel like sometimes it is hard for the kids to interact with me – genuinely interact with me – especially over the computer. For me to be able to be there and see their faces and physically talk to them was huge."

Image by: Cleveland Guardians @CLEInspires
True2U's Vision
The program is designed to encourage students to leverage their strengths and interests as they start out on their paths to high school, college, and/or career choices. The students have diverse paths. McKenzie spoke on the uniqueness of their goals and what he provides to help them set a foundation to accomplish them.
"A lot of the kids have different goals, some were to play professional sports, some were robotics, some were art teachers, designers, or wanting to be famous on YouTube. It's a wide variety of different interests and aspirations and I think I'm just there to let them know you can come from anywhere and you can want to be anything. It's more about how you go about your day-to-day routine and how you go about trying to achieve that aspiration as opposed to what it actually is and how hard it is."
I spoke to True2U Senior Director Molly Feghali for insight on the mentorship program. In 2015, True2U launched to serve eighth graders in the Cleveland Metropolitan School District. Mentors from the community are given the curriculum and training to lead students in different activities through some of the goals they have.
"Triston has been mentoring with us since the 2020 school year and its just fantastic for students to work with someone like Triston, who they admire so much just immediately, and someone who helps them think about their paths and the lives they envision and want for themselves, and it encourages them to make good decisions to make those visions become realities."
The Future
This year and going forward a bigger initiative in the Cleveland Metropolitan School District is PACE. Which stands for planning and career exploration. This is something the district and the Cleveland foundation have been working on for a few years, along with their partners. This will expand to 6th-12th grade students. Allowing them to gain more career exposure, self development, self awareness, and self evaluation. Thus, aiding them in knowing what they want to go into and how to follow those paths.
Feghali spoke of the importance of True2U's partners:
"It's partners like the Guardians, corporate partners and different partners around town that have made our program possible. Because there's no way we could serve 2500 students a year if it weren't for great community involvement. People like Triston getting involved.. that's another really key component of what we're trying to do it. It helps the students know that the community is invested in them and their future. "
McKenzie hopes to be continue to be a mentor in the future. He understands what it takes to instill confidence and leadership into young lives. He takes the responsibility of being a role model seriously. The pitcher credits some very important mentors he had growing up:
"Mainly just my parents were my mentors. Also, my pitching coach –  the assistant pitching coach now for the Phillies – I have known him since I was 12. He was a major part of my decision making process with baseball. From how I went about dedicating myself in the gym and figuring out what I really wanted to do with baseball. He was just a big influence on me and I still talk to him to this day in terms of questions about how I pitched out there and how he thinks I can do better and what he thinks I can do off the field to help me. I think just having an outside voice that's not necessarily someone you interact with on a daily basis is big for people because it allows you to get a different perspective. I definitely think you're always more open to that outside voice as opposed to that you hear repetitively."
McKenzie is that outside voice to the students he mentors. The True2U program molds young lives and sets a path for success. The youth is our future and the young Guardians' pitcher is giving them someone to look up to.

NEO Sports Insiders Newsletter
Sign up to receive our NEOSI newsletter, and keep up to date with all the latest Cleveland sports news.