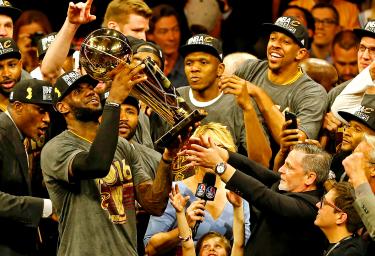 A year ago today, the Cleveland Cavaliers ended the 52-year championship drought. In honor of that historic moment, we asked fans on Twitter where they were when the final buzzer sounded.
Check out some of the responses below:
https://twitter.com/JKnighty13/status/876843932126240769
At home pinching myself to make sure I wasn't dreaming, then making phone calls to family and friends to celebrate! https://t.co/Z5rxua4dV8

— OSUSportsFan93 (@OSUSportsFan93) June 19, 2017
https://twitter.com/lazoran/status/876936287961444352
Saying OMFG OMFG OMFG…then on the back deck praying to god & saying thank you thank you thank you…I couldn't believe it as finally over

— Maximum Effort? (@RomperStomper0) June 19, 2017
Warehouse district. East 4th was too crowded. pic.twitter.com/JqmhA80sgb

— Evan T. Auld-Aquaintance (@Athertron) June 19, 2017
Thanking the good Lord that Jose Mesa was NOT in the game!!!

— Robert McClure (@macdaddyme1) June 19, 2017
MWR tent at Ali AL Saleem Air Base in Kuwait. With @Steve_Mazan, @SamFedele & half a dozen soldiers. Cried unashamedly. https://t.co/BwSAqsITNy

— Stephen Thomas (@15Stephen15) June 19, 2017
https://twitter.com/_Jimbo_Slice_79/status/876931511337050112
In the streets of Rocky River hugging and high 5ing all of my neighbors. Can't wait to do it again!

— Keith Whitman (@coachwhitman) June 19, 2017
https://twitter.com/norgasm_/status/876926240539672577
in a parking garage across from the Q watching the game on a flat screen from this guys truck with my best friend @Madison_Miluk https://t.co/gSelnBcdiH

— the (p)imp of perverse (@thandiwe32) June 19, 2017
In Quicken Loans Arena with my family https://t.co/ZPeNsiZ69K

— Carrie Chapek (@carriechapstick) June 19, 2017
In Italy with 12 guys in a hotel room watching it on one iPhone 6 at 4 A.M in the morning while eating Italian McDonalds

— Jon Hassman (@HassmanJon) June 19, 2017
@_Nixon31 on top of a beer trailer ? https://t.co/HMPDuRZr4R

— Αndrew Pfenninger (@FlightMan22) June 19, 2017
Jumping up and down with my brothers and nephew screaming at the top of our lungs

— ANGELO_C (@Angelo7266) June 19, 2017
There in the middle with my fam, hugging strangers and occasionally getting splashed with beer ? https://t.co/UHLzxnXRQU

— Nelle (@nellegotfans) June 19, 2017
crying on the floor of my bedroom with my cat https://t.co/0hFY4Ql0fi

— Amanda Nance (@teamnancejr) June 19, 2017
Lost them in this mess of people. Such a great night. Can't​ wait to do it again soon. pic.twitter.com/ULElVLpuDu

— Back-to-back #B1GChamps (@adawg27) June 19, 2017
Screaming, jumping and crying in an Irish Pub in Manhattan with my family and friends from Ohio. Amazing experience! pic.twitter.com/rACOYcBtTc

— Dana Brewster (@dbrewster11) June 19, 2017
Corner of East Fourth pic.twitter.com/Tu9q3ab45m

— Matthew Pecoraro (@matt_pecoraro28) June 19, 2017
By myself in Missouri. Crying and skyping my family, but also packing for Vietnam and to move out of my apartment. https://t.co/pRKj80vEHr

— Julie Fell (@JulieFellDown_) June 19, 2017
Nothing better than celebrating with the Fam! pic.twitter.com/gXr1YviTuV

— Believeland Windians (@kirtapelpak) June 19, 2017
There was just a lot of crying and screaming because we were so happy for my dad! pic.twitter.com/E23TMYHKLL

— DreaABQ (@DreaABQ) June 19, 2017
These are just some of the moments we were told on Twitter.
Where were you when the Cavaliers brought home the title?

NEO Sports Insiders Newsletter
Sign up to receive our NEOSI newsletter, and keep up to date with all the latest Cleveland sports news.