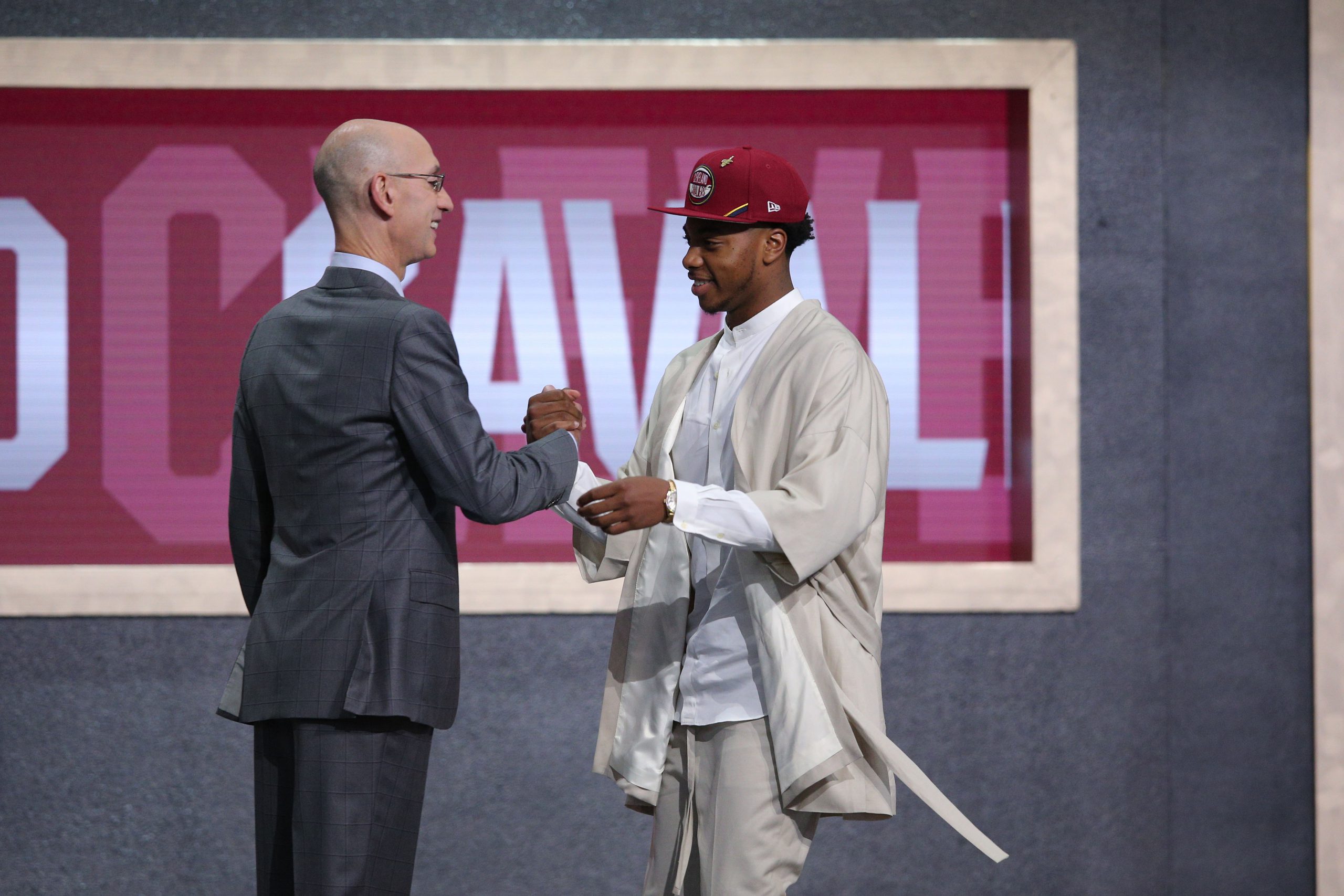 With the fifth overall pick in the 2019 NBA Draft, the Cleveland Cavaliers select…
Former Vanderbilt Commodores point guard Darius Garland.
Considered by many to be the best player available after forward Zion Williamson, point guard Ja Morant, wing R.J. Barrett and forward De'Andre Hunter were off the board, Garland inspires images Damian Lillard, Stephen Curry and Kyrie Irving with his playing style. He's an exceptional ball-handler and shifty with the ball in his hands, constantly able to utilize his quickness and guard skills to get to where he wants on the floor (much like a former Cavs point guard). However, his off-the-dribble shooting, due to his touch and range, is his most tantalizing skill in a league that's placed a premium on players able to be top-tier threats from the perimeter.
Garland averaged 16.2 points, 3.8 rebounds, 2.6 assists and 0.8 steals in 27.8 minutes per game last season but only played five games due to a torn left meniscus. He shot 53.7 percent from the field and a sizzling 47.8 percent from three-point range.
His fit beside Cavs point guard Collin Sexton will be a point of conversation throughout the 2019-20 season but there's reason to believe the two can thrive beside each other should they find their synergy and feel for when and where the other is at their best. Garland is probably a better facilitator despite his mediocre assist average, having displayed great touch as a pick-and-roll passer and dropping a couple of flashy dimes in his brief time with the Commodores.
Sexton, however, has grown as a playmaker since being selected with the eighth overall pick in the 2018 NBA Draft. He has plenty to learn as a facilitator but the fact remains that he can run an NBA offense.
That he and Garland are both score-first players could be a blessing in disguise for Cleveland, as both will have their times being the primary playmaker for the Cavs.
Cleveland is hoping that Garland and Sexton can be the East Coast version of Damian Lillard and C.J. Sexton is banking on that too, as he told Yahoo Sports' Chris Haynes (h/t Dunc'd On Podcast host Nate Duncan).
McCollum and considering Garland's prowess from beyond-the-arc and Sexton's hope to become a maven from midrange, that could be possible. Lillard and McCollum are hardly recognized for their defensive ability though, so that comparison could be both accurate and unfortunate on some levels.
In his own words, Garland is "a playmaker" and "a competitor."
Former Vanderbilt guard John Jenkins, who played for the New York Knicks last season, says that Garland is "the real deal."
The Cavs are hoping that he's all three of those things as they head into 2019-20 with a new head coach and a belief that they can make some noise in the Eastern Conference.

NEO Sports Insiders Newsletter
Sign up to receive our NEOSI newsletter, and keep up to date with all the latest Cleveland sports news.