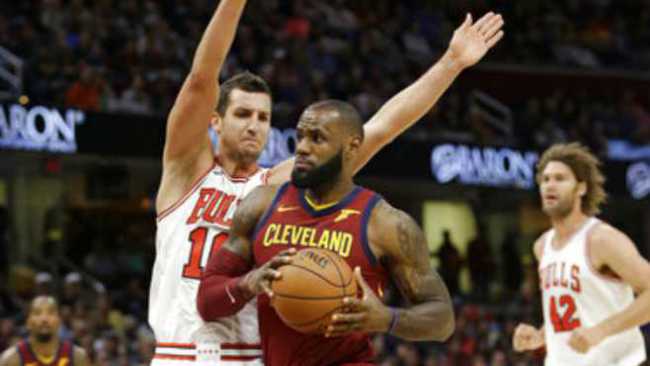 While LeBron James was – as always – the consistent force for the Cavs throughout Tuesday night's game against the Chicago Bulls, there wasn't a peep from James about how he was able to dominate the Bulls' defense. Instead, he praised the Cleveland Cavaliers' second unit after their 119-112 victory.
"Well the bench won us the game. They get the game ball for sure."
James had 34 points, 13 assists, four three-point conversions and quite a few highlight reel plays in his first start at point guard since February 3rd, 2005. In that contest, a 20-year-old LeBron James was in his second career season, yet played a masterful game against the Miami Heat. He notched 31 points and 10 assists against Dwyane Wade's Heat.
Though James would have three steals on both of these nights, there's no other similarity between the last time James played point guard and Tuesday night. That's not just because the Cleveland Cavaliers' starting lineup of James, J.R. Smith, Jae Crowder, Kevin Love and Tristan Thompson is superior to one with James, Jeff McInnes, Sasha Pavlovic, Drew Grooden and Zydranus Ilgauskus (I don't mean to suggest Thompson is better than Ilgauskus was. though). It's also because the Cleveland Cavaliers' bench unit of Dwyane Wade, Kyle Korver, Jeff Green, Iman Shumpert and Channing Frye is better than a second unit of Eric Snow, Robert "Tractor" Traylor, Lucious Harris and Scott Williams.
The Cavs' '05 quarter scored 9 combined points against the Heat (the Heat won 100-88) while the Cavs' current bench 46 combined points against the Chicago Bulls. This is the third consecutive game where the bench has scored at least 45 points.
That's a large part in why James said the bench was responsible for getting them back in the game after they fell to 38-28 in the first quarter.
"'Jeff Green came in and gave us a lift when we needed it, when we started off slow once again tonight… D. Wade came in and found his rhythm.Got to his floater game. Got to his pull-up. Made some great passes. You see what Kyle [Korver] was able to do late… Even Channing [Frye] came in… gave us some great minutes."
James would score 12 of those points in a game that looked like their previous one, a game they lost to the Orlando Magic after giving up 36 points in the first quarter and going cold from the floor on their end. James would be the only Cav in Friday's game to look like he brought his game from Milwaukee, scoring 14 of the Cavs' 18 first quarter points.
This time though, with Wade and Green taking turns taking the Bulls off-the-dribble on the way to the rim, the second unit was able to help the Cleveland Cavaliers claw back into the game. A Green conversion inside with 8:00 left in the second quarter brought what was a 14-point lead at it's highest down to five points.
Ultimately, James was able to take over from there as he found his stroke from outside (4-6), got into the lane at will, made plays that a lot of actual point guards in the NBA would only dream of making and also shot well from the free-throw line (4-5). After closing the Bulls' lead to three points before halftime, the Cavs' took their first lead with 9:41 left in the third quarter and never looked back.
James is right in that their bench (one that outscore the Chicago Bulls' bench by 15 points) was responsible for making key plays to keep them in the game and win a game that was much closer throughout than anticipated.
He's still being modest though.