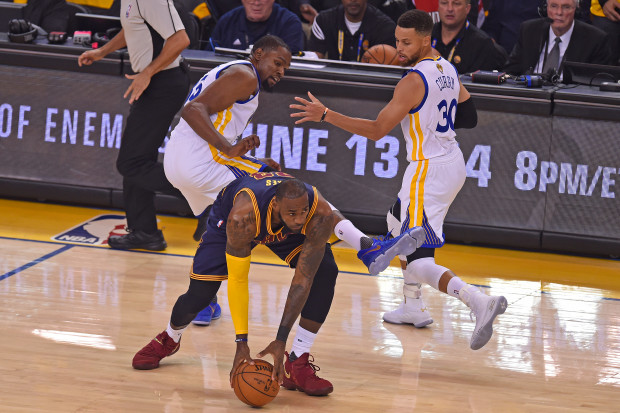 With Cleveland Cavaliers head coach Tyronn Lue inserting small forward Jae Crowder in the starting lineup in place of center Tristan Thompson, he hopes to put LeBron James back in position to use his basketball IQ to make plays on the defensive end.
As Crowder guards the tough perimeter matchup, a task he's certainly familiar with, it gives James "a chance to rest and roam more off the ball". Explaining James' altered defensive role more in-depth, Lue says it gives James a chance "to be our quarterback defensively… To be able to talk, communicate. Telling guys when to switch. When to stay home. You know, he's very smart. So having him on the back-line is good for us."
In last year's playoffs, James played a roamer role while the Cavs often trapped or blitzed screens up top, allowing him to use his size, athleticism and instincts to take errant passes down the length of the court. James, a terror in transition (when he's moving at full speed with the ball in his hands period, really) was made more dangerous by his role in the defense. Now, instead of J.R. Smith guarding the opposing team's best perimeter player, it'll be Crowder. Smith has been a solid defensive player since his arrival in Cleveland, often taking on the task of guarding the opposing team's biggest perimeter threat.
Indeed, while Paul George scored 28.0 points per game in the first round of the Eastern Conference playoffs last season, he only shot 38.6 percent from the field. DeMar Derozan scored 20.8 points per game on 42.6 percent shooting from the field, numbers that paled in comparison to his season average of 27.3 points per game (on 46.7 percent shooting from the field). Of course Smith wasn't the only player guarding these two high-octane scorers but they were primarily his responsibility. Judging by their numbers and the Cavs sweeping both the Indiana Pacers and the Toronto Raptors, he did pretty well.
Crowder, a player who saved 4.7 defensive points (DPS) last year according to NBA Math (anything above 0 is considered above-average), is bigger, sturdier, has shown consistent focus and been a consistent force on the defensive end. Smith saved -16.7 defensive points last year (according to NBA Math) and the Cavs were still able to sweep their first two opponents in the Eastern Conference playoffs.
James was able to raise his steals per game from 1.2 in the regular season to 1.9 in the playoffs. In addition, he raised his defensive box plus/minus (DBPM) from 1.6 in the regular season to 4.2 in the playoffs. Finally, he was able to raise his points per game average from 26.4 in the regular season to 32.8 in the playoffs. All these were effects of James being able to rest and roam.
Against the Golden State Warriors, the Cavs were able to leave open Draymond Green and let his man roam defensively. Now, with Crowder, the Cavs will be able to stick a man on Kevin Durant and still James roam along with Love (assuming Love is guarding Green). Having James be there to direct Love, whose anticipation doesn't often match up with his physical limitations, will help the team defense tremendously all season. Against the Warriors, having two free bodies to jump driving and passing lanes should bode well for the Cleveland Cavaliers.
Just as Lue said.
According to Crowder, team defense, communication and outplaying their opponents will allow the team to be an effective defensive unit. The Cavs' seem to be in a better position to be a solid defensive team than any season since James' return.
*Unless otherwise referenced, all stats gathered by www.basketball-reference.com