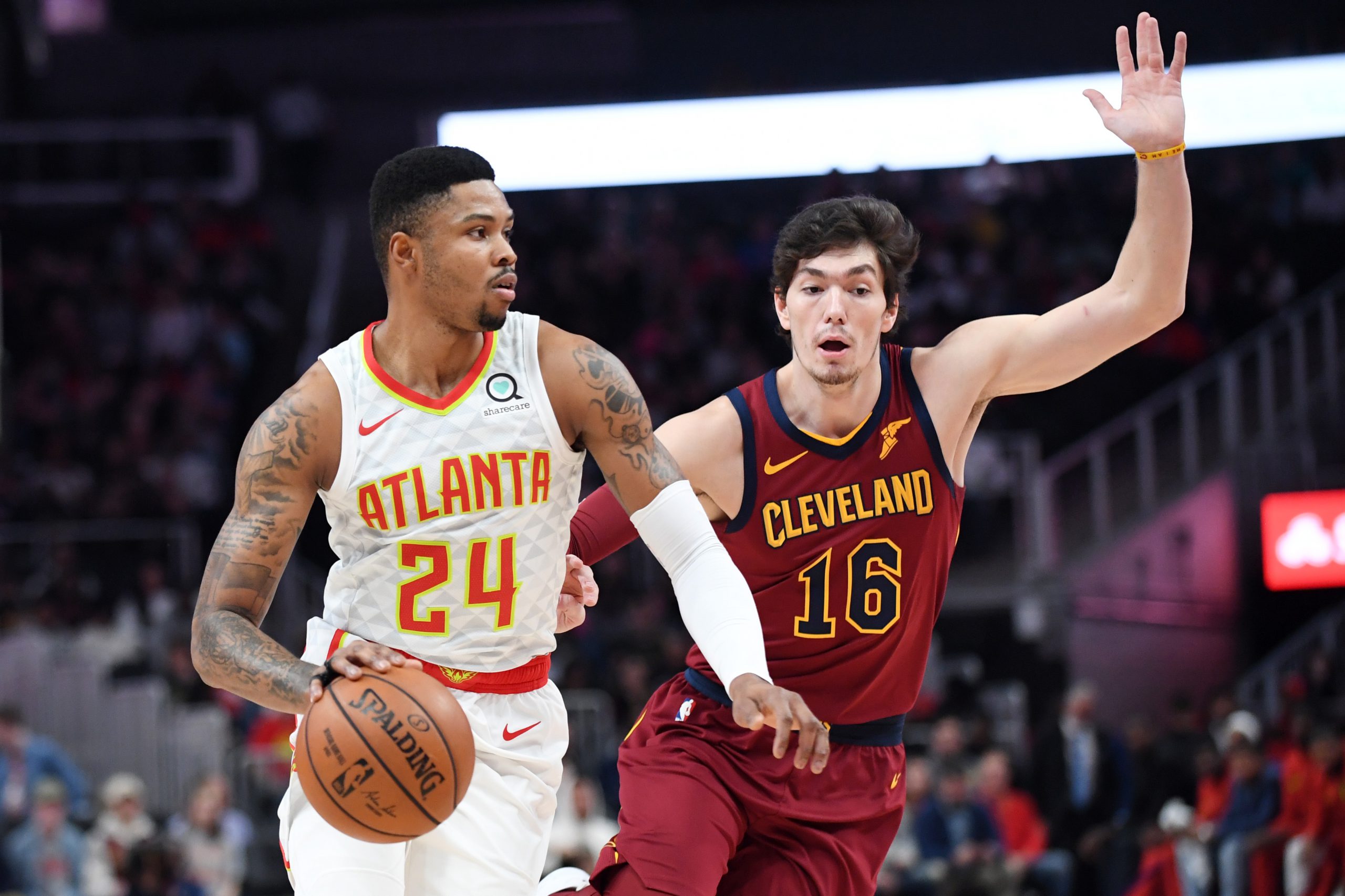 After LeBron James took his talents to Los Angeles in the offseason, Cleveland Cavaliers second-year forward Cedi Osman was painted as the savior of the small forward position and worked diligently to be the starting three for the Cavs when training camp actually rolled around.
However, while Osman was working on developing his three-point shot (which is still a work in progress) with one of the best shooters of all-time in Kyle Korver and training with star forwards like LeBron, Kevin Durant and Kawhi Leonard, there seemed to be little thought about how his increase in role and minutes would begin to be an issue for the Turk.
Now, with Osman seeming to get blown by off-the-dribble every game when last season he was trusted to defend elite perimeter players, it's now time to consider that one of the major factors in Osman's lackluster play has been fatigue.
Prior to this season, the most minutes Osman had played in any season — whether he was with Cleveland or Anadolu Efes, the professional ball club he played for in Turkey — was 672 minutes and that came last season. With Anadolu, Osman played a career-high 649 minutes in the 2016-17 season his previous career-high was 521 minutes, set in the 2014-15 season. Osman has already played 1,302 minutes for the Cavs this season, nearly twice as many as he's ever played.
Furthermore, while his previous career-high was 20.0 minutes per game (set in 2015-16 with Anadolu), Osman is averaging 31.8 minutes per game this season. Lastly, while Osman never played more than 35 games in a season in the EuroLeague, Osman has already played 41 games this season. He played 61 games last season but in a more limited role, as previously mentioned, and with 12 starts in 2017-18 compared to 40 starts in 2018-19.
Numbers this simple can't lie or mislead. Osman is playing and has played more than ever. He's also doing it against much more athletic competition than he went against in the EuroLeague on a nightly basis.
He's being challenged physically and right now, it doesn't seem as if he's holding serve.
One of the most interesting stats to see is that though Osman has nearly doubled the amount of minutes he's played since last season, Osman has tallied three more steals than he did as a rookie. It's a curious trend and one that seems to almost symbolize how Osman hasn't been nearly as effective as expected.
Nevermind that his defensive real-plus minus is the second-worst among all players at his position, per ESPN's Real Plus-Minus data, or that the Cavs surrender 121.4 points per possessions with him on the court (per Cleaning The Glass), way up from last season (111.3).
For the season, Osman has averaged 11.7 points, 4.8 rebounds, 2.2 assists and 0.6 steals per game while shooting 39.8 percent from the field, 30.5 percent from three-point range and 81.3 percent from the charity stripe.
The All-Star Break, which lasts from February 15-17, will give the Cavs an eight-day layoff between February 13-21. Though Cleveland is unlikely to have any participants in All-Star Weekend outside of rookie point guard Collin Sexton, who could be invited to this season's Rookie-Sophomore game, it will be a well-needed break for the Cavs both mentally and physically.
Osman, who could be a cornerstone player for Cleveland if he can put all of his tools together and play up to his potential on both ends, may need the break more than anybody outside of Sexton (who should spend a lot of his off-days studying film and has already played nearly 300 more minutes this season than he did in college).
*Unless otherwise referenced stats gathered from Basketball Reference

NEO Sports Insiders Newsletter
Sign up to receive our NEOSI newsletter, and keep up to date with all the latest Cleveland sports news.