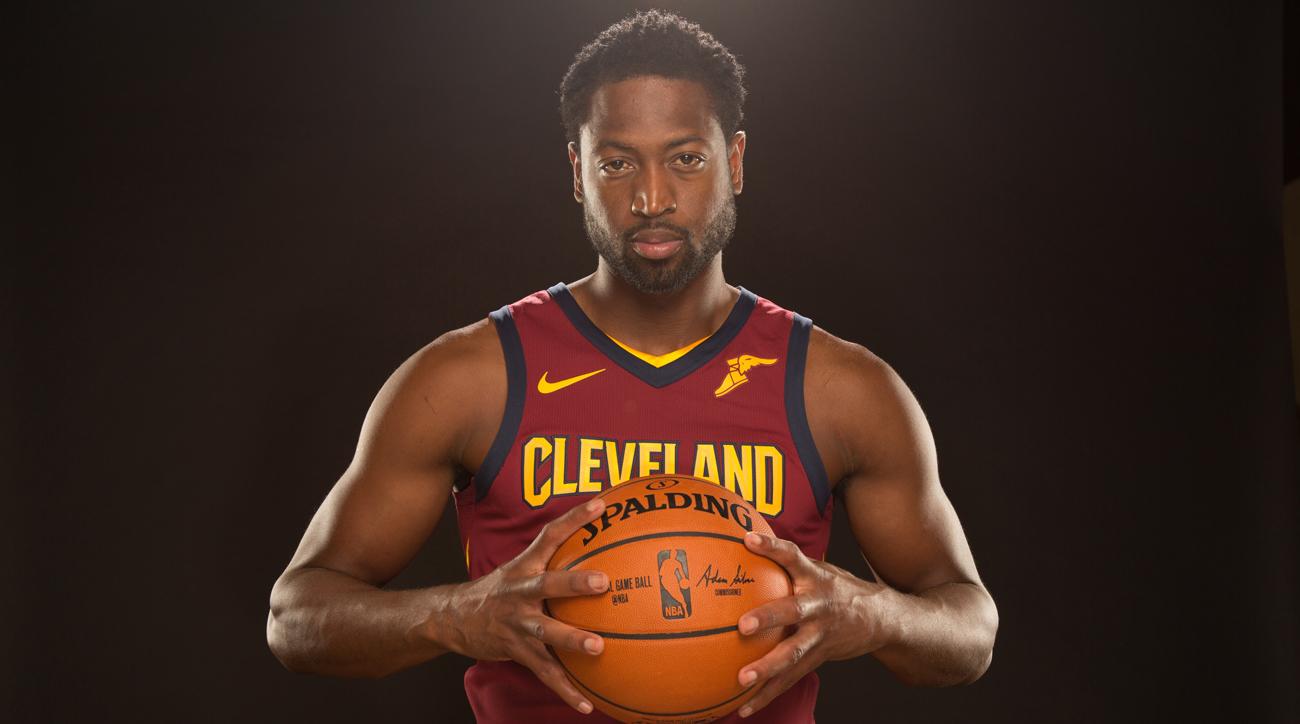 After Monday's practice, Cleveland Cavaliers head coach Tyronn Lue and shooting guard Dwyane Wade talked about their mutual decision for Wade, a 12-time All-Star who has started in 1,079 career games, to come off the bench for the Cavs this season.
Dwyane Wade reacts to mutual decision between he and Lue to have him come off bench for #Cavs just three games in: "Why wait?" pic.twitter.com/7hjJQj0mNp

— Spencer Davies (@SpinDavies) October 23, 2017
"I just decided earlier than later… [coming off the bench] would probably be better for this team. Why wait?"
The decision comes after Wade started in the Cleveland Cavaliers first three games and it makes perfect sense for both the team Wade after seeing the results of the experiment.
Dwyane Wade will come off the bench for the Cavs, after he came to Ty Lue and said he thought it would be a better fit. #Cavs pic.twitter.com/6wl7mBUJau

— clevelanddotcom (@clevelanddotcom) October 23, 2017
"He came to me and said, 'You know what coach, what you said [about me coming off the bench] was right.' He'll be able to be featured more… So let's make that move, make that adjustment… That's what professionals do".
Though the Cleveland Cavaliers went 2-1 in their first two games, Wade's play has been a sight for sore eyes. Not only has he been unable to make shots, shooting 7-25 (28.0%) from the field in the first three games, he hasn't even been aggressive. It's not the amount of shots per game he's taking, although Wade averaged 15.9 shots with the Chicago Bulls last season and has only averaged 8.3 field goal attempts per game this season with the Cavs. With LeBron James and Kevin Love are number one and number two, respectively, in the Cavs pecking order, Wade and Derrick Rose would need to average about the same number of field goal attempts for parity.
Kyrie Irving took 19.7 field goal attempts per game last season and dividing that in half would mean Wade and Rose need to average 9.9 field goal attempts per game in order for the Cavs' top playmakers to be taking shots at the same rate as they were last season. So far this season, Wade is averaging 8.3 field goal attempts per game while Rose is averaging 9.0 field goal attempts per game.
This is the catch though. James is averaging 2.2 field goal attempts less than he was last season and Love is averaging 1.8 field attempts less than he was last season. So no player in the offense has been as aggressive as they were last season, a fact largely due to the fact that the perimeter unit of Wade, Rose and James provides little spacing for the Cavs to attack the rim although they have a plethora of players that thrive slashing to the rim.
Wade has taken three total threes in three games for the Cavs and made one. Rose has also taken just three total threes, though he's only played in two games. Meanwhile, J.R. Smith – who returns to the starting lineup in place of Wade – has taken 13 threes in three games. He's been inefficient, only making two of his attempts (15.4%) but his inefficiency is in part due to him playing a role different than the one he's had with the Cleveland Cavaliers for the last three years. Where Smith was an elite catch-and-shoot threat, he's now more likely to take an opponent off-the-dribble to create a bucket for himself or a teammate. That's not a bad thing for Smith to be able to do but it takes away from what's proven to be his greatest skill over his career, his catch-and-shoot ability.
Smith has made 37.3 percent of his threes for his career and made the 15th most three-point attempts in NBA history (1,776).
With the spacing that Smith could provide in place of Wade (a career 28.7% shooter from deep) in the starting lineup, Rose, James and Love would all have more opportunities to attack the paint and be aggressive because there would be less defenders hounding their airspace. Right now it looks like NBA defenses are NFL front-sevens stacking the box against the run when they play the Cavs, routinely packing the paint with defenders.
In addition, Wade will return to the role that he had grown familiar and comfortable with early in training camp: backup point guard. This puts the ball in Wade's hands the instant either Rose or James is off the floor and allows him to be the primary (or secondary) playmaker for the offense, the role he's most comfortable with.
This would seem to be a solid move for the Cleveland Cavaliers.

NEO Sports Insiders Newsletter
Sign up to receive our NEOSI newsletter, and keep up to date with all the latest Cleveland sports news.