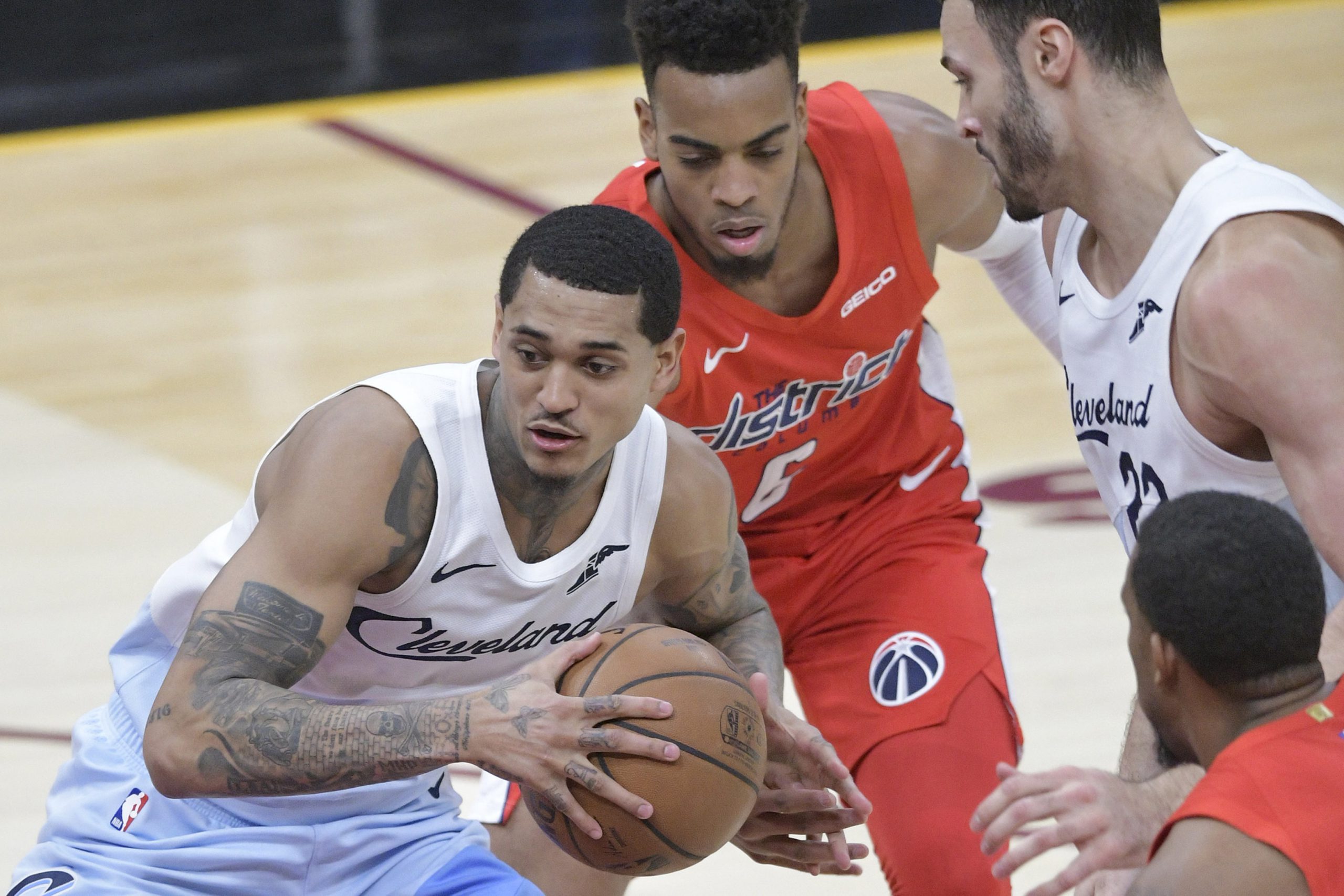 The Cleveland Cavaliers were playing some of their best basketball for three-plus quarters, having amassed a 19-point lead at the start of the fourth quarter behind 50 combined points (on 27 shots) from Cedi Osman and Jordan Clarkson, who were having their way with a lackadaisical Wizards defense. Cleveland's offense was effective for most of the night, with center Ante Zizic setting the pace with six early points and Osman, Clarkson and Larry Nance Jr. providing a spark on both ends of the court.
Nance Jr., who went scoreless in his first game back from injury in the Cavs 104-101 win over the Chicago Bulls, recorded 13 points, 11 rebounds, two assists and an emphatic block in 25 minutes, shooting 6-8 from the field and proving himself to be quite the compliment to Zizic's low-post presence when subbed in for the second-year center.
Cleveland took advantage of their size mismatch in the frontcourt, outrebounding Washington 48-36 and outscoring the Wizards 48-42 in the paint. Their presence inside allowed the team to open up space for shooters on the outside, a welcome sight for Cleveland, as they received plenty of clean looks from beyond-the-arc.
Unfortunately for the Cavs, when Washington's third unit came into the game, playing with the energy you would expect of seldom-used players and catching Cleveland on their heels as they got comfortable with a big lead, the Wizards would battle back in the last six minutes of the game and cut final deficit down to three points. Washington still had a chance to tie the game in the waning seconds but, luckily, an ill-conceived (or, at least, poorly executed) play led to Wizards forward Troy Brown Jr. getting his three-point attempt blocked by Osman.
Osman finished Tuesday's game with 26 points (10-16 from the field), seven assists, five rebounds, two steals and one block. Clarkson, the team's leading scorer, tallied 28 points (10-15 from the field), five rebounds and two assists.
In what was an intriguing victory for the Cavs, here are a three observations from Tuesday's win:
1. Cedi Osman is turning the corner but free-throws have become an issue
Much has been made of the improvements that Osman has made as of late, averaging 21.0 points, 5.0 rebounds, 3.6 assists and 1.6 steals per game over his last five contests while shooting 53.5 percent from the field and 45.7 percent from three-point range. However, while Osman has started to let the game come to him and learned how to take advantage of what the defense is giving him, he's been a liability at the free-throw line during this stretch.
Shooting 75.8 percent from the charity stripe this season, Osman has made just 56.5 percent of his free throws over the last five games and missed two clutch free-throws at the end of Tuesday's game.
2. Collin Sexton's biggest weakness; ball-handling
Sexton has the speed, aggressiveness and a developing outside shot that should allow him to be one of the league's top scorers as he develops his NBA body and core strength. However, while Sexton has made clear strides in certain areas of his game, most notably his jump shot and basketball IQ, he's still been plagued by a seldom-mentioned issue. He has a fairly simply, and limited, ball-handling package that keeps him from not only being able to get out of tight spots on his drives consistently but makes defending him a relatively straightforward task.
He won't lose you with multiple or counter-dribbles. Confuse you with an unforeseen move. Stay in front of him as best as he can while he drives north-south and you'll give yourself a great chance of forcing a miss.
3. Rodney Hood is going through a slump
Hood has been averaging 7.6 points per game while shooting 30.4 percent from the field and 31.6 percent from three-point range. He hasn't been overly assertive, perhaps in light of Osman's recent spike in productivity, but he hasn't been efficient at all and that's a concern. Confidence doesn't seem to be the issue, nor does his form. It could simply just be a stretch of bad shooting nights from the fifth-year swingman.
His decision-making, defensive communication and tendency to make defensive plays off-ball are promising improvements to his game. However, as a potential trade piece and a future free agent, there's a magnifying glass on his offensive play.

NEO Sports Insiders Newsletter
Sign up to receive our NEOSI newsletter, and keep up to date with all the latest Cleveland sports news.