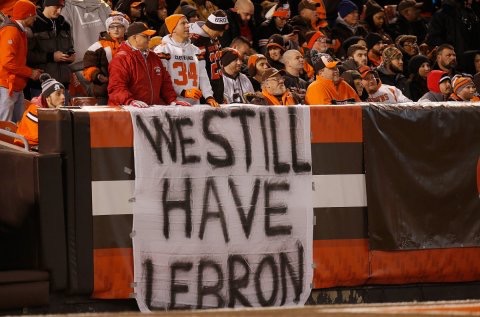 The end of the 2014-2015 Cleveland Browns season didn't finish in the Cinderella ending that the fans and player were hoping for. With Brian Hoyer at the helm for most of the season, they started 7-4 with some impressive running from some rookie running backs and minimal turnover play.
This meant nothing on the later part of their season because they ended up losing five straight to end the season 7-9. We did get glimpses of Johnny Manziel and even though he was far from exceeding expectations, people were excited to see him next year.
Holy crap. What were we thinking?
Personally I didn't see any improvements in the offseason that jumped out at me. Josh McCown? Why would we need the ancient QB that was on the WORST team last year? Dwayne Bowe? How he tricked our front office to giving him 9 million dollars is beyond me. Good work by his agent.
Ray Farmer honesty seemed like he knew nothing about what this team needed which might have led to the drama that was created between Farmer and Mike Pettine.
When the draft came along, the excitement came back because, once again, the Browns had two first round picks and the fan base was hoping to get those dynamic playmakers and defense players we have been looking for for years.
Danny Shelton was the first pick for us and it seemed like a solid pick to beef up the dead last run defense.
Cam Irving was the second pick and had some questions about him but his versatility from switching from guard to center was a positive after the injury to Alex Mack so it made sense.
Training camp came and went and before you knew it, the season was here. And wouldn't you know it, the pieces started falling apart for the Browns in their first drive against the Jets.
McCown scrambles to try and get to the end zone by diving head first trying to break the plane and getting rocked in the head by a Jet defender and ended up giving Josh a concussion.
Johnny came in after that and despite throwing a 50 yard touchdown to Travis Benjamin, they were blown out and that's when I knew this was going to be a rough season.
The misuse of players in the game, injuries, the healthy scratches of Bowe and Justin Gilbert and off the field antics of Johnny and a few other player were the downfall of Farmer and Pettine and the result of the 3-13 season.
Let's just hope that Mr. Haslem can find a group of guys that can get along and have the same agenda for this franchise: Win the division.

NEO Sports Insiders Newsletter
Sign up to receive our NEOSI newsletter, and keep up to date with all the latest Cleveland sports news.