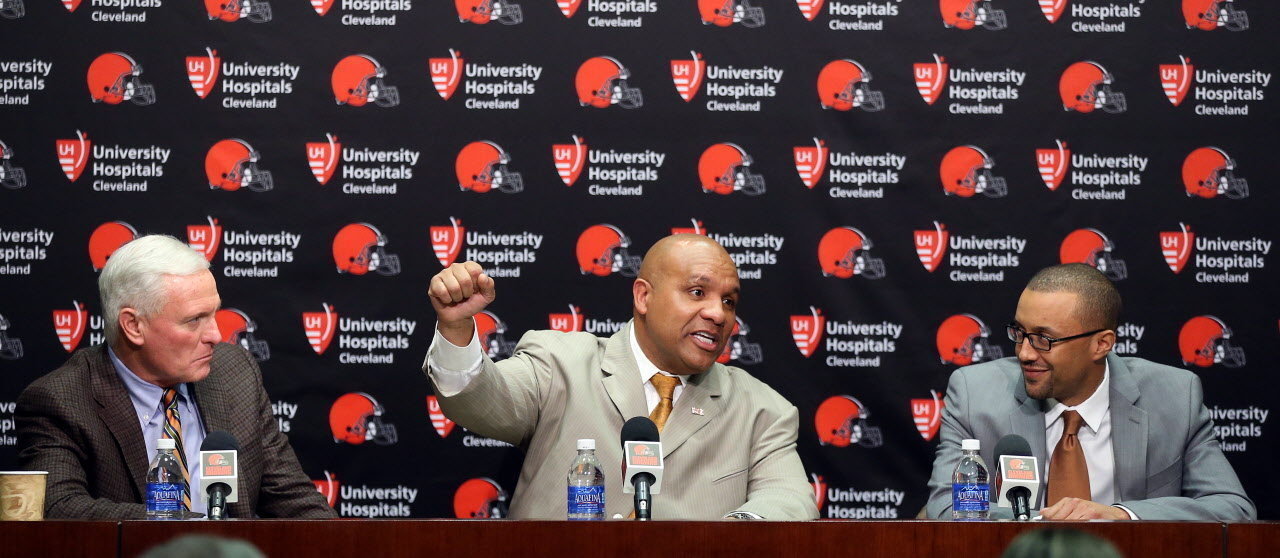 The 2016 Cleveland Browns went into that memorable season with a plan and executed it to perfection.
Anything lower than the No. 1 overall pick in tonight's draft would have been a disappointment.
Gutting the roster from within and making zero meaningful additions to the quarterback depth in 2016, the team did exactly what it set out to do.
Cleveland has the top pick tonight and some Browns fans are rightfully excited to see what gamechanging player(s) the Browns select.
Regardless of who that player is – most would expect Myles Garrett – this ship is not going to make a full 180 degree turn, even if the Browns front office finally puts together a successful draft.
If the Browns are able to land Mitchell Trubisky – or some other quarterback – along with Garrett, odds are that guy is not going to start from Day 1 of the season and won't be ready to win many games in 2017.
If Cody Kessler or Brock Osweiler gave anyone enough reason to believe they could take a young Browns team from 1-and-15 to a winning record in 2017, the people who think that should probably be tested next to Jabrill Peppers and Josh Gordon.
The likely reality is that even if this draft works out in Cleveland's favor, the Browns are going to be picking in the top five in 2018.
That's not a bad thing.
In fact, I would argue Cleveland's best chance at sustainable success is to have another awful season (from a wins and losses standpoint).
Cleveland could make some steps forward and go 6-10 to get a top-12 pick, or the Browns could land in the top five and get another star-caliber player in the first round of 2018 – whether it's a quarterback or some other position.
The Browns also have stockpiled picks to the point where in next year's draft – if they wanted to – they could move up from somewhere like five or four to number two or number one overall – without mortgaging future first round picks.
The Browns don't have to "tank" to be bad in 2017.
But the end product could end up with the same result.
2017 could be a year where the Browns see incremental growth from rookies and second-year players, continued establishment of leadership roles from guys like Christian Kirksey, Danny Shelton and Jamie Collins, and maybe add two or three more wins to last year's atrocious record.
Cleveland will still have holes left after this draft – even if every single player they draft turns out to be worth their value.
Winning six or seven games in 2017, assuming the Browns don't find their franchise quarterback between now and next year's draft, could actually hold the team back from reaching a higher ceiling than if Cleveland just puts together another three or four win season and winds up with a Day 1 star (like many expect Garrett to become this season) in 2018.
The biggest question if the Browns produce another bad season and finish with a top five draft pick is whether or not Jimmy Haslam would see the plan through.
The most comparable team in sports to the Browns is the Philadelphia 76ers.
They went into full blown tank mode for years. Sam Hinkie lost his job before ownership saw his plan come to fruition.
The Sixers may not be in position to win right now, but with guys like Joel Embiid, Ben Simmons and whoever they draft with their lottery pick in 2017, the future is much brighter in Philadelphia than for teams like the Atlanta Hawks, Charlotte Hornets and Indiana Pacers – where the maximum potential is a second round exit from the playoffs.
Since the Cleveland Browns started their new plan with Sashi Brown in 2016, my feeling about this regime has been to see what happens if the Browns go full blown Sixers mode.
They did that in 2016 and could be on track for another step in the process this year.
If Sashi Brown loses his job because his plan is not allowed to grow, it doesn't mean the Browns will be in a bad spot heading into 2018. They'll still have the budding young stars he helped them acquire.
As the rest of the AFC North continues to get older, even if the Browns appear far away from taking the leap into becoming a contender, their trajectory is trending upwards, while Father Time continues to catch up with Pittsburgh, Cincinnati and Baltimore (none of whom are doing much to address it.)
As the face of Philly, Joel Embiid would say: Trust the process, Cleveland.
You've been through decades of bad seasons already. What's one more?