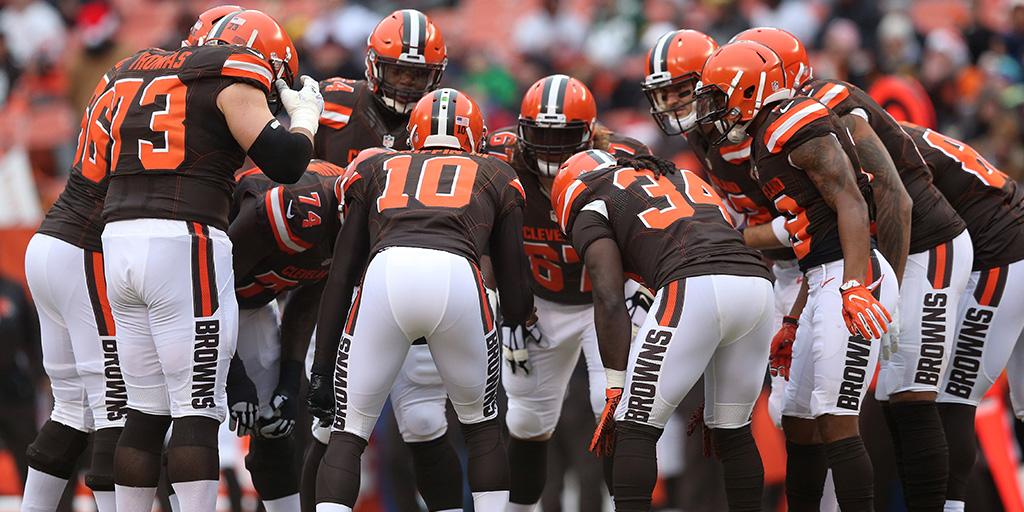 There is no fathomable way to sugarcoat a 1-15 season at any level of sport, especially in a league with as much parity as the NFL.
The draft format is set up in a way that usually make for quicker turnarounds than leagues like the NBA and MLB, but in the midst of all these turnarounds in Oakland, Detroit, and Minnesota, the Browns are in the early stages of another rebuild with a new approach, but similar results so far.
2016 was the indisputable worst year of Cleveland Browns football since the team first took the field 70 years ago under the man for whom the franchise was named, Paul Brown.
Even compared to the insufferable 18 previous years of the "new" Cleveland Browns franchise since the team returned in 1999, this season was unprecedented.
It wasn't just bad because of the total win-loss record, but what made it an extraordinary year were the improbable circumstances that arose due to injuries racking up on a team that severely lacked depth even before kickoff of the first preseason game in August.
Hue Jackson was one of the most highly sought after coaches on the market and the Browns' new hierarchy received national praise for its forward-thinking, analytics-driven model of building the team basically from scratch.
Losing 15 games is inexcusable, but the moves that happened in March must be taken into account, in which new Browns Executive Vice President Sashi Brown opted to let notable starters Alex Mack, Mitchell Schwartz, Paul Kruger, Karlos Dansby, Donte Whitner, Travis Benjamin, Taylor Gabriel, and Tashaun Gipson find greener pastures (any of the 31 other teams) for more money and a better chance to win.
Mack and Schwartz will be playing in the NFL Playoffs next week, while the story of the Browns' offensive line will go down in infamy as one of the worst in NFL history, allowing  62 sacks and using seven different starting combinations.
What Went Wrong?
A perfect storm of injuries to offensive linemen, leading to injuries to quarterbacks, leading to lack of continuity at quarterback, leading to lack of continuity at offensive line, and round and round the carousel went for four brutal months.
CBS analyst and former-Cincinnati Bengals quarterback Boomer Esiason called the Browns' offensive line, "a disgrace," and said "whoever is playing quarterback should be getting paid triple in Cleveland."
However, the two veteran options at quarterback didn't exactly give fans much reason to be confident that either of them could be relied upon to last four quarters regularly.
Josh McCown, who was praised for his toughness and guts, but also known for making reckless decisions, like exiting Week 1 of 2015 by going head first into the helmet of a Jets' defender.
Robert Griffin III, arguably the most injury-ridden quarterback of the last five years.
What could possibly go wrong?
It wasn't like the Browns were expected by many to have a respectable season even before those two were injured.
If Griffin III, McCown, or even left guard Joel Bitonio stayed healthy, maybe the team would have won more than one game, but the lack of depth showed up as early as the third quarter of Week 1 in Philadelphia, when RG3 (to the shock of no one other than Jackson) left the game with a broken collarbone and was put on IR the next day.
Offensive line and quarterback play were the two most glaring weaknesses on offense, but Cleveland's 2016 Draft Class included four wide receivers, three of whom made virtually no impact at that position.
Lack of continuity with one quarterback didn't make it any easier on the young guys, but it's hard not to notice what Gabriel and Benjamin did with Atlanta and San Diego.
As much as Phillip Rivers and Matt Ryan are credited for the success of those two, it seems like the Browns have a better track record of letting solid players get away than they do at finding quality players in the draft.
We'd be remissed not to mention the saga of Josh Gordon and though it would have been a great comeback story, relying on him to make an impact was probably as much of a gamble as relying on Griffin to stay healthy, if not a bigger risk.
Despite all of those swings and misses, the offense did find a way to put points on the board, but for the first ten games, the defense was more responsible for the winless start than a makeshift offensive line and a revolving door at quarterback.
As crazy as that sounds, the defense was that bad.
From Week 1 to Week 14, the Browns allowed 100 or more rushing yards in 11 of 13 games.
The secondary wasn't playing lights out either, with veterans Joe Haden and Tramon Williams showing their best years are far behind them, and the linebacking corps left much to be desired.
One of the biggest offseason additons on defense was linebacker DeMario Davis. His first sack of the season came in Week 17 against Pittsburgh's backups and his name was rarely mentioned at all throughout the season.
For a team lacking depth, experience, and impact players, the best recipe to win would have involved playing complementary football in all three phases, not turning the ball over, capitalizing on field position and squeaking out as many points as Cody Kessler or Isaiah Crowell could muster.
But when a team is historically bad, everyone has to chip in for that to happen and special teams made its impact throughout the season.
The game that sticks out most was Week 4 in Miami, where Terrelle Pryor did practically everything in his power to will the team to a win, but newly acquired kicker Cody Parkey missed two field goal attempts, which proved to be the difference.
Fortunately, Parkey's season never got any worse than his first game as a member of the Browns, but he was far less reliable than undrafted rookie Travis Coons was in 2015.
Meanwhile, for all the talk about running back Duke Johnson being an elite kick returner in his college days at Miami, it didn't matter who was returning kicks, the Browns lost the field position battle on a weekly basis, rotating kick returners and punt returners throughout the season.
Along with the struggles of the team's less than stellar group of players, the coaching staff had its fair share of flaws, too.
Jackson may not have had the best set of circumstances to work with, but simple things, like clock management and pre-snap penalties came back to bite the Browns time and time again.
There's enough blame to go around for everybody, but things like second half collapses or watching Jeremy Hill and Le'Veon Bell run the same play over and over again to the tune of 150-plus yards signal a failure to make necessary adjustments.
All things considered, there were a few opportunities to add three or four more wins, even with the injury-ridden, inexperienced roster, but a lot of those games came down to mistakes that were under the team's control.
Before the season began, my theme for this season was that the number of wins and losses would not be an accurate measurement of how much progress was made and this year was about seeing which players belong in Cleveland going forward.
So what went right for the Browns in 2016?
It almost sounds ludicrous to even consider anything good happened in a 1-15 season, but if one is to figure out how to get better from there, the few positives have to be recognized to start to form a foundation for what can hopefully turn to respectability.
Here are some of the few glimpses of hope in a dark season.
Young players developing
While past Browns' drafts always seem to come back to rear their ugly heads, guys like Christian Kirksey, Danny Shelton, and undrafted Isaiah Crowell made positive contributions in 2016, showing that not every remaining trace of Ray Farmer was a wasted roster spot.
Jamie Meder made some big plays throughout the season and when healthy, Bitonio is a guy who most NFL teams would be more than happy to have.
The aforementioned players in this young core have a couple seasons under their belts and are starting to approach the prime years of their careers.
Hopefully they have a coaching staff in place long enough to build a system and culture.
Rookie Class
The Browns are no closer to having a franchise quarterback than they were in December of 2015, but did manage to find some promising rookies in the 2016 NFL Draft.
Corey Coleman showed flashes throughout the season and logic would dictate that whenever the Browns do find their answer at quarterback, he has nowhere to go but up.
Emmanuel Ogbah did something that seemed like a forgotten art among Cleveland draft picks of the last 10 years: pressured the quarterback.
Carl Nassib made big plays throughout the season and looks like a guy worth keeping in that front-seven, along with Ogbah, Shelton and Kirksey.
Even Kessler, who by no means picked apart defenses, showed some poise, took care of the ball, and exceeded expectations, considering the plan for him to watch from the sidelines was scrapped by Week 3.
He showed enough to be an option at backup if someone goes down in the future.
One of Cleveland's undrafted free-agent acquisitions, Briean Boddy-Calhoun was a bright spot in a bad secondary, intercepting three passes.
Veteran Additions
As much as the RGIII gamble blew up in Jackson's face, the first full season of Terrelle Pryor at wide receiver was a success.
His size, speed, and athleticism are all in line with the typical model of a team's number one receiver and his development at that position is a testament both to his work ethic and the coaching staff, especially Jackson.
Pryor showed heart and his outspoken nature isn't something that will always resonate well with fans and teammates, but at least the guy cares.
We've seen so many players come for a paycheck, go multiple years without demanding accountability or trying to spark the team, and then disappear as fast as they signed the contract.
For as bad as the secondary was, former-Dolphins cornerback Jamar Taylor had a good season, earning a three-year contract extension.
He may not be a number one/shutdown corner, but he outplayed Joe Haden and Tramon Williams just about every week.
One of the biggest trades in the entire NFL in 2016 took place in Week 9, when the New England Patriots sent Jamie Collins to Cleveland.
There is a direct correlation to his arrival and the improved play of the defense as a whole.
The Browns defense allowed 28 points per game over the first eight games, before the Collins trade.
Cleveland had a few rough games on defense in the second half of the season, but played well in five of the last six games, most notably coming away with a gritty Week 16 win over San Diego.
It may not seem like much, but that type of solid improvement can be something to build upon and Collins could be a cornerstone of the defense with a young core.
Veteran Leaders
Whether he's still an All-Pro left tackle or not, having Joe Thomas in the locker room and on the field can only help show young guys how to be a pro.
Thomas has never missed a snap and has seen it all throughout his Hall of Fame-worthy career, the little good, the mostly bad, and the usually ugly in Cleveland.
He has a better pulse on the fanbase and history of this franchise than probably any head coach or front office member of the last ten years and one would hope the team values that.
Another veteran leader is 30-year-old wide receiver Andrew Hawkins.
There's a reason Hawkins has been around the league this long and much of it is due to his work ethic and knowledge of the game.
Hawkins is a team-first player who has aspirations of becoming a General Manager one day and said in an interview on The Hue Jackson Radio Show, "Talent is what gets you to the NFL. What you do next is what keeps you here."
Even if Hawkins would be a fourth wide receiver option going forward, he could be a mentor to guys like Coleman and other young players.
Belief in Hue Jackson
Jackson made his fair share of mistakes in 2016, but he never lost the team's respect.
He stuck to the same message and stayed consistent with his guys.
It was only one win, but the emotion and support Browns players showed their coach was a powerful display of how badly the team wanted to get him a win.
The video the Browns posted after their 20-17 win over the Chargers gives a glimpse into a locker room of a team that was defeated, beaten down, and going through a nightmare season, but they still fought for each other and for their coach.
????? An emotional Hue Jackson gets the game ball from his Browns players after their first victory #DawgPound #Browns pic.twitter.com/otE4pHCa2T

— Fanatics View (@fanaticsview) December 26, 2016

NEO Sports Insiders Newsletter
Sign up to receive our NEOSI newsletter, and keep up to date with all the latest Cleveland sports news.