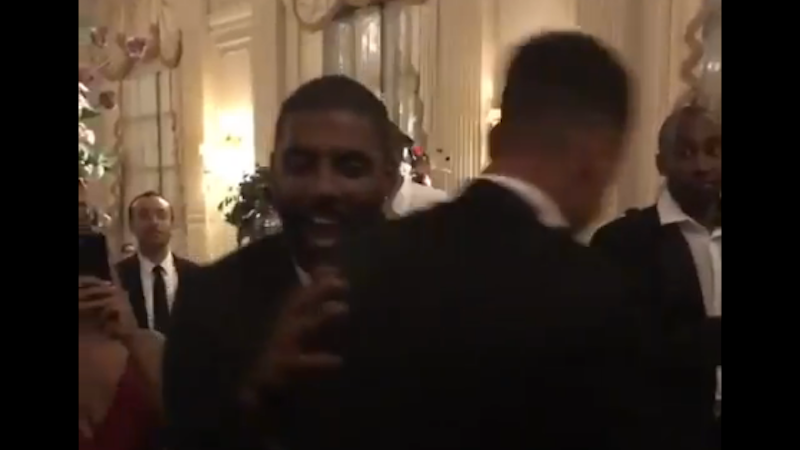 By Jay Alan
Exactly what is Kyrie Irving doing? He has seen what happens when a star player, beloved by the city of Cleveland, publicly spurns the fan base who had loyally supported him for years.
He was viewed as the savior to Cleveland after LeBron James left to take his talents to South Beach via "The Decision". After radio silence as all of the news of his trade request broke, Kyrie has returned from China and made it pretty clear how he feels about this whole situation.
First, we had the "I'm Coming Home" video hat Kyrie himself posted on his way home from a Nike promotional trip to China. For anyone with the memory of a goldfish, this was the title of the article that LeBron wrote to announce his return to Cleveland, and the song so associated with James that summer that the singer, Skylar Grey, performed it live at his Akron "Welcome Home" party.
It was pretty obvious to most that this was a dig at LeBron, but to give Irving the benefit of the doubt, let's just assume for the sake of argument that it was a coincidence.
That brings us to just a few short days later when a video surfaced of Kyrie Irving doing the #LeBronChallenge at Harrison Barnes' wedding, with Kyrie standing close by and loving every second of it. Not to be like every other sports writer that has a hard time understanding this generation of NBA players, but I cannot imagine a grainy VHS tape of Bird and Magic partying together in the summer after one of their Finals matchups.
Kyrie Irving laughing while Steph Curry imitates LeBron James Working Out pic.twitter.com/sYL8mco51Z

— NEO Sports Insiders (@NEOSportsInside) July 30, 2017
Yet here we find Kyrie dancing with Steph Curry, probably the most hated man in Cleveland currently, having the time of his life.
When word of Kyrie's unhappiness first broke, there was a sense that it might not be true, mostly because no one had heard from Kyrie himself. Maybe it would be Kobe vs Lakers pt. 2, where Kyrie says he would rather play on Pluto, and then returns to the Cavs and wins a few more rings.
Well Cleveland fans, Kyrie just dissed Cavs fans with this one. If he is so friendly with these guys that he is attending their weeding, he could have certainly made sure the video was not released if he didn't want it to be.
Maybe he hates losing so much that he wants to follow in Kevin Durant's footsteps and join his party buds, the Warriors. Highly unlikely, but can you imagine LeBron's head exploding if it did happen?
After all this fan base has been through, why Kyrie? Where does this stand in comparison to the decision? Just 13 months ago, Kyrie hit the biggest shot in Cleveland history, and yes bigger than that shot, and could do no wrong. Boy, that escalated quickly.