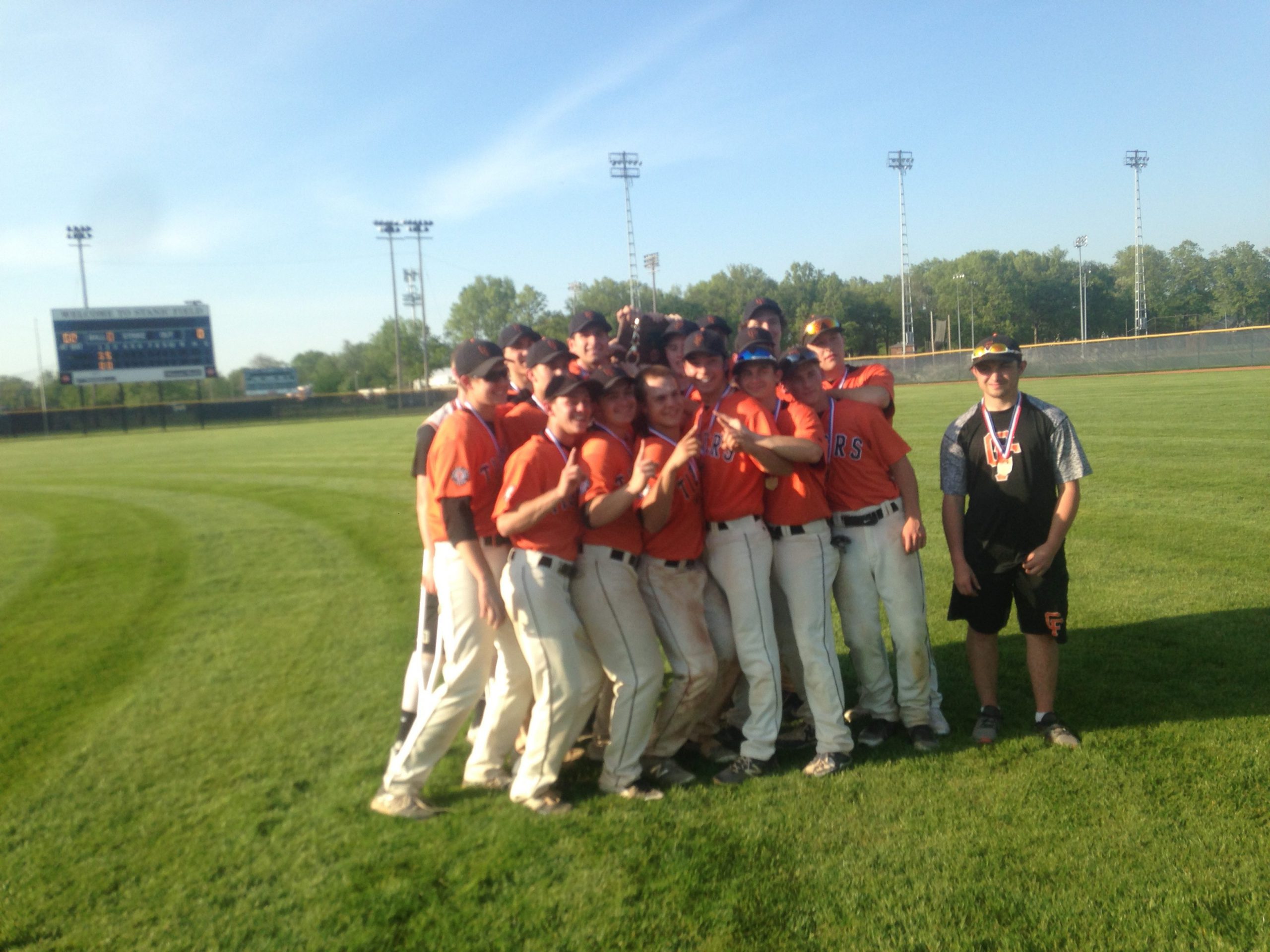 Euclid, Ohio — Chagrin Falls scored nine runs in the first inning, and held off a late CVCA rally to win, 10-7, capturing their second consecutive district championship.
CVCA got things started in the first inning, when the first two batters drew walks. Drew Wilson reached on an error by second baseman Kyle Zaluski, and Josh Junko scored from second base to give CVCA the early 1-0 lead.
Taylor Sobiech then added a two-out single to right field, plating Josh Thacker to increase the lead to 2-0.
But the Chagrin Falls offense, which helped carry the team throughout the season, caught fire in the very next inning.
It all started when catcher Cole Newbauer reached on an error at short. Kyle Zaluski added a single to center, and Erik Wilson lined a two-run single to center to tie the score at two a piece.
Colin Kennedy and Adam Bencko followed up with singles to load the bases. Sophomore Max Faulds lined a single to right to give Chagrin Falls the lead, 3-2.
But the Tiger offense was just getting started.
Andrew Kwasny followed with a two-run single of his own, increasing the lead to 5-2. Sam Dolan then reached on a dropped fly ball to center to load the bases.
Jack Amendola made it 6-2 with an RBI groundout to shortstop, and Cole Newbauer followed up with a two-run single of his own to increase the lead to 8-2, and that was it for CVCA senior starting pitcher  and Indiana Wesleyan commit Steven Taylor.
Junior pitcher Matt Henning came on in relief and walked Kyle Zaluski, who later stole second. Cole Newbauer would score on the successful double-steal attempt to make the score 9-2 in favor of Chagrin Falls. After another walk, Henning got out of the inning, inducing a popup to Colin Kennedy.
After a scoreless second inning, Chagrin Falls scored another run in the third, when Adam Bancko lined a double to left-center field, scoring Erik Wilson, to increase the lead to 10-2.
Junior starting pitcher Colin Kennedy overcame a rough first inning, striking out the side in the second, and getting out of jams in the third and fourth innings. He threw four innings on the day, allowing just three hits, walking four, striking out four, and allowing two earned runs.
CVCA added a run in the top of the fifth inning when Chris Fair led off with a triple to right field. He later scored when Drew Wilson reached on an error to shortstop Adam Bencko.
In the bottom of the fifth, Chagrin Falls tried to increase their lead, but the CVCA defense came up with their second outfield assist of the day, throwing out their second runner at home plate.
Matt Henning threw very well in relief for the Royals, pitching 5 1/3 innings, allowing six hits, walking four, and striking out three.
"I gotta go in there and give it all I got, and fight until the very end." said Henning.
CVCA would not go down quietly, putting a rally together off Chagrin Falls relief pitcher Andrew Kwasny with two outs in the seventh.
After Chris Fair reached on a hit by pitch, Drew Wilson followed up with a single, and Steven Taylor hit a double to left-center field, scoring two, and cutting the Chagrin Falls lead to 10-5. He would score on a Taylor Sobiech single to make the score 10-6.
Freshman designated hitter Christian Isaacs hit a double to left center field, scoring Sobiech and cutting the CVCA deficit to 10-7.
Ben Cervelloni came on for Chagrin Falls and induced a ground ball to second base to end the game and send Chagrin Falls to its second consecutive regional appearance.
Five batters combined for 11 of the Chagrin Falls' 13 hits.
"I feel like I'm making a huge difference in there, contributing a little bit, and I'm glad to be here." said sophomore Max Foulds, who went 2-3 on the day with two singles and two runs batted in.
Junior pitcher Colin Kennedy, who earned the victory to improve to 6-1 on the year, also helped his own cause, going 2-4 on the day with two singles and a run scored.
"We're very motivated to make it to states this year. We've been hitting very well recently throughout the order." said Kennedy.
Senior pitcher Andrew Kwasny, who came on in relief for Colin Kennedy, throwing 2 2/3 innings of relief, also added to the efforts, going 2-4 with a single, a double, and two runs batted in.
"In a game like baseball where anything can happen, really exciting to get a win. It's nice to have that off time and refocus for the next round. It will be a lot of fun." said Kwasny.
Junior Erik Wilson went 2-3 on the day, with two singles, two runs scored, and the go-ahead two-run single in the first inning to give Chagrin Falls a lead that it would not relinquish.
"It's a great feeling, especially in back to back years. We wanted to get back to the regional final, and improve from there, especially being a young team. It's great to achieve that goal." said Wilson.
Junior Adam Bencko went 3-4 on the day with two singles, a double, and a run scored.
"We were fortunate to get back and we knew this year, we were just as good, if not better, and we've proven that, so we know that we're ready for this. It was great to come out and prove that point and we're getting back to where we left off." said Bencko.
For Chagrin Falls head coach Michael Sweeney, it was his 300th career win.
"I always tell these guys it's a seven inning game. Baseball never ends until the last out, and we harped on that all year." said Sweeney. "Last year we kind of came out of nowhere in a sense, but this year we had a lot of pressure on us to succeed and we came through. It wasn't easy though." he added.
Chagrin Falls improves to 24-5 and advances to the Hudson regional semifinal to take on Canfield, the winner of the Struthers District.
For CVCA, despite the hard-fought comeback effort at the end, the rough first inning proved to be costly.
"If that first inning doesn't take off on us, a few errors there and they hit the ball hard. That kind of put us in a tough spot trying to climb our way back." said CVCA head coach Jason Herblet. "(Matt) Henning stopped the bleeding and gave us a chance. We fought until the end there." he added.
CVCA drops to 15-10, but their season is not over yet. They play against Woodridge on Wednesday afternoon and Cuyahoga Falls on Thursday afternoon in the Cuyahoga Falls city championship.

NEO Sports Insiders Newsletter
Sign up to receive our NEOSI newsletter, and keep up to date with all the latest Cleveland sports news.