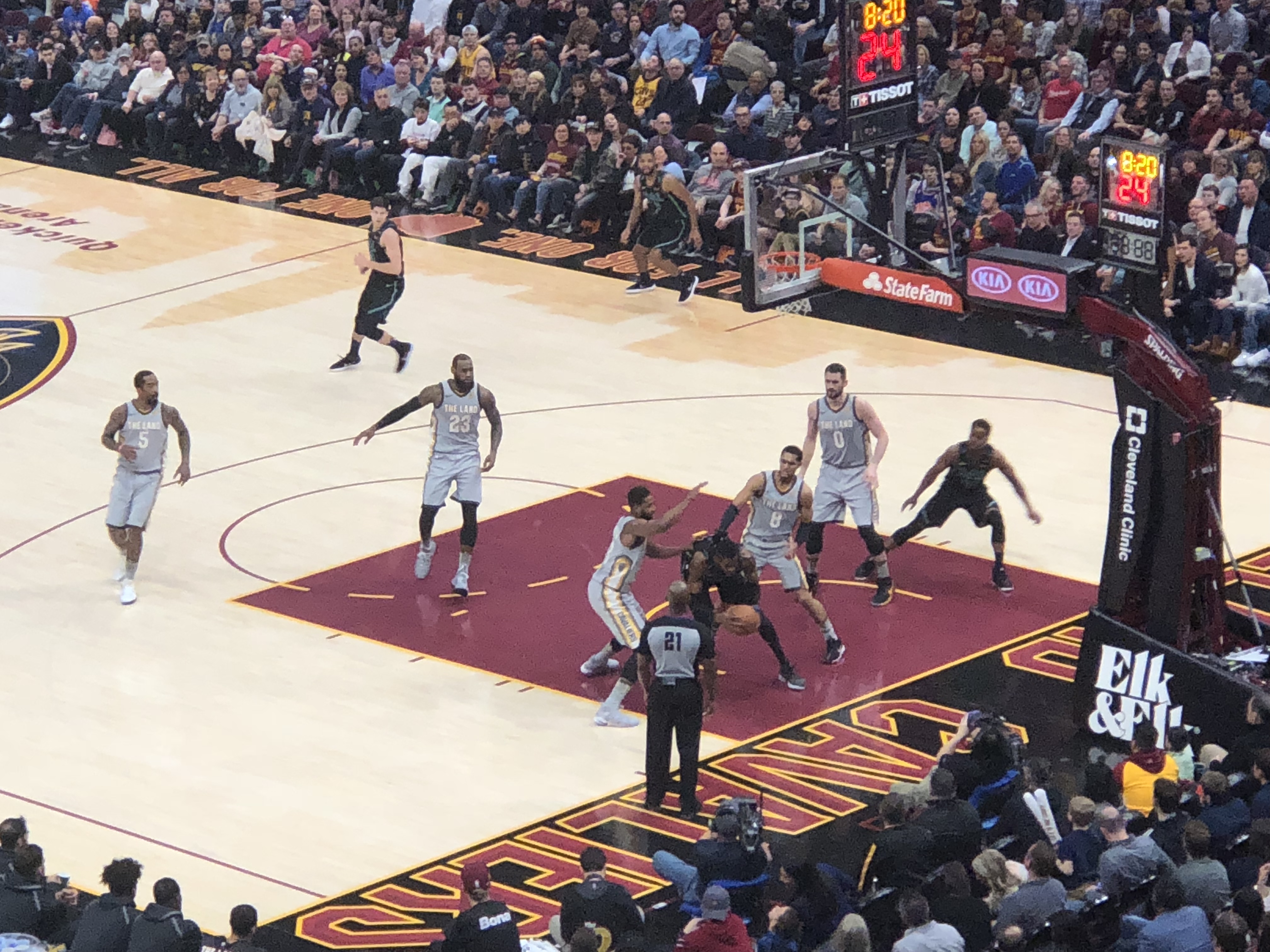 CLEVELAND– On Sunday night, the Cavaliers topped the actively-tanking Dallas Mavericks, 98-87, in what was one of the uglier wins of the 2017-18 season.
Dallas had a four-point lead heading into the fourth quarter, 77-73, but did not sub a starter in until there was about seven minutes remaining in the game. As a result, the Cavs outscored the Mavs in the final frame, 25-10.
Following the contest, Cavs interim head coach Larry Drew said that his squad's outing was not a major cause for concern.
"For me, it's going to be an easy one to move on from and just start getting ready for the next," Drew said. "We are at that stage of the season where some of these games are going to be grind out games. We're not going to make shots all the time. Some games we're just not going to have the energy. Hopefully when those type of situations do come up you get production from your bench. We're not going to panic on how we played tonight. We know we're a much better club than what we showed tonight."
Larry Drew says there is no reason for Cavs to panic, some games at this stage of the year they are going to have to grind out. pic.twitter.com/wdvPE2H4kX

— Ashley Bastock (@AshleyBastock42) April 2, 2018
And over the upcoming week, the Cavs will have to be much better in order to hang on to their No. 3 seed in the Eastern Conference. With the Toronto Raptors, Washington Wizards and Philadelphia 76ers (who remain just half a game behind the Cavs) all on the docket, the Cavs will have three playoff-caliber games ahead of the actual playoffs before rounding out the regular season with a home-and-home series against the New York Knicks.
"I think it's a good challenge for us," Kevin Love said. "Minus Philly who's playing extremely well right now and missing (Joel) Embiid, everybody's pretty much full strength. We'll go out and play extremely hard whether it's here the next two games or in Philly back-to-back. So it's going to be a good test for us these next few."
Love talks about the slate of games the Cavs have coming up against Toronto-Washington-Philly pic.twitter.com/qQrDJDEqbC

— Ashley Bastock (@AshleyBastock42) April 2, 2018
Since Feb. 7, the Cavs have gone 17-8 and have won eight of their last nine games. LeBron James is playing out of his mind, averaging a triple-double going back to Feb. 3. But due to a slew of injuries, it doesn't necessarily feel like the momentum has swung in Cleveland's favor.
At the deadline in February, the Cavs traded away half their roster. Since that time, numerous players have struggled with injuries, including Love, Tristan Thompson, Cedi Osman, George Hill, Kyle Korver, Rodney Hood, Jeff Green and Larry Nance Jr. Head coach Tyronn Lue is also taking time away from the team to deal with health issues of his own. With only five games remaining, this version of the Cavs still has yet to play a game together.
"We're happy that we're winning, but we want to feel like we've put it all together," Love said. "I think when we really lock in and we feel like it's a do-or-die situation we'll accept the challenge and really compete at a high level. Right now I feel like, even during today's game, obviously we felt like we could take it to another level and push through it. But like I said, sometimes you have to win ugly and that's part of being a good team."
Love: "We're happy that we're winning but we want to feel like we've put it all together" pic.twitter.com/LjHscdUPO2

— Ashley Bastock (@AshleyBastock42) April 2, 2018
But despite all of the drama, injuries and adversity this year, the Cavs can still hit the 50 win mark if they go just 3-2 over the next week and a half. But how exactly will this team fare down the stretch in a playoff situation? Realistically, it's something we won't know until the playoffs are actually happening.
"I think when it comes down to the postseason, we can be pretty good," James said. "I mean, I think so. But we don't know. Listen we lost our starting point guard (George Hill) last game, so we're trying to get everybody acclimated. Our head coach is still out and it's going to take him a little time to get back as well, so I don't know what we're capable of doing. We haven't played a playoff game together.
"We got four guys you know from our championship team, myself, J.R. (Smith), Tristan and Kev. We got some playoff experience, but you don't know. It's a new season and we'll see what happens."