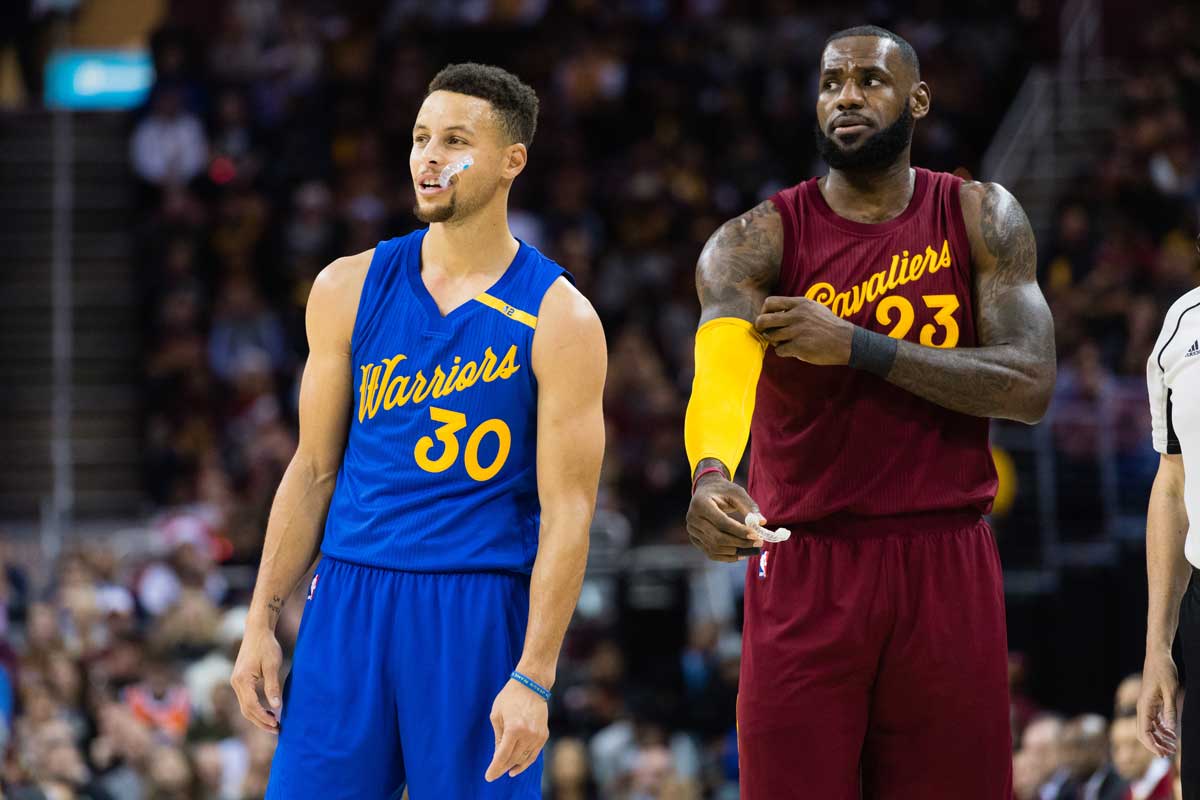 The Cleveland Cavaliers and Golden State Warriors have developed into the greatest rivalry in current sports.
Meeting for a third-straight NBA Finals, the public trash talk, the subtle jabs thrown by LeBron and the Cavs, and the general healthy disrespect for one another are all factors that make this matchup so intriguing, whether from a Cleveland perspective, an Oakland perspective, or just from the standpoint of someone who objectively likes basketball.
However, when people rightfully claim these two teams are archenemies, something that doesn't always come up is just how similar these two teams are.
Before Kevin Durant signed, there was an attitude amongst Golden State supporters that their franchise "did it the right way."
Nevermind the fact that Kyrie Irving was also Cleveland's own draft pick and the Cavs used another No. 1 pick to acquire Kevin Love. Apparently that's "the wrong" way to build a team to some.
Now that Durant is there, the roster construction of the two teams are practically identical.
Let's go position by position.
Point Guard
Kyrie Irving and Steph Curry
Both Great Handles
Both Great Shooters
Both Poor Defensively
Two of the Best Point Guards in the League
Shooting Guard
Klay Thompson and J.R. Smith
Both Great 3-Point Shooters
Both Known for Above-Average Defense
Small Forward
LeBron James and Kevin Durant
Both MVPs
Both Arguably the Best Player in their Conference
Both Can Score in a Variety of Ways
Great Shooters, Great Finishers, Great in Traffic
Power Forward
Draymond Green and Kevin Love
Tristan Thompson is actually more like Draymond than arguably any player in the league. Tristan and Draymond both play with heart, emotion, and out-hustle pretty much everyone on the floor. They're both versatile defenders with lateral quickness and don't back down from any challenge.
When it comes to Green and Love, the two players are about as polar opposite as you'll find in this series.
Green = Highly Emotional, Puts the Ball on the Floor, Good 3-Point, Excellent Defender
Love = Calm, Collected, Phenomenal Catch and Shoot, Great Rebounder, Defensive Liability
Both Great Passers
Both Deliver Double-Doubles Consistently
Center
Tristan Thompson and Zaza Pachulia
Quite a few differences between these two, but more in common than some would think
Both Hard-Nosed Players
Both Know Their Roles and Don't Overstep Their Boundaries
Tristan = Young, Quick, Athletic, Strong, Physical
Zaza = Veteran, Slow, Strong, Physical
Zaza is not as important to his team as Tristan, but when it comes to the benches on both sides, this is where the two teams are perhaps most similar.
BENCH
Wily Old Veterans
David West, Shaun Livingston, Andre Iguodala, Matt Barnes vs. Kyle Korver, Channing Frye, Deron Williams, Richard Jefferson, James Jones, Dahntay Jones
Think about how much basketball these guys have seen over the course of their long careers.
The Veteran Leadership these guys bring cannot be overstated.
It seems like when the two teams started piecing their puzzles together, they both decided those experienced voices would be needed for championship runs.
Other Similarities
Both teams can shoot lights out from 3. Curry, Klay, KD, Clark, Draymond vs. Irving, J.R., LeBron, Love, Korver, Frye
Both teams had no threat in their conference. Cavs lost one game in the East. Warriors' biggest threat was a Spurs team that lost its starting point guard and MVP candidate small forward
Both are super teams. Whether anyone on either side wants to admit it or not, call it what it is. These are two super teams. The rest of the league is just hoping to catch up.
There's an old adage that sometimes the things you don't like about other people are the traits you recognize in them that remind you of yourself.
In a lot of ways, these two teams are mirror images of each other.
However, there's something to be said for the type of underdog mentality with which the Cavs played the last two years and has carried over into this year.
Blowing a 3-1 lead in the 2016 Finals seems to have humbled Golden State's players this season. The Warriors haven't been as much about the glamour and glitz this year and have gone about their work in a business-like fashion.
Being seen as underdogs even with the Larry O'Brien Trophy from last year has only fueled the fire of LeBron and the Cavs.
LeBron doesn't need extra motivation, but all the talk about who the regular season MVP was without even including him in the conversation seems to have done wonders for his mental intensity in the Playoffs. He's come out like a man on a mission since Game 1 of the First Round.
Golden State would like to have people believe that they play with more of a team-first mentality, but at the end of the day, the Warriors will go as their stars go and so will the Cavs.
First and foremost, it starts with KD and Curry vs. LeBron and Kyrie.
Draymond will do all the little things that help lead to wins and Tristan is very much a similar player for the Cavs.
Klay Thompson can get hot at any moment, but pay close attention to how the numbers break down in this series. It wouldn't be a surprise if Love, Korver, Frye, or Smith have similar games to Thompson in this series.
The difference between the Warriors and Cavs is that Thompson is the more consistent scorer, but those numbers will probably balance out over the course of the series.
Andre Iguodala is getting older, but still a reliable, athletic player, not unlike what Iman Shumpert provides for the Cavs.
All of this is a long way of saying, the Cavs and Warriors have more in common than people think, and it's part of what makes this such an evenly matched series.