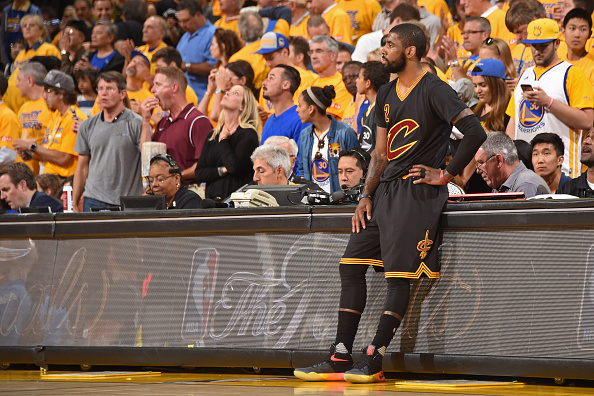 It's been a month and a half since one-third of the Cavaliers Big Three, Kyrie Irving, met with owner Dan Gilbert and requested a trade out of Cleveland.
It's been just over three weeks since the news of his request broke, and sent the NBA into a tailspin.
And yet, for now, Irving is still on the team. According to Gilbert, the team fully expects him to be at training camp next month.
So what exactly is the holdup? Knowing that Irving is unhappy, and considering the fact that he is one of the most impressive offensive talents in the league, why have the Cavs not shipped him out of Cleveland?
The answer most likely comes down to the team protecting themselves in the event that LeBron James jumps ship following the 2017-18 season when his contract is up. If this happens, it's clear that the Cavs want to put themselves in the best possible position for a rebuild, unlike what happened in 2010 when James took his talents to South Beach.
It's likely that James himself doesn't know what his plans are beyond this season. There's also a chance he stays, considering the Cavs remain the favorite to take out the Warriors in the NBA Finals.
If James does decide to leave, however, it would likely be due in part to the shake-ups in the front office, former general manager David Griffin's departure, and the fact that he fulfilled his promise on bringing a title to his hometown.
As a result, it seems as if the club is only willing to accept a high-level, young talent for Irving that they can build around in the event that James leaves.
As Adrian Wojnarowski of ESPN has reported, the Cavs remain "fixated" on young talent around the league, "including New York's Kristaps Porzingis, Boston's Jayson Tatum, Phoenix's Josh Jackson and Denver's Jamal Murray."
Without knowing whether or not James is committed to the franchise long-term, the Cavs cannot necessarily rely on bringing in a group of veterans in any potential Irving trade that would compliment James' play.
Since most teams that have talked to the Cavaliers about Irving are unwilling to offer up their young superstars, (i.e. the Milwaukee Bucks with Giannis Antetokounmpo) the Cavs are essentially stuck between deciding whether or not to make a decision for the short-term, or trying to find the best possible bargain for their long-term future.
As we get closer to the start of the regular season, the team will likely begin to more aggressively pursue any trade offers for Irving. However, without any kind of commitment from James, any move they make will most likely be a gamble.

NEO Sports Insiders Newsletter
Sign up to receive our NEOSI newsletter, and keep up to date with all the latest Cleveland sports news.