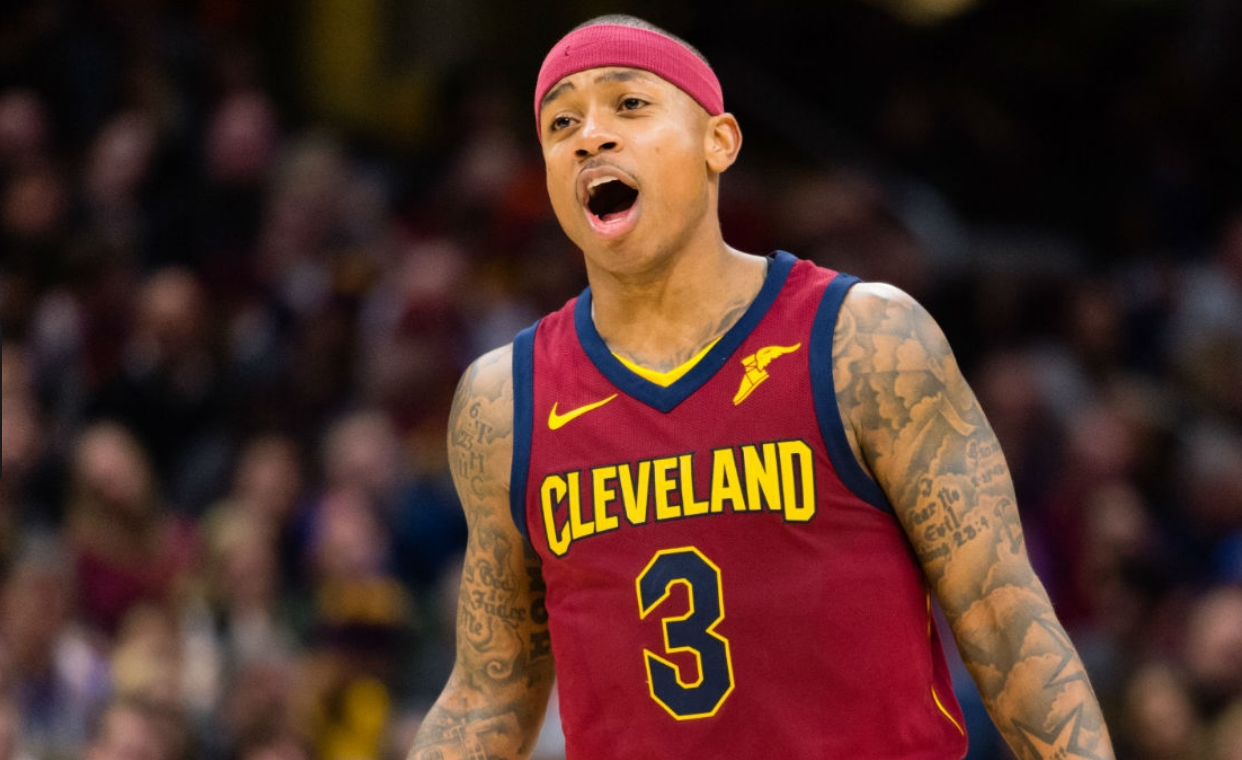 CLEVELAND – Shooters tend to gravitate toward certain spots on the floor, regions where their shot heats up.
Isaiah Thomas is still searching for his comfort zone this season.
The 28-year-old point guard went 5-of-12 (41.7 percent) from the field for 14 points in a 121-104 win over the Pistons on Sunday night at Quicken Loans Arena. His shot chart paints a telling picture of his mid-season slump outside the arc, especially after head coach Tyronn Lue benched him for the entirety of the fourth quarter…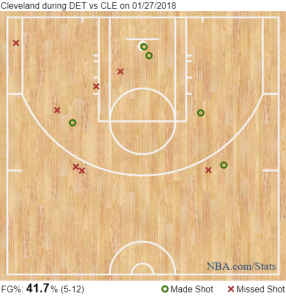 Three-pointers have been a thorn in Thomas' side, as he entered play with a 27.6 percent clip from deep before clanging 1-of-4 treys off the rim in the latest edition of the divisional rivalry. His 10-game sample size in 2018 has translated to a 5-5 record in January (first slide below), and his 451-game sample size in the NBA has transformed a 60th overall pick into an All-Star caliber point guard (second slide below)…
#Cavs Isaiah Thomas' 2018 heat map (first slide) compared to his seven-year career heat map (second slide). #NBA pic.twitter.com/A4z9DbUogL

— John Alfes (@JohnAlfes) January 29, 2018
Both charts above favor the mid-range and close-range shot attempts, courtesy of Thomas' shiftiness in the half-court offense. His long-range shot attempts leave room for improvement, particularly on the wings of the backcourt. Simply put, Cleveland's offense has not played to Thomas' strengths since he returned from a hip injury on Jan. 2.
Here is the shot rates and shooting percentages for each of Thomas' shot attempts in 2018 compared to his seven-year career…
Layups in 2018: 20.2 percent shot rate (18-of-89) – 50 percent shooting percentage (9-of-18).
Layups in career: 30.6 percent shot rate (1,873-of-6,113) – 58.4 percent shooting percentage (1,094-of-1,873).
Mid-range jumpers in 2018: 27.0 percent shot rate (24-of-89) – 45.8 percent shooting percentage (11-of-24).
Mid-range jumpers in career: 31.1 percent shot rate (1,900-of-6,113) – 39.5 percent shooting percentage (751-of-1,900).
Three-point jumpers in 2018: 52.8 percent shot rate (47-of-89) – 27.7 percent shooting percentage (13-of-47).
Three-point jumpers in career: 38.2 percent shot rate (2,340-of-6,113) – 36.5 percent shooting percentage (853-of-2,340).
Thomas is settling for more three-pointers than ever before, and struggling more than ever before while doing it. Whether it is his hip or his inability to gel with the fifth-ranked offense in the NBA, the numbers show him shying away from production inside the perimeter, the place where he has historically thrived.
"Just getting my legs back, getting my rhythm back," said Thomas. "It's going to take time."
The Cavs will need to find a game plan that fits Thomas best throughout the second half of the campaign, as his dependence on the three-pointer has cast a shadow on the regions where he has success.
"Make plays, get in the paint, score and dish the ball out to guys," Thomas said. "I try to get in the paint, be aggressive, guys making shots. That's just how I play."
Instead of shipping Thomas away before the trade deadline on Feb. 26, there is reason for Lue and the coaching staff to adjust based on Thomas' long-term trends rather than react based on his short-term slump.
"I'll build on it, keep working," said Thomas. "It will come."
John Alfes has covered Cleveland sports since August of 2016. Follow him on Twitter @JohnAlfes for breaking news and in-depth coverage all season long.

NEO Sports Insiders Newsletter
Sign up to receive our NEOSI newsletter, and keep up to date with all the latest Cleveland sports news.