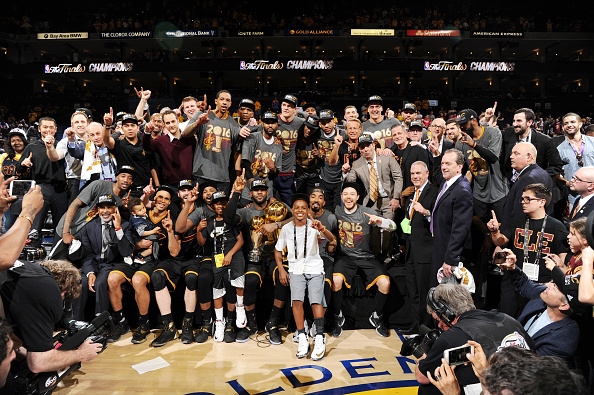 The month of June 2016 will forever in the minds of Cleveland sports fans, as the Cavs finally brought home a title back to the 216, doing it in historic fashion overcoming a 3-1 deficit against the heavily favored Golden State Warriors to win their first NBA Title.
Today being March 1st has turned into "3/1 Day" for Cleveland sports fans, celebrating the historic performance by the Cavs to overcome the 3-1 hole they were in to win three straight games and take home the championship.
Fans on twitter today are looking back at the history making feat by the Cavs, and at the same time celebrating the first day of March as spring gets closer in Northeast Ohio.
Here's hoping your 3-1 Day is more Cavs than Indians, Cleveland. pic.twitter.com/tBSmXdAZJH

— McNeil (@Reflog_18) March 1, 2019
Happy 3/1 Day Cleveland. @Reflog_18 pic.twitter.com/j2qEA04Pp0

— Honey… Where is my Supersuit (@BrenRoXXs) March 1, 2019
Happy 3-1 Day!

Just a nice little reminder that with the greatest comeback in Finals history we are and will always be the 2016 World Champions! Oh and we dropped the greatest Championship Collection of all time! 😎

RT to remind the world! pic.twitter.com/YTt45MCMKV

— GV Art + Apparel (@GVartwork) March 1, 2019
Bless 3-1 day forever. And 6-19, and every other day that conjures up these #memories pic.twitter.com/XhOGDmR1gx

— B-Ho (@bho52) March 1, 2019
It was at this moment Draymond was holding back tears ready to dial KD up. Happy 3-1 day! pic.twitter.com/STW2nNjQig

— Zack Justice (@stout1416) March 1, 2019
Oh yea Happy 3-1 day btw pic.twitter.com/QUJds1gTwI

— Isaac (@IsaacHoffman20) March 1, 2019
Happy 3-1 day, y'all! #ClevelandAgainstTheWorld @cavs #NeverGetsOld pic.twitter.com/WuzkjelP8N

— Cleveland Chick (@ClevelandChick) March 1, 2019