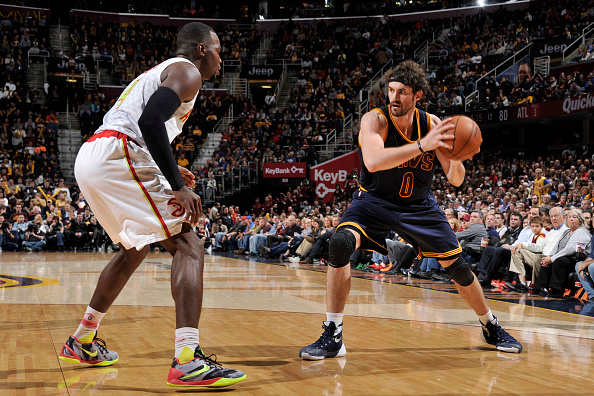 CLEVELAND – The Cavs hosted the Atlanta Hawks Saturday night in a rematch of last season's Eastern Conference Final.
The result was not much different from the four-game sweep, as the Cavs were in control all game long and came away with their tenth victory of the season, winning 109-97.
The already depleted Cleveland roster was without Mo Williams and Timofey Mozgov, which put Matthew Dellavedova and Tristan Thompson in the starting lineup.
Kevin Love was a focal point of the offense early on, scoring 10 of Cleveland's first quarter points to help the Cavs jump out to a 27-19 lead after one.
J.R. Smith continued to feel it from long distance as Smith scored 12 points in the first half, all from beyond the arc. He would finish with 15 on the night, making it the third consecutive game Smith has scored 15 or more.
Hawks head coach Mike Budenholzer was frustrated just like his team, as he was ejected for bumping a referee with just over six minutes left in the second quarter and the Hawks trailing by 13.
Thompson continued to do what he does best, hauling in 12 rebounds before halftime as the Cavs led at the half 57-42. Thompson moved into sixth-place in franchise history in offensive rebounds, grabbing five on the night, and finishing with 16 total. Thompson also tied his career-high in assists with five.
Cleveland kept their energy level up in the start of the second half, jumping out to a 24-point lead with just over nine minutes to play in the third.
The Cavs were in cruise control the rest of the way, leading by as many as 25, and entered the fourth quarter with a 13-point lead.
Love posted his ninth double-double of the season, putting up another impressive stat line with 25 points and 11 rebounds.
LeBron James quietly put together a great all-around performance, scoring 19 points to go with 11 rebounds and eight assists.
Head Coach David Blatt told reporters during the post-game press conference, "We were missing a lot of guys tonight, but other guys stepped in and did the job."
The Cavs improve to 10-3 on the season with the 109-97 win and will wrap up their three-game home stand Monday night when the Orlando Magic come to town.