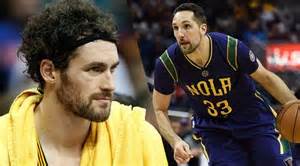 The Cavs have shown strong interest in Pelicans Power Forward Ryan Anderson according to various sources. CBSSports is now reporting that the Boston Celtics are working a new angle to try to get Kevin Love, someone they have had their eye on for a while.
This trade seems a bit more realistic than the rumors of the Cavs pursuing Carmelo Anthony, who has a no-trade clause and expressed little interest in leaving New York.
Anderson is on the last year of his contract, so he would be a rental for the rest of the season. Boston is in third place in the Eastern Conference and may feel that adding a piece like Love puts them over the top. The Pelicans are a team with no chance of making the playoffs this season and are looking to ship off Anderson's expiring contract.
What the Celtics have that could possibly entice both New Orleans and Cleveland are high draft picks from the Brooklyn Nets, who will without a doubt have one of the top picks in the 2016 NBA Draft and possibly the 2017 Draft, as well.
If the Cavs were to trade for Anderson, they would most likely be hoping to get one of the Celtics' two first-round picks that they own from Brooklyn. New Orleans would likely be hoping for one of those picks, too.
What Anderson would bring to the Cavs is not much different from Love. He's a three-point shooting power forward, who plays poor defense. He's not as much of a rebounder as Love, but is averaging 16.7 points per game off the bench.
The Celtics might be hesitant to part with their Nets' picks because either one of those has the chance of being a number one pick and there are a few elite prospects expected to enter the 2016 Draft. The reason the Cavs were viewed as only trading Love "for another star player," but now are showing interest in a deal with the Celtics, is because Anderson is not a significant drop-off from Love and if the Cavs were able to get one of those Nets' picks, it could be a future star, like Ben Simmons of LSU.
If the Love-Anderson three-team trade would not bring back one of the two Nets' picks to Cleveland, it would make little sense for the Cavs to agree to a deal.
Another player mentioned in the CBSSports report is Celtics' forward Jae Crowder, but that would not appear to be as pressing a need for the Cavs, since they already have LeBron James at small forward and Crowder is an up and coming small forward.
The trade deadline is 3 PM Thursday afternoon and the buzz will likely continue until the final hour. NEO Sports Insiders will continue to update the NBA Trade Deadline rumors.

NEO Sports Insiders Newsletter
Sign up to receive our NEOSI newsletter, and keep up to date with all the latest Cleveland sports news.