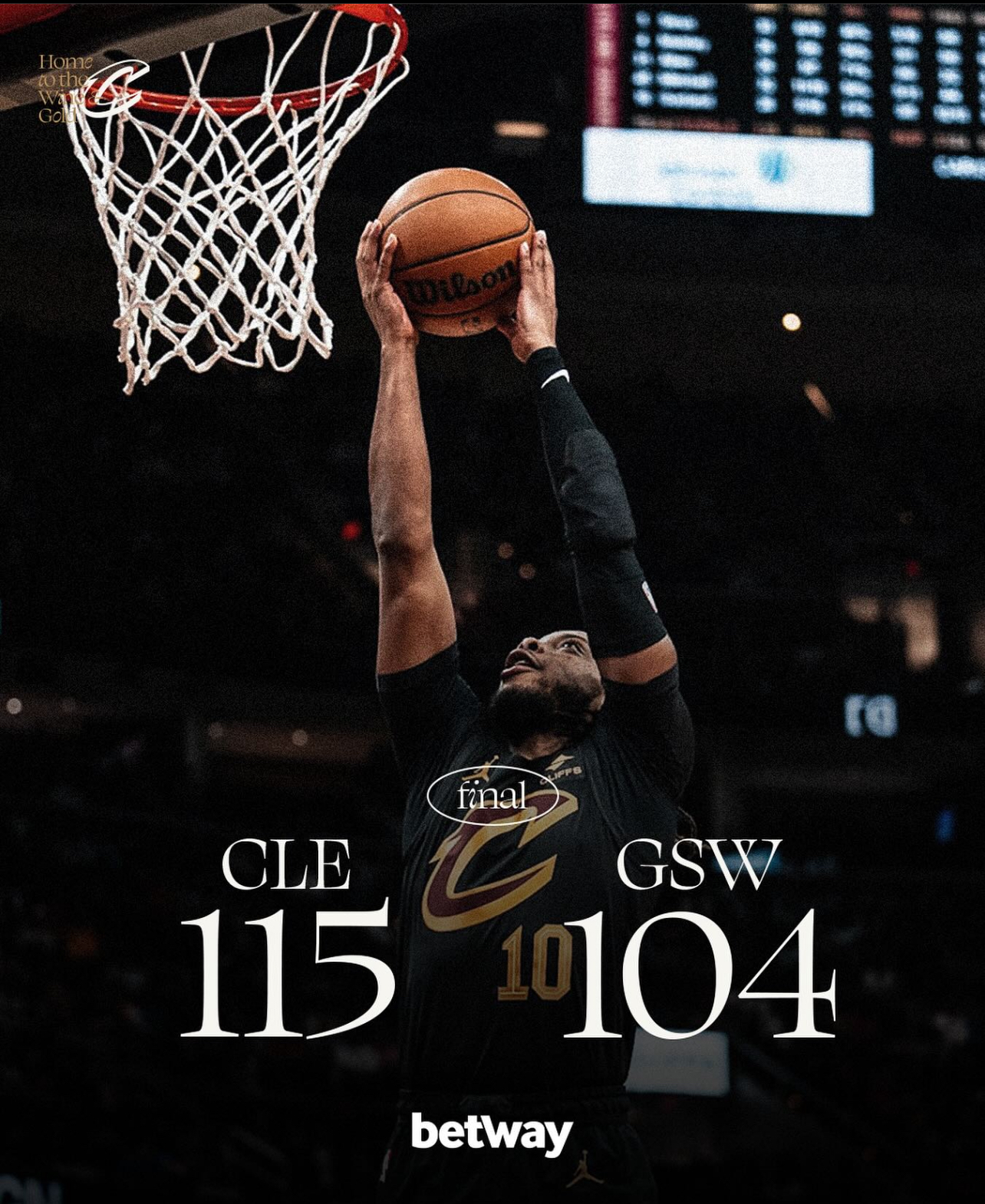 Cleveland Oh. – The Cavs were staring at some odds coming into Sunday's game. They hadn't won at home this year after being dominate at home last season. But they also hadn't beaten the Warriors since Christmas 2016. 16 straight (12 regular season, 4 playoff losses) they lost to the Warriors. Well, Sunday was the night. Playing with the ideal starting 5 for the second time this season, the Cavs used a big surge in the second quarter to take control and never look back. Winning 115 – 104, the Cavs made sure to put them away and leave no doubt.
In the first, Steph Curry looked to have it going. Both he and Draymond hit their first 2 threes and it looked like the Cavs were in for a night watching Steph magic. But the Cavs buckled down and with the defense, started to push the pace and get transition baskets. Donovan Mitchell hit back-to-back threes, Max Strus hit a three, and Darius Garland was able to penetrate the Warriors defense and keep them scrabbling throughout. While Steph was able to keep the Warriors close, a transition pass from Mitchell to Strus for a lay-up, followed by a steal from Caris and pass to Strus for a dunk, had Coach Steve Kerr pulling his starters and putting in the reserves with over two minutes left.
After the game, Mitchell said "It's a hell of a feeling… I know about the rivalry and were ultimately trying to get to where they have been for a long time." Tonight, the Cavs were able to do it albeit in a regular season game. But getting the win, and doing so in and almost dominate fashion, felt good for the fans."
Mitchell led the Cavs with 31 points and 7 assist. Darius Garland finished with 24 points and 7 assist. Evan Mobley overcame some early struggles and finished with 13 points and 16 boards. Jarrett Allen (12/9) and Max Strus (15/4/4) completed the starters all being in double figures.
The Cavs are built to have the defense funnel to BOTH Allen and Mobley. And while Mobley is a DMVP candidate, Allen is no slouch and allows Mobley to roam more. It's no wonder the defense has been better, and closer to the number 1 defense last year, with Allen back. the Cavs love having their guys back. But now that they are back, as long as they stay healthy, the Cavs are a "tough out for anyone" Coach JB Bickerstaff said after the game. With so much of the season left, and so much basketball to be played, the Cavs haven't fallen out of anything. And if they can catch fire now, they might just be able to make some noise in the suddenly interesting eastern conference. But for now… the Cavs will be happy getting this win. Finally.

NEO Sports Insiders Newsletter
Sign up to receive our NEOSI newsletter, and keep up to date with all the latest Cleveland sports news.