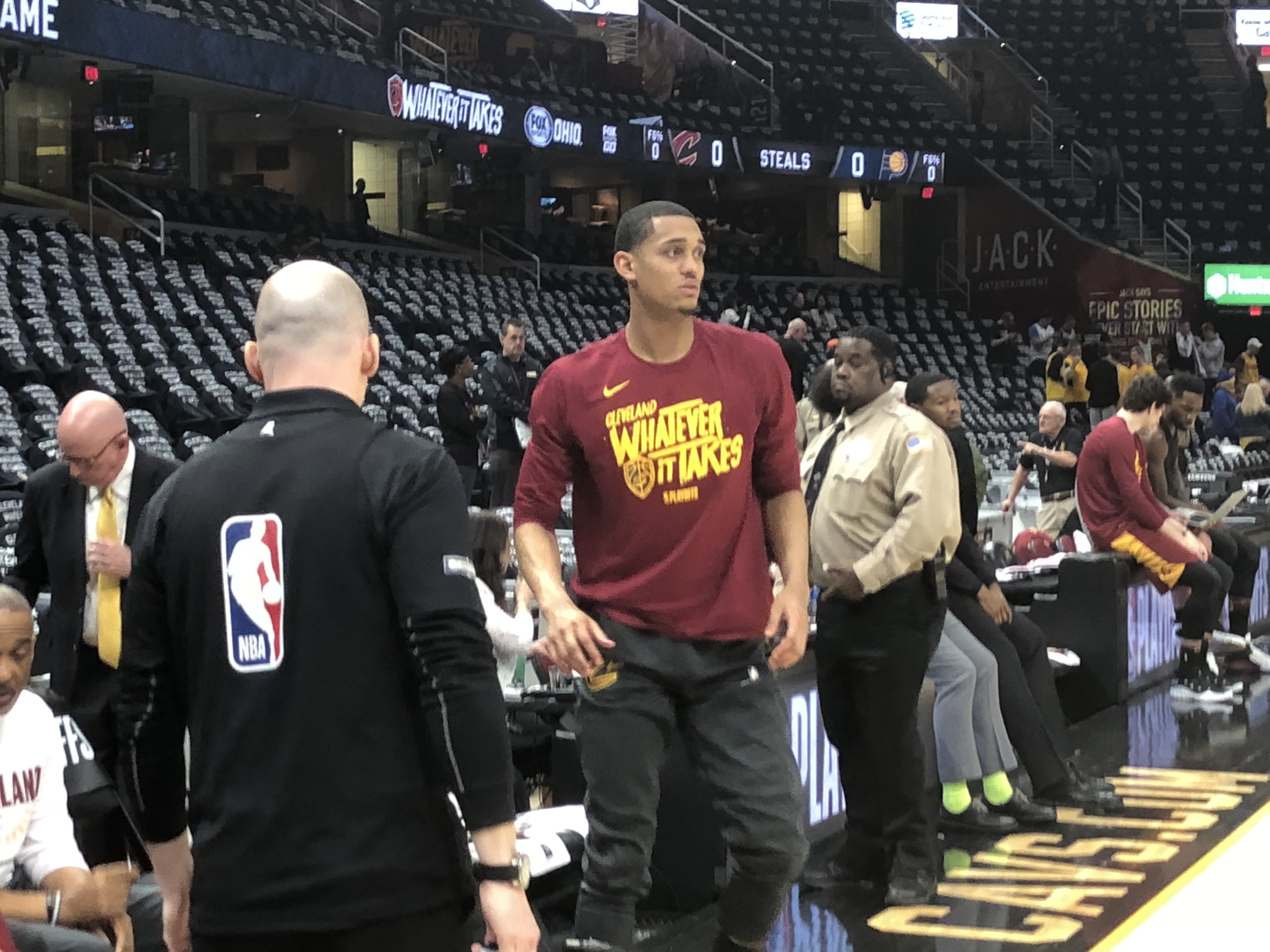 CLEVELAND, Ohio- The Cleveland Cavaliers were able to stave off elimination and advance beyond their first-round series against the Indiana Pacers. They'll now brace themselves for an Eastern Conference Semi-Finals matchup with the top-seeded Toronto Raptors, a team they defeated twice in three regular-season meetings. But for Cleveland to move along in these playoffs, they will need their young guys to step up.
When Cavaliers general manager Koby Altman made the moves to bring in Rodney Hood, Larry Nance Jr, and Jordan Clarkson along with George Hill, he knew he was getting three athletic players that weren't even close to their prime. Altman anticipated a much more well-rounded offensive attack and a lot more pep in the step on the defensive side of things.
"You need everyone to be a live body," Altman said back in February, just hours after making the deals to bring over the quartet. "Fountains not drains."
Ironically enough, the three younger guys have provided the least impact.
George Hill often gets lumped into the "new guys" stable but it seems incorrect to do so. Hill has been in the playoffs multiple times and has started in an NBA Finals series for the San Antonio Spurs before. If there was any concern about any of the fresh additions not being prepared for a playoff run, it was certainly not him. He proved that with a huge 11-point contribution in his 19 minutes spent on the floor during Game 7, playing with a nagging back injury as well as a minutes restriction.
But the other three acquisitions have not lived up to what was advertised.
Out of the three 25-year olds, Hood is the only one to see the postseason. He played in eleven games last postseason for Utah but didn't start a single contest, averaging just 8.9 points per game. Hood wasn't a huge factor in the Jazz' first-round series win and the team never really asked him to do much due to having Gordon Hayward and Rudy Gobert lead the way. That lack of production has carried over with Hood, who hasn't added much thus far for Cleveland.
While receiving about seven minutes less of playing time at 18.9 minutes per game, Hood is merely averaging 6.3 points per game. Cavs head coach Ty Lue decided to start Rodney Hood in Game One against Indiana but quickly went away from the mismatch-creating guard due to his lackluster performance. Now, Hood is struggling to find a rhythm once he gets off the bench and into the game.
Meanwhile, Nance Jr. and Clarkson have been absolutely starstruck.
Both former Lakers have a trait about them that the Cavs really liked when they acquired them at the NBA Trade Deadline. Nance Jr. provided hustle and another player to compete on the boards, while Clarkson was a lightning-in-a-bottle type of scorer that created points in a hurry. So far, neither has shown such trait.
With Cleveland getting into a dogfight on the glass, it baffled most to see a whopping 4.4 rebounds per game as Nance Jr.'s contributions. It gets even crazier to think that's the same average Clarkson has in the scoring department.
Something has to give and maybe a Game 7 will help teach these young Cavs what the postseason is all about, especially when your eyes have been set for June for the last three seasons.
"I was telling the young guys 'This is what the playoffs are about," Cleveland center Tristan Thompson said following Sunday's contest. "'A Game 7 separates the men from the boys, you gotta give everything you got."
Thompson added more specifically on what Clarkson and Nance Jr. can do.
"Talking to Larry and just telling him when you get in the game- or Jordan- just be yourself. Just go out there, play hard, give everything you got. For Jordan, pick and rolls, attack the rim, be yourself. We know what you can do. But for Larry, be active, set good screens, switch on the guards, defend. Just be yourself, don't overthink the game. Just go out and have fun."
We all understand how great LeBron James is. But if these younger guys that were brought in don't show up soon, it will lead to the ultimate demise of the Cavaliers 2018 postseason run.