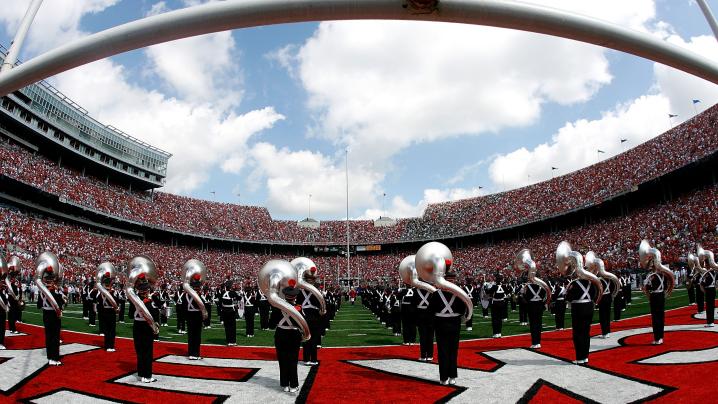 By Mike Perry
One second you are seen as not only a vital cog in the consensus No. 1 college football team in the country, but the potential savior of the professional football team you grew up rooting for.
The next second you are tethered to the bench, later taking to Twitter to hint at your disappointment.
What unfolded with Ohio State quarterback and Glenville graduate Cardale Jones in the Northern Illinois game was not exactly surprising…what was surprising was that it took so long.
Think about how everything came together for Jones and the Buckeyes.
Freshman J.T. Barrett had beaten him out for the starting nod after two-time Big Ten player of the year Braxton Miller went down to a season-ending shoulder injury during fall camp. Barrett not only embraced his lot in life as the Buckeyes' starting quarterback, he thrived.
The numbers are impressive…19 school and conference records. Eleven consecutive wins. 34 touchdowns through the air, 11 on the ground.
Then game Michigan Week, the Broken Ankle Heard around the World and the elevation of Jones to the hottest of hot seats.
Jones handled everything that was thrust at him last year with style, leading the Buckeyes to a blowout win over Wisconsin in the Big Ten title game to earn a spot in the national championship playoff field, an easier-than-expected win over Alabama in the national semifinal and a convincing victory over Oregon in the championship game.
To appreciate where Jones took the 2014 Buckeyes you have to look at where he came from that season. Prior to Barrett's injury, Jones had been involved in 92 plays over six games. He was 8 for 14 passing for 114 yards.
In his first series after Barrett went down, Jones guided the Buckeyes on an 80-yard touchdown drive as Ohio State knocked off the Wolverines to earn a spot in the Big Ten Championship Game against Wisconsin and its second-ranked defense in the nation.
No problem for Jones. He completed 12 of 17 passes for 257 yards and three touchdowns in Ohio State's 59-0 blowout of the Badgers. For his effort Jones was named the game's MVP.
He was equally as impressive against Alabama and Oregon.
All told, Jones threw for 742 yards and five touchdowns while rushing for 90 yards and a touchdown in the Buckeyes' post-season run.
As impressive as those numbers are, Jones was not the primary reason Ohio State was able to capture the eighth national championship in school history last season. Without Ezekiel Elliott's 796 yards and eight touchdowns in the post season the Buckeyes would not have won the title.
Still, so much came so quickly for Cardale Jones.
Fast-forward to this spring. With Barrett and Miller still nursing injuries, Jones was the only Ohio State quarterback healthy enough to take the majority of first-string snaps during spring practice and fall training camp. When the season started, though J.T. Barrett was healthy, Jones trotted out as the Buckeyes' starting quarterback against Virginia Tech in Blacksburg.
As he trotted out to the huddle for that opening series in Lane Stadium, Jones carried with him something he had not yet been burdened with during his Ohio State career…expectations.
He was no longer the 'feel-good' story, he was 'the man.' After deciding to forgo the NFL Draft to return to Ohio State he was expected to produce. Braxton Miller changed positions to pave the way for Barrett and Jones, and Jones emerged from the fray as the starter. It was time to show why.
After three games, two in which he was pulled in favor of Barrett, it appeared as if all the "tank for Cardale" talk among Browns fans was out of place.
The numbers, although decent, haven't been up to snuff. When you have put two Big Ten players of the year on the bench, 25 for 45 for 33 yards with two touchdowns and three interceptions are not acceptable statistics.
Blessed with weapons all over the field, the starting quarterback of the consensus top college football team in the nation has to do better than that.
Against Northern Illinois, Jones looked confused in the small amount of playing time he received. He threw a pair of truly awful interceptions and when he was pulled in favor of Barrett, the Buckeyes actually trailed the Huskies.
At home. To a MAC team. Trailed.
While Barrett didn't exactly set the world on fire in relief, it was more a by-product of the Buckeyes' curious play-calling than anything Barrett was doing on the field.
With a Heisman-quality back in Elliott, a bruising running back that goes through tackles instead of around them, it looked like Buckeyes' offensive coordinator Ed Warinner was more interested in sticking to the game plan than actually putting points on the board…but that's another story for another time.
Barrett did enough not to lose thanks to a critical 41-yard Darren Lee pick-six. He also did enough, one would think, to earn the starting nod when Ohio State hosts Western Michigan Saturday at The Horseshoe.
As for Jones, all is not lost. He has all the physical tools and has already earned his place in Ohio State Football history. It's doubtful we've seen the last of him this season. He should prepare as if he were still the starter, and take advantage of whatever reps he gets.
Simply put, Barrett is a better fit for Urban Meyer's spread option. He's quicker to the corner, a shiftier runner and, as he proved last season, knows how to move the team once he gets into a rhythm.
If Barrett has overtaken Jones as Ohio State's starting quarterback, getting all the first-team reps in practice will accelerate the process of him and his teammates finding that rhythm again.
When that happens it will be clear why every Associated Press voter gave the Buckeyes their first-place vote in the AP's preseason poll.

NEO Sports Insiders Newsletter
Sign up to receive our NEOSI newsletter, and keep up to date with all the latest Cleveland sports news.