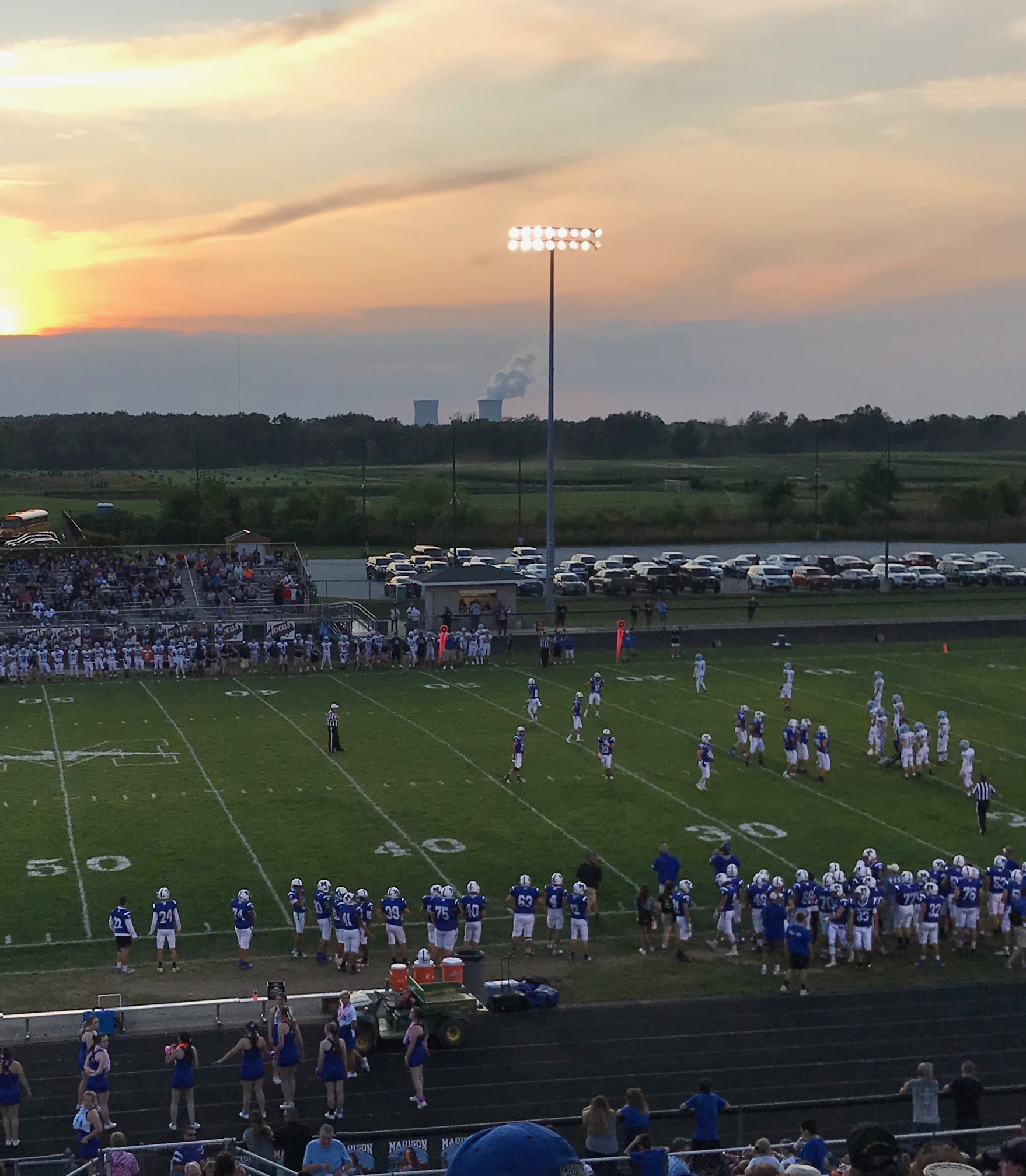 By Don DiFrancesco
Willoughby South            7             7             7             0             =             21
Madison                              0             14           7             3             =             24
MADISON, OHIO – The Madison Blue Streaks rose to the occasion with a thrilling 24-21 home win over previously undefeated Willoughby South. Madison's C. J. Kessler kicked a 20-yard field goal with 0:03 remaining in the game for the winning margin.
Madison (2-2) used an effective running game to chew up the clock in the fourth quarter, controlling the ball for 10:09 of the period's 12 minutes.
Leading the Streaks' rushing attack was Austin McCourt. The junior running back gained 122 yards in 32 carries for the evening.
South (3-1) opened the scoring on a 65-yard pass play from Justin Grosel to senior receiver Danny Gallagher with 3:58 remaining in the opening quarter. Madison countered with a 43-yard option pass from Brad McKeon to senior receiver Cole Tanner to set up a field goal attempt with 1:04 left in the quarter. The 29-yard kick by Kessler was wide.
But the Madison defense stopped the Rebels on fourth and one on the following possession. Taking over on their 49 yard line, the Blue Streaks methodically moved the ball downfield and tied the score on a 1-yard keeper from senior quarterback Alex Dragas.
Following a South punt, Madison again had good field position, this time at the 50. The Blue Streaks used a nice blend of passing and running, and Dragas scored his second touchdown on an 8-yard run with 2:39 to play in the half.
The South offense came back to score a tying touchdown 1:02 before halftime. The Rebels connected on their second touchdown pass, 14 yards from Grosel to senior receiver Rico Small.
Madison senior defensive back Will Weema excited the crowd with an apparent 85-yard touchdown return of the second half kickoff, but it was nullified by an illegal block.
Undaunted, the Blue Streaks' offense produced an 86-yard drive to take a 21-14 lead with 6:23 remaining in the third period. McKeon scored the touchdown on a 3-yard run.
South struck back with their passing game, quickly advancing into the Madison red zone. With 5:10 to play in the third quarter, sophomore running back Ira Sampson scored on a 5-yard run and the game was knotted again.
That was all of the scoring until Kessler's field goal put Madison up 24-21 with just three seconds left in the game. The senior kicker calmly withstood the Rebels using all three of their second half timeouts in an effort to distract him. But there would be no "icing" on this warm late-summer evening.
South tried one final pass as the game clock expired, but it was intercepted by Weema to seal the win for Madison.
1st Quarter
South:  Danny Gallagher, 65 pass from Justin Grosel (Sam Patrizi kick)
2nd Quarter
Madison:  Alex Dragas, 1 run (C. J. Kessler kick)
Madison:  Dragas, 8 run (Kessler kick)
South:  Rico Small, 14 pass from Grosel (Patrizi kick)
3rd Quarter
Madison:  Brad McKeon, 3 run (Kessler kick)
South:  Ira Sampson, 5 run (Patrizi kick)
4th Quarter
Madison:  Kessler, 20 field goal