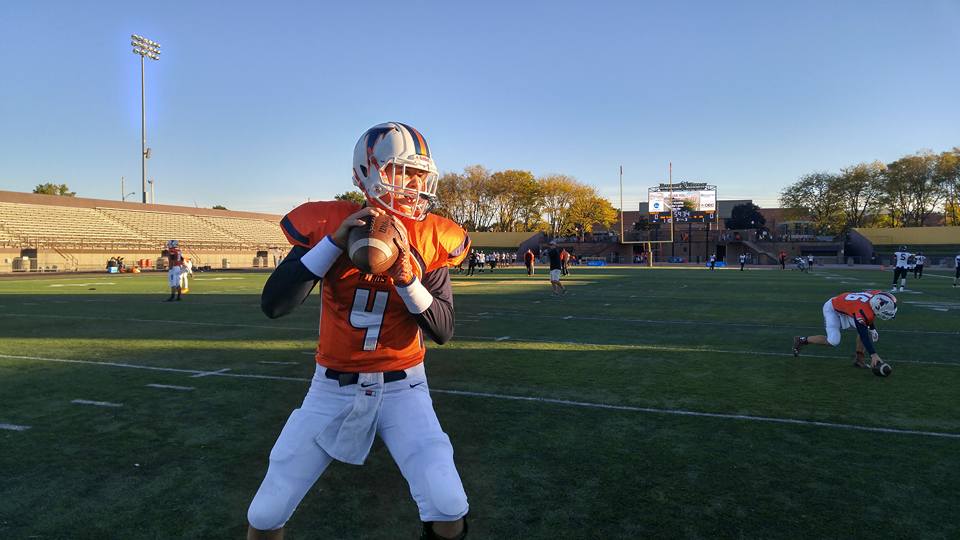 This Game Recap Is Brought To You By Mullins Construction.
You can visit them at http://www.createns.com/mullins_construction/
BEREA, Ohio – The North Olmsted Eagles traveled to Berea Midpark tonight in a battle of a couple of 2-5 teams. Both had their share of scuffles this season and were desperate to notch their third win of the season.
After a wild back and forth shootout, it was the Berea Midpark Titans claiming victory on a last second Hail Mary from returning quarterback Trevor Bycznski to Kameron McCoy to win it with 3 seconds left on the clock.
The returning from injury Bycznski played well in his first game back. Bycznski finished with 242 yards, 3 touchdowns on 17 of 28 passing. His biggest target was Luis Vega with 2 touchdowns, one of 22 yards and one of 21.
Berea got the ball first and drove right down the field on the strength of 52 quick rushing yards by Tyrese Holland. It put the Titans ahead 7-0 and was part of a big night for Holland. He ran the ball 32 times for 252 yards and scored 4 times.
The North Olmsted Eagles would not stay down long as they would score one themselves on the very next drive. After a couple of nice runs by Darren Anders, they went to the air. They would score on a 30 yard touchdown pass from Brandon Maximovich to Sean Conroy.
The Titans were unimpressed and scored only 4 plays later on another Holland run, this time from 5 yards out. Seconds later, after an Eagles fumble, the titans would score again, this time with a 22 yard touchdown pass from Trevor Bycznski to Louis Vega. Just like that, the Titans were ahead 20-6. The first quarter would close with that score as well.
The Eagles were not to be shaken and would rebound. They opened up the second quarter with a great scoring drive capped off by a 20 yard touchdown pass from Brandon Maximovich to Josh Hufstetler. They followed it with a QB scramble for a two point conversation to climb back in the game 20-14.
The Eagles would then force a 3 and out to get the ball back.
They wasted no time driving the ball again for six. This time it was capped off by a 6 yard Darren Anders rumble to put the Eagles ahead 21-20. It was a 15 point explosion for the Eagles halfway through the second quarter to give them their first lead of the game.
The Eagles lead would not hold up as a few positions later, it was the Titans striking back with a quick touchdown strike. This time, finishing it off after two fourth down conversations with a 21 yard touchdown pass from Bycznski to Vega. The 2 point attempt would fail, and the Titans reclaimed the lead 26-21.
It wouldn't last, as the Eagles own two minute drill ended in a 4 yard touchdown run from Chris Jones. This gave the Eagles a 29 – 26 lead at the half. It was a 23 point barrage in the second quarter to give the Eagles the advantage at the break.
The scoring barrage would continue as the second half opened up with a 5 yard touchdown run by Holland of Berea MP. Only for the Eagles to answer right back with a score of their own on the very next drive to reclaim the lead at 36-33. The Eagle score came on a 15 yard jaunt from Jones. His second touchdown of the night.
It wouldn't matter for long however, as less than two minutes later, it was Tyrese Holland scoring his fourth touchdown of the night. This time, from 11 yards out. The Eagles were not phased, as just a minute later they scored on another touchdown run by Jones, this time from 3 yards out. The score was then in favor of the Eagles at 43-39 as the third quarter came to a close.
Running back Chris Jones of North Olmsted would finish with 190 yards on 24 carries. He also scored 3 times. It should also be noted that Jones had 94 receiving yards.
After a rare scoreless fourth quarter, the Titans had one last chance with 17 seconds left on the North Olmsted 30 yard line down four. They would connect on the Hail Mary, with 3 second left to win it in dramatic fashion. It was a Trevor Bycznski tipped pass by two Eagle defenders caught by Kameron McCoy.
It was the kind of thing you almost never see in high school sports, college or pro, but it happened and the Titans won 45-43.
It's been a tough season for the Eagles as North Olmsted has been on the road each week all season because of their home stadium being re-built. Coach Brediger is proud of his team and had this to say about their effort this season, "A lot of them are tough kids from a tough background and they work hard and show a lot of heart. We started the year off against two of the best teams in the state against Avon and Midview and refused to put our heads down after two pretty good butt whooping's there. We have really played hard these last three weeks and improved each time out. The last three weeks it has come down to the final possession and we have led at points in each fourth quarter. We've also bounced back from a lot of injuries."
Next week the Eagles will host the Olmsted Falls Bulldogs while the Titans will travel to number 1 ranked Avon to take on those Eagles.
Box Score
NO – 6-23-14-0-43
Berea MP – 20-6-13-6-45
Scoring Summary
1Q – Berea – 4 yard TD run Holland 8:13 XP Good 7-0
1Q – NO – 30 yard TD pass Maximovich to Sean Conroy. 4:21 XP No Good 7-6
1Q – Berea – 5 yard TD run Holland. 3:03. XP No Good. 13-6
1Q – Berea – 22 yard TD pass Bycznski to Vega. 2:42. XP Good 20-6
2Q – NO – 20 yard TD pass Maximovich to Josh Hufstetler. 2XP Good. 20-14
2Q – NO – 6 yard TD run Anders. 5:39 XP Good. 21-20.
2Q – Berea – 21 yard TD pass Bycznski to Vega. 2XP no good. 1:05 26-21
2Q – NO – 4 yard TD run Jones. 2 XP good, 0:09 29-26
3Q – Berea – 5 yard TD run Holland. XP Good. 6:22 33-29
3Q – NO – 15 yard TD run Jones. XP Good. 5:56 36-33
3Q – Berea – 11 yard TD run Holland. 4:12 39-36
3Q – NO – 3 yard TD run Jones. 1:02 43-39 XP Good
4Q – Berea – 30 yard TD pass Bycznski to McCoy. 0:03 45-43


NEO Sports Insiders Newsletter
Sign up to receive our NEOSI newsletter, and keep up to date with all the latest Cleveland sports news.