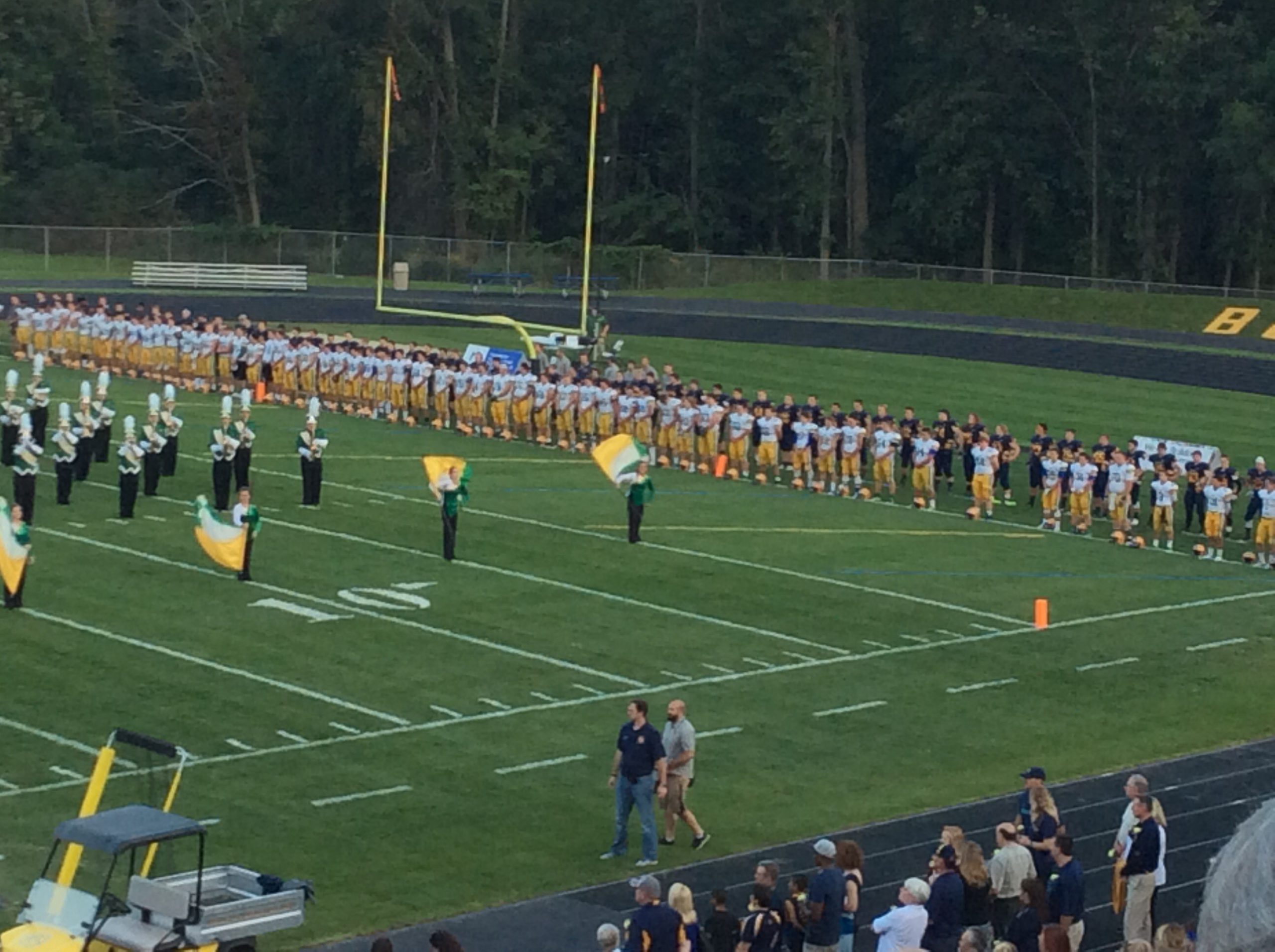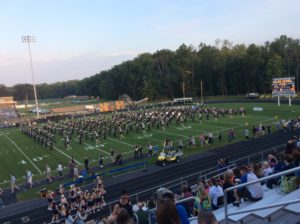 This game recap has been brought to you by B.A. Sweetie Candy Company, 6770 Brookpark Road, Cleveland, Ohio.
Olmsted Township, Ohio – After two weeks of battling emotions on and off the field, ending a 14-game losing streak (to Berea-Midpark last week) and taking Olmsted Falls to the final minutes of Friday's game, the Amherst Comets finally came down to Earth.
In a Southwestern Conference battle, Olmsted Falls outlasted Amherst, 38-35, in a back-and-forth, three yards and a cloud of dust game for the ages.
Amherst (1-4, 1-3) drew first blood on the opening drive of the game. The Comets took the ball 80 yards on nine plays, with T.J. Raupach running it in from three yards out. Olmsted Falls (4-1, 3-1) answered right back as quarterback Brett Hutkay scored on the ensuing drive on a 2-yard run to tie the game at 7-7 at the end of the first quarter. The Bulldogs made the Comets go three and out, then went 49 yards, culminating with Hutkay's second score on the night, putting the Bulldogs up 14-7 with 10:43 left in the first half.
"I love our offensive line," Hutkay said. "They did their job the right way, especially with the downfield blocking."
Hutkay was especially pleased with the way the offensive line blocked on his first touchdown of the night, a 2-yard run, which was one of the many misdirection plays the Bulldogs used against the Comets.
"That's just how our offense works," he said. "The counter works every time with our guys blocking the back side."
"You should really be interviewing the linemen," Olmsted Falls tailback Spencer Linville added.
Amherst's Mark Harris then took the ensuing kickoff 67 yards to give the Comets a short field, in which after five plays, Comets quarterback Johnny Matakovich threw a 22-yard touchdown pass to Khennedy Scagliozzo. Again, the Bulldogs answered right back, scoring on Hutkay's third rushing touchdown on the night.
Not to be outdone, Amherst capped the first half's scoring by marching 72 yards on 14 plays, ending on a 2-yard Scagliozzo TD run to make the game tied 21-21 at the half.
In the second half, Linville took over the game, scoring two touchdowns, amassing 236 yards from scrimmage in the game. Scagliozzo scored two more time also, as he tallied 203 yards on the night.
The difference at the end was a 31-yard field goal off the foot of Olmsted Falls kicker Ricky Castrigano, which put the game out of reach for Amherst.
GAME STATS:
Olmsted Falls 38, Amherst 35
Olmsted Falls 7 14 14 3 – 38
Amherst 7 14 0 14 – 35
SCORING
(A) T.J. Raupach 3-yard run (Allen Matakovich kick)
(OF) Brett Hutkay 2-yard run (Ricky Castrigano kick)
(OF) Hutkay 11-yard run (Castrigano kick)
(A) Khennedy Scagliozzo 22-yard reception from Johnny Matakovich (A. Matakovich kick)
(OF) Hutkay 37-yard run (Castrigano kick)
(A) Scagliozzo 2-yard run (A. Matakovich kick)
(OF) Spencer Linville 4-yard run (Castrigano kick)
(OF) Linville 2-yard run (Castrigano kick)
(A) Scagliozzo 7-yard run (A. Matakovich kick)
(OF) Castrigano 31-yard field goal
(A) Scagliozzo 1-yard run (A. Matakovich kick)
Team Statistics OF A
First downs 19 17
by rushing 16 13
By passing 1 4
By penalty 2 0
Yards rushing 427 271
Yards passing 37 170
Passes att./comp. 2/2 11/16
Intercepted by 0 0
Fumbles/lost 1/0 1/0
Penalties/yards 4/35 7/70
Individual statistics
RUSHING – (OF) Spencer Linville 30-236, Brett Hutkay 9-68, Luke Lombardo 8-63, Nick Dailey 2-20, Jack Spellacy 2-18, Josh Jaeckin 1-10, Michael Howard 1-9, Andrew Turski 1-3; (A) Khennedy Scagliozzo 23-203, T.J. Rupach 6-55, Alec Platz 1-9, Mark Harris 1-7, Johnny Matakovich 7- (-3).
PASSING- (OF) Hutkay 2-2-37-0-0; (A) J. Matakovich 11-16-170-1-0.
RECEIVING- (OF) Brian Eisman 1-21, Josh Goodwin 1-16; (A) Harris 5-70, Scagliozzo 2-35, Evan Shawver 1-6, Jaret Mead 1-5, Adam Haas 1-4, Platz 1-0.

NEO Sports Insiders Newsletter
Sign up to receive our NEOSI newsletter, and keep up to date with all the latest Cleveland sports news.