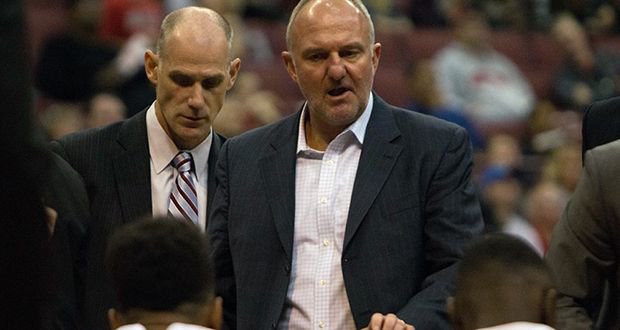 For the first time since 2004-2005, the Ohio State Buckeyes Men's Basketball program has failed to reach the NCAA Tournament for the second-consecutive year.
Between 2006 and 2015, the Buckeyes made eight tournament appearances, thanks to Thad Matta's ability to build the program back up through strong recruiting and exceptional coaching.
Matta led Ohio State to four Sweet Sixteen's, two Final Four's and a national championship appearance.
The 2006-2007 team, headlined by Greg Oden and Mike Conley Jr. will forever be remembered as one of Ohio State's greatest seasons in school history.
To say the program has taken steps back since then would be an understatement.
Slowly but surely, the recruiting has regressed. The production has regressed. The rest of the Big Ten, including some of the programs who were historically below Ohio State in the pecking order of the conference, have moved their way ahead of the Buckeyes.
Northwestern, Minnesota, Michigan and Iowa are all programs on the rise, while teams like Wisconsin, Purdue, Maryland and Michigan State have remained consistent – at least to the point of continuing to show up in NCAA Tournaments.
It's not fair to put the entire share of the blame on Matta, but he could have done a better job adapting to the circumstances surrounding college basketball over the past few years.
After D'Angelo Russell, Ohio State did not find a player projected to be taken in the first round of the NBA Draft in 2016 and it doesn't appear anyone will be drafted in the first round in 2017, if at all.
It's not as simple as finding one guy with NBA-caliber talent, and some of these Buckeyes could end up being steals in the draft (or undrafted), who go on to become productive professional players – Jae'Sean Tate and Jaquan Lyle being the prime candidates of the current roster.
Often times, cohesive teams with good chemistry go farther in the tournament than teams that rely heavily upon one extraordinarily talented player, but in the case of Ohio State, there's not much reason to say the team has either of those dynamics.
If the Buckeyes aren't going to land top-level recruits with a strong chance at reaching the NBA, they'd better have a well-oiled machine with everyone fitting their roles.
In flashes, the 2016-17 Buckeyes appeared to have the potential to become that type of team, but more often than not, they fell short.
Perhaps the most frustrating aspect of all of this is seeing the number of high school players from Ohio who choose to go out of state and end up making a big impact on teams in the tournament.
Matta will be watching some of these guys play for out of state schools and rivals in the tournament.
The following Ohio players from the high school class of 2016 will be playing significant roles during March Madness:
(These class of 2016 players were ranked as top 20 prospects in the state of Ohio by 24/7sports)
Nick Ward from Gahanna Lincoln High School (right on the border of Columbus) averages 13.7 points per game for Michigan State.
V.J. King from Akron averages 6.2 points per game at Louisville, playing only 14 minutes per game.
Jarron Cumberland from Wilmington, averages 7.9 points for Cincinnati and will see significant playing time in the Bearcats' rotation in the tournament.
D'Mitrik Trice from Dayton averages 6.1 points for Wisconsin.
If that's what these guys are doing as freshmen on teams which already feature deep rosters, it's possible they'd get even more playing time to put up more impressive numbers on Ohio State's roster.
Of course Matta can't be expected to get all of those guys, but compared to the Ohio recruits he did land, it doesn't bode well – especially given Ohio State's reputation and the school's proud tradition of excellence in athletics.
Ohio State landed three top 20 players from the Buckeye State in 2016.
Those players include Micah Potter, Derek Funderburk and Andre Wesson. All three may very well turn into top-level college players, but early on, the results aren't as encouraging as hoped.
Potter saw the most playing time as a freshman, entering the season as starting center. He was relegated to the bench shortly after and averages 4.1 points per game this season.
Wesson has improved as the year has gone on, but still finished the regular season averaging only 1.8 points per game.
Funderburk redshirted his freshman season and we'll see if he can become as productive as Matta and company hope. In most cases, elite players don't redshirt their freshman year of college and many of the best are already on to their way to the NBA by that point.
All of this is to say, whoever Ohio State's coach is going forward, whether it's Matta or someone else, that person needs to do a better job recruiting, particularly within the state of Ohio.
Some of the top-ranked prospects in the class of 2017 and 2018 already chose to go elsewhere.
Ohio State looks forward to senior Kaleb Wesson's arrival, along with three highly touted players from the class of 2018. It's unclear if Matta will be around to see their college days play out.

NEO Sports Insiders Newsletter
Sign up to receive our NEOSI newsletter, and keep up to date with all the latest Cleveland sports news.