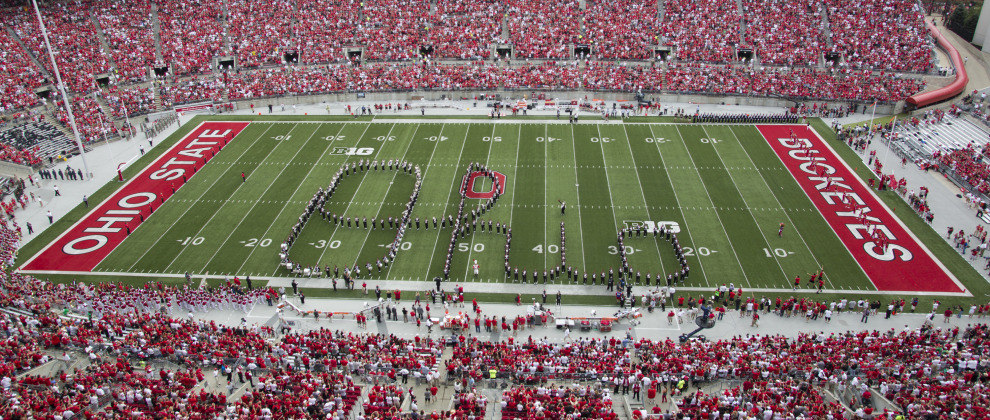 By Spencer Davies & Jeff Seemann
Spencer: Cardale Jones is the man for Saturday's game against Western Michigan. He hasn't looked right in a number of weeks, Jeff. What's going on with him, and is a game at home against Western Michigan what the doctor ordered for both Jones and the offense?
Jeff: Jones looked good against Virginia Tech, mainly because of his 99 rushing yards. 187 yards passing seems rather ordinary, but Jones is a ball-carrier for this team, so I'm happy with 286 total yards from him. Since then, he's been a mystery.
Two games do not make him disposable, but they do bring him into a danger zone. A great game against Western Michigan will not heal all the concerns, but another bad game will be quite damning for his chances at keeping the job.
Western Michigan isn't a make-or-break game for Jones. It can only be a break game. Doing well against these guys doesn't give us any good feelings.
Some have said that a lack of a deep-threat WR has been damaging Cardale's options, and defenses are closing in on him as a result. We do miss Devin Smith, but Braxton Miller and Jalin Marshall are two of the fastest guys on this team – they should be able to get downfield fast and make up for the loss of Smith. Plus, watch the three-game run that Jones had last year – he had plenty of mid-range passes that were on target.
I think Cardale is in his own head. Last year, he had nothing to lose and went out there in kill-mode. This year, he's thinking too much.
Jeff: Despite the poor play on offense this year, losing has not been a worry because of the incredible defense. Can the D keep up this effort, and for how long?
Spencer: I don't see why not. If you didn't see, I wrote about this on Tuesday.
Ohio State's defense was the reason Northern Illinois didn't upset the Buckeyes at the Horseshoe. The secondary as a whole has been playing out of its mind, and the linebackers are improving from last year–which was a dangerous unit as it was already.
Look for Vonn Bell and company to claim yet another quarterback as their next victim–that being the Broncos' Zach Terrell, who's thrown for 947 yards with eight touchdowns and five picks and has a completion percentage of 70.
As for who could possibly give the Bucks trouble? Keep your eye on WMU's Daniel Braverman. The junior wideout leads the NCAA with 40 receptions, ranks fourth with 398 yards and has three touchdowns on the year.
As far as the defense continuing its dominance, I think the Bucks can sustain it. The offense should tear apart an unconfident Western Michigan team that got blown out by a former FCS opponent a week ago and is allowing 33 points per game, making the defense less relevant and spotlighted this week.
The defensive unit will be counted on more heavily next weekend though, when the Buckeyes travel to Bloomington to take on the Hoosiers. Kevin Wilson's bunch is expected to turn the corner this year after seven consecutive losing seasons. As of now, they're scoring 40 points per game and are 3-0. If the Bucks stop them in their own house, it's smooth sailing from there on out.
Spencer: Northern Illinois is a different story, but clearly an underwhelming 1-2 Broncos team should be a cake walk this Saturday for the Buckeyes, right?
Jeff: Yes, it should be a cakewalk. In fact, IT BETTER BE a cakewalk!
Look at the three games the Broncos have played already;
Week 3 – They did well against Murray State, but that's a 1-AA team. (No, I'm not using FCS/FBS to describe divisions, it's worse that Leaders/Legends. They're 1-AA.) That game is their only win, and late in the second quarter the game was still only 10-6 in favor of WMU. They went on a big run to blow it open, but they were not impressive for a long time.
Week 2 – Georgia Southern left 1-AA last year. They've been in the upper division for about 17 games now. And they crushed WMU. Humiliated them. Picked off Bronco QB Zach Terrell three times. They won the game 43-17, and here's the kicker….Georgia Southern only completed one pass. They gained 413 of their 420 yards on the ground. Hello, Ezekiel Elliott!
Week 1 – Michigan State bolted out to a 27-7 lead midway into the second quarter, and the Broncos' only score was on a kick return. Terrell threw the ball 50 times for 365 yards, 2 TDs and 2 INTs, but a heavy majority of that was in the second half with the game decided already. He finished with a passer rating of 30.1.
If ever there was a game to get back on track, this is it. This is last year's Kent State. We need to punish the defense of WMU repeatedly.
Jeff: Last year, Ezekiel Elliott didn't do anything noteworthy until Week 4 against Cincinnati (183 yards rushing). Is he a slow starter? Poor blocking? Better defense? What has kept him from the monster start we expected?
Spencer: I'd consider it more of a play call failure than a slow start.
The bottom line is that Elliott simply isn't getting enough touches. I'm confused as to why, but new offensive coordinator Ed Warriner has only given him 61 carries in three games. As a potential Heisman candidate, Elliott should be averaging a minimum of 25 touches–and even that is still low.
But by the same token, I also understand that you can't show your best hand three games into the year. Still, with a struggling offense, it may be the Buckeyes' only choice.
In spite of the lack of rushes, Elliott has 331 total yards on 5.4 yards per carry. That's an average of a hair over 110 yards in each game thus far. It's comical that this can be considered underwhelming, but it is. Ohio State must utilize its best offensive talent in order for the other's to get it going.
Spencer: Aside from Jones–and apparently Elliott–who's disappointed you the most so far?
Jeff: Clarification – Zeke has done plenty to impress. I think my expectations were too high, considering the man grabbed nearly 700 yards vs three powerful teams in the postseason last year. I assumed he'd run roughshod over Hawai'i and NIU and bring home similar yardage to those games.
I don't think any one specific player has disappointed, but I am concerned about the entire offensive line. They were unbreakable at the end of last season, and playing like the best line in the nation. They have not found their groove yet, and my concern is that they look too much like the line at the beginning of last season.
However, having said that, I would be happy to see them improve as the season progresses, similar to the 2014 season. And I am fully confident they will do just that.
Provided they don't collapse, I'm good with slow progression towards perfection and a repeat title.
Jeff: Prediction for Saturday afternoon? I'm going with a lot of pain, culminating in a 54-14 final score.
Spencer: Give me the Buckeyes, 44-10. Not quite covering the spread, but making baby steps at least. Cardale will throw a couple of touchdowns, one of which will go to Braxton Miller. Ezekiel Elliott gets 150 yards and a score. And we will see the defense take on to the house again, bank on it.

NEO Sports Insiders Newsletter
Sign up to receive our NEOSI newsletter, and keep up to date with all the latest Cleveland sports news.