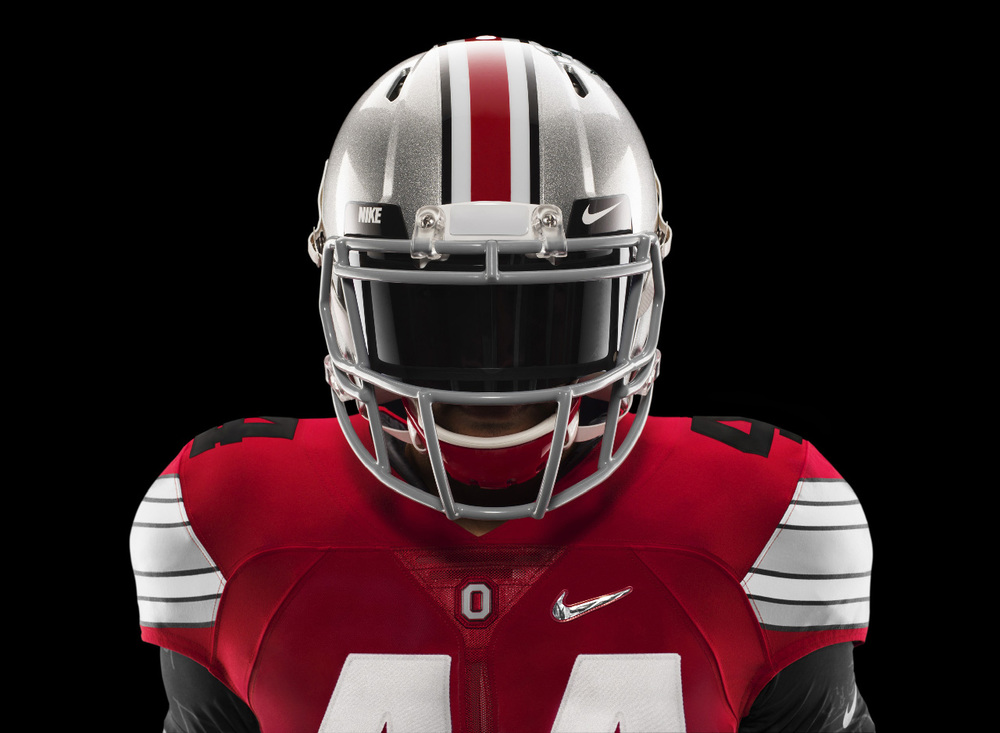 The 2015 college football season is two days away from officially getting started, and The Ohio State Buckeyes are looking to defend their ground and extend their reign as national champions for the second consecutive year.
Spencer: With 16 returning starters, fans, media and the team itself have high expectations for the Buckeyes. What are your expectations, Jeff? Is there another CFP Championship coming to Columbus?
Jeff: Expectations are nothing less than a repeat National Championship. This team is too talented, too deep, and too focused to deliver anything else.
However, I'm a lifelong Cleveland fan, which tells me to expect the unexpected. The Michigan State game scares me, as does the trip to That State Up North. Even Virginia Tech scares me right now, but I do believe that if the Buckeyes fell on Monday night, they would still get in the playoffs by winning the next 12 games.
But if I had the Buckeyes on the schedule, I might be writing it off as a loss already. How are you going to defend against this offensive unit? The plays that are in the hopper are unreal. Imagine sending Cardale Jones in at QB and lining up Ezekiel Elliott AND J.T. Barrett in the backfield with Braxton Miller in the slot, and Michael Thomas and Jalin Marshall out wide.
No team in the nation has the defense to defend against the play that is coming their way with that set on the gridiron.
Jeff: Everybody is talking about the quarterback situation, Ezekiel Elliott's Heisman campaign, and Braxton Miller's change of position. Besides those four players, who are you looking forward to watching this season, and why?
Spencer: It's easy to talk about a high-powered offense, so I'm going to give this defense some much deserved love.
My eyes are solely set on the linebacking trio of Raekwon McMillan, Darron Lee and Josh Perry.
In a breakout season last year, Perry was a one-man wrecking crew, leading the team with 124 tackles, an interception and a forced fumble. He's entering his senior year for the Buckeyes and you know he's going to be motivated to not only improve his draft stock, but also help Ohio State repeat what they did in their previous season.
In their first year playing college football, McMillan and Lee played like they were seniors, demonstrating leadership and smarts at a young age.
Lee shut down all parts of the field at outside linebacker. He had 16 tackles for loss–second on the team behind Joey Bosa–and six and a half sacks, which was third on the team behind Bosa and Michael Bennett. He also picked the ball off twice and deflected three passes. A highly touted recruit from Texas, McMillan lived up to the hype, tallying 54 tackles and seven of them for loss. Look for him to man the middle for the Buckeyes and breakout even more, in addition to Lee.
Spencer: Let's get to the situation at quarterback. J.T. Barrett was named one of the team's captains recently. Does this ensure him starting week one and moving forward throughout the season, and if so, is Urban Meyer making the right call here?
Jeff: I do not believe that a captain's position guarantees a start. Coach Meyer has a history of extending a captain's designation to players that have proven themselves off the field – a form of tribute, which is exactly what it should be.
I believe that Barrett will be the starter, but Jones will see plenty of action on the field. The first play at VT, I think both will be sent on the field, if only to generate additional excitement. There is plenty of precedent for success within a two-quarterback system. Ohio State found success behind Joe Germaine and Stanley Jackson in the 90s, and Florida won a National Championship with Chris Leak and Tim Tebow sharing snaps….under Urban Meyer.
As for making the right call, he cannot make the wrong one here. Both quarterbacks are capable of championship-quality play. He's got a tough job, but there are few consequences here.
Jeff: Let's go back to expectations, per se. Is there any scenario on Monday night that could include a Buckeye victory and still leave you disappointed?
Spencer: Interesting question there Jeff, and yes, there is.
A season opener, especially on the road, sets the tone for the rest of the year. The Hokies come into this game with a target on their backs, of course, because they handed Ohio State its only loss. However, the threat in this case is the home field advantage for Virginia Tech. In 29 seasons, Frank Beamer has accomplished a 134-39-1 record at Lane Stadium.
Regardless of that fact, the Buckeyes have no business losing this one, even with five players suspended. The Hokies have a reputation of being overhyped and failing to rise to the occasion. In years past as a preseason top-10 team, they could never win the big one. Last year, they used their shocking win at the Horseshoe as a catalyst to jump back into the rankings to return to relevance for a week before losing at home to East Carolina.
That being said, Urban Meyer needs to tell his team to put their foot on the gas and keep flooring it as far as I'm concerned. The Buckeyes were starting an inexperienced redshirt freshman quarterback who barely got beat and almost came back, and the Hokies paraded around like they won the national title. This time around, J.T. Barrett will have the last laugh and show the world what a year's worth of preparation can change. As far I'm concerned, I will, and Meyer should be, disappointed with anything less than a 21-point win.
Spencer: You asked me who to watch for earlier in our Q&A, so let me ask you a similar question: Who are your out-of-nowhere breakout candidates on both sides of the ball?
Jeff: It's really tough to have an out-of-nowhere kid at Ohio State, because even the freshmen get ridiculous amounts of attention. But there are a few that the fans will learn to love in a hurry.
Torrance Gibson. He's a true freshman, recruited as a quarterback and was supposedly told that he would not be moved from that position. That's the one position that seems to be full at this point, so he made the switch to WR, saying that he was willing to play "anything but the bench". The kid does not want to redshirt, and he wants on the field as soon as possible. You'll see why when he gets the ball in his hands.
Mike Weber. Unfortunately, you won't see him him for a few weeks when he heals a torn meniscus. When he gets back in uniform, expect him to immediately move to the #2 slot on the depth chart behind Ezekiel Elliott. He will get the carries that Curtis Samuel saw last year. Urban Meyer stole him away from That State Up North on the final day of recruitment, and he will break the Wolverines' hearts repeatedly until he graduates.
Sam Hubbard. Kid's a beast, and he's in line to start in place of the suspended Joey Bosa. The action he gets that night will determine how much play time he gets this season. I believe the redshirt freshman will exceed expectations and find himself with a handful of sacks this year.
Jeff: Early-season prediction time. What four teams will make the 2nd annual College Football Playoff, and which fanbases will cry the most about it?
Spencer: Oh man, putting me on the spot already. This is tough, but here's what I've got.
In ascending order, give me: Ohio State, TCU, FSU, LSU
The case for Ohio State has already been given.
Senior Trevone Boykin returns for his final year with TCU, and I don't see anybody giving them any issues on the way to their first College Football Playoff.
Florida State shouldn't have their running back Dalvin Cook because of his legal problems, but to no surprise the Seminoles start off their year with the sophomore in their backfield. Coming from Notre Dame, Everett Golson will look to end his college career on top by leading Jimbo Fisher to their second straight CFP appearance.
As for the last spot, I gave it to LSU, and that is strictly due to their powerhouse backfield led by sophomore Leonard Fournette. Last season as a freshman and the top recruit in his class, Fournette rushed for over 1000 yards to carry the Tigers' offense. Now with Anthony Jennings and a disappointing 2014 in the rear-view mirror, Fournette and quarterback Brandon Harris get a fresh start to put themselves back into contention.
I would have put Michigan State into this mix, but I know most wouldn't believe that two Big Ten teams could POSSIBLY make up half of the top four teams in the country. If the Spartans and Buckeyes are both undefeated by the time they meet up, it very well could happen.
Spencer: To wrap this back-and-forth up, Jeff, I ask you the same question. Who's your Top 4?
Jeff: Ohio State is going to the playoffs, even if they have one loss. I think they'll go into the CFP at 13-0, but 12-1 would carry them over anyway. They'll take the top slot.
The second slot will go to TCU. They're too good, and the lobbying to get a Big 12 team in will be overwhelming this season. Although, I will admit that I'll be cheering for Baylor to knock them off again and create another controversy. That league needs a championship game, and the expansion that they scramble to create next season will be fun to watch.
USC is pulling in the third seed. Oregon is going to get smacked around a few times this year, and the Trojans are going to be one of those teams. They'll win the Pac-12 and grab a spot with a one-loss season.
I'm going to pull the trigger on your comment, Spencer. Michigan State will get that final spot after going 11-1, and the entire SEC will implode in a flood of the most delicious tears you have ever seen. ESPN will devote hours to the travesty of leaving a 10-3 Auburn out of the playoffs, and start screaming about strength of schedule, completely ignoring that Auburn played Idaho two weeks earlier.
See you Monday night, Buckeye fans!!!!

NEO Sports Insiders Newsletter
Sign up to receive our NEOSI newsletter, and keep up to date with all the latest Cleveland sports news.