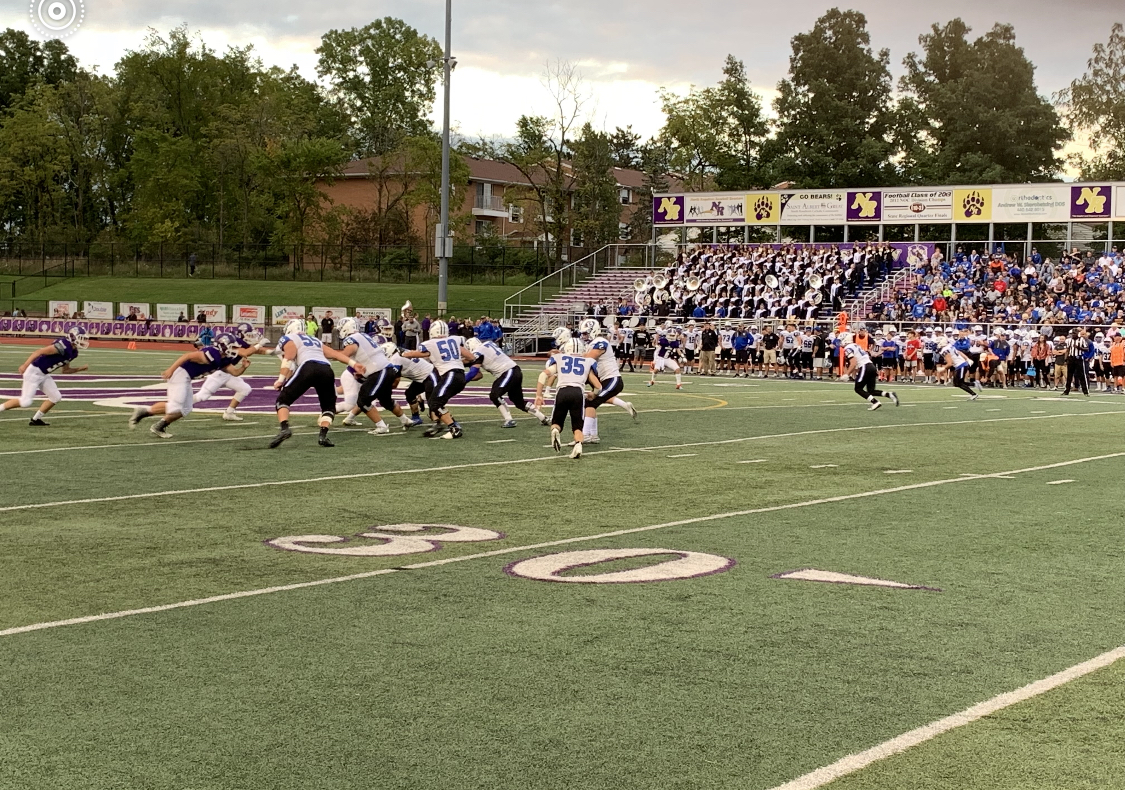 NORTH ROYALTON, OH – Fresh off a Week 1 upset over the Lorain Titans, the Brunswick Blue Devils sought to make it two in a row as they visited the North Royalton Bears at Serpentini Chevrolet Stadium.
Mission accomplished, as the Blue Devils rolled, 49–0.
With the win, Brunswick has already surpassed the 2018 squad that managed only one win for the campaign.
And while this is only Week 2, Brunswick is looking to keep the good times rolling throughout the season.
Brunswick Head Coach Mark Pinzone said, "Everybody has really bought in to something special here, and now we'll see if we can keep it going. It's a long season, and it's only two games."
Brunswick struck first with a 39-yd pass play from Junior quarterback Jacob Scherette to Senior wideout Jack Miller at 8:55 of the first quarter, capping a 7-play, 62-yd drive. The PAT gave them the 7 – 0 lead.
The Bears then had their first crack, led by Senior standout quarterback Joe Marousek, but the drive ended almost as soon as it started. Being chased out the pocket, Marousek was intercepted on his first throw of the night.
This same theme would play out all night long.
Needing only three plays, Brunswick scored their second touchdown 89 seconds after their first one on a 6-yd keeper by Scherette. The Blue Devils were up 14 – 0 less than five minutes into the game.
On their next possession, the Blue Devils chewed up the clock, going on a 14-play, 75-yd drive, culminating in Scherette's second touchdown run of the game, this time from 4 yards out.
With 11:20 left in the first half, Brunswick was up 21 – 0, and the rout was on.
For the rest of the half, Brunswick's defense would harass and shut down Marousek and the Bears offense, picking off two more Marousek passes, while pitching a first-half shutout.
The Blue Devils offense, on the other hand, had little trouble moving the ball, and moving it fast, in building an insurmountable 42–0 lead at the half.
In that monster second quarter, Scherette would connect on two more touchdown passes, first to Junior receiver Jacob Dye, then to Senior receiver Nicholas Hoover.
Sandwiched between the two scoring passes, Junior running back Nicholas Vadini scored on 46-yard touchdown run.
For the game, Scherette completed twelve passes for 126 yards and 3 touchdowns. He added 56 yards and two touchdowns on the ground. All came in the first half.
Vadini ran for 115 yards on only nine carries and added the one touchdown run.
For the game, Brunswick tallied 390 yards of offense.
Meanwhile, Marousek struggled for the Bears, completing only 4-of-12 passes for 55 yards with three interceptions.
The lone offensive standout for the Bears was Senior running back Simon Antonio who gained 48 yards rushing on seven carries.
The Bears managed a meager 91 yards of total offense on the night.
With a running clock in the second half, and both teams' starters off the field, Brunwick scored one more touchdown on a 13-yd run by Junior running back Brandon Koenig early in the third quarter to provide the final score of 49-0.
"Right now I'm pleased with everything, Pinzone said about his teams effort.
"I watch what we do in practice. I felt real good about what we could do. The game plan our offensive coordinator put forth for the week and the preparation by our O line coaches, and the kids responded well, we had a great week of practice."
About his star quarterback Scherette, Coach Pinzone said, "I can't say enough about Jake Scherette. He's fantastic, he's such a fierce competitor. He's fun to watch, he likes having fun playing."
Another impressive aspect in the Blue Devils win was their kicking game. Senior kicker Justin Hagler hit all seven PAT attempts and also kicked multiple kickoffs into the endzone for touchbacks.
All in all, this was a dominating performance by the Blue Devils in all phases of the game, as they look to make a statement in the hyper-competitive Greater Cleveland Conference.
For the Bears, they will have to regroup, find out what did not work, and try to right the ship before getting into Suburban League play.
For Week three, the Blue Devils return home for a non-conference matchup with Rhodes, who lost tonight to Warren Harding 56-0, while North Royalton will host the Highland Hornets, 31–0 losers to Medina.

NEO Sports Insiders Newsletter
Sign up to receive our NEOSI newsletter, and keep up to date with all the latest Cleveland sports news.