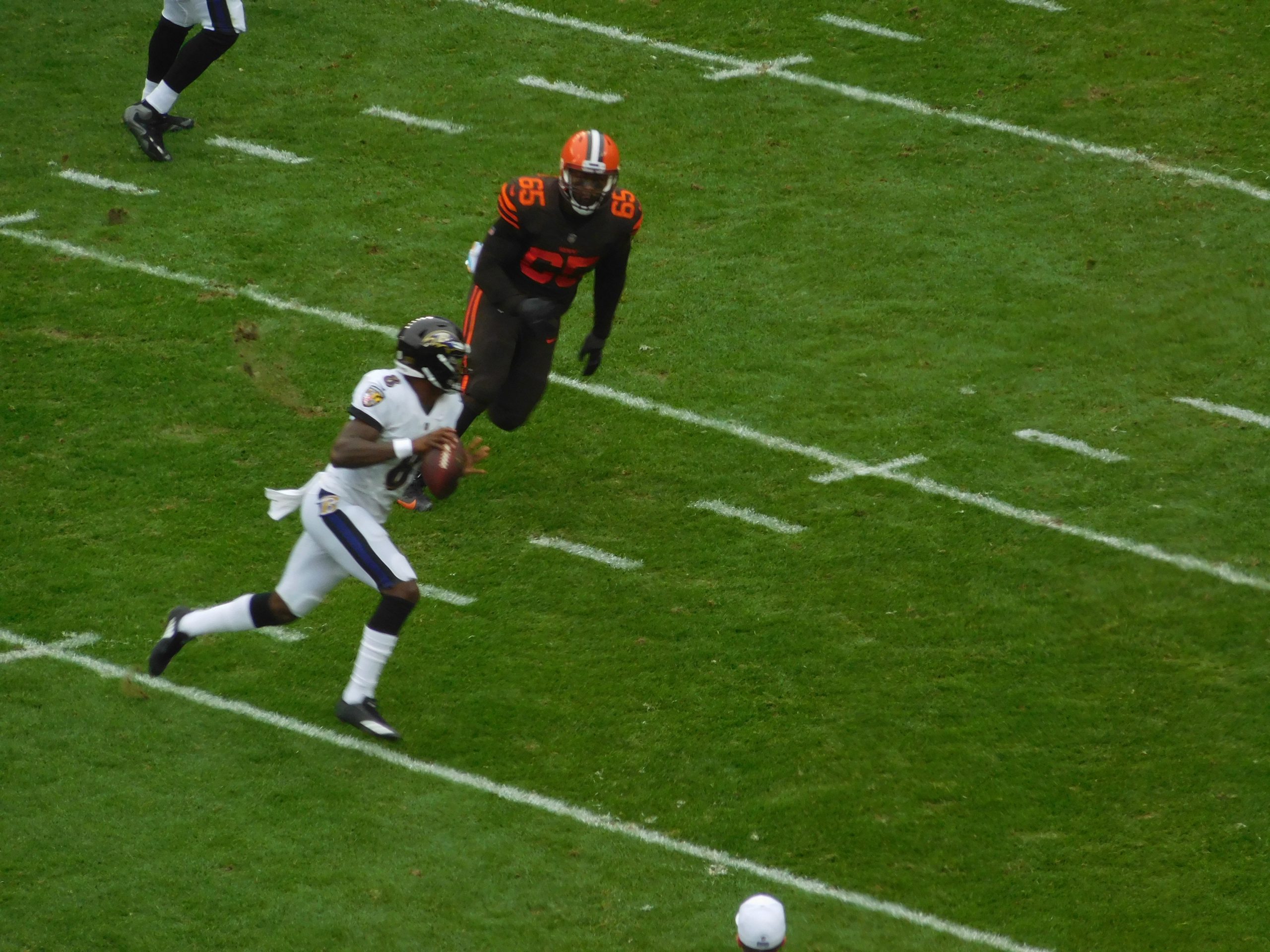 Times have certainly changed for the Browns in terms of where they stood just two months ago when they were 2-6-1, and now they sit at 7-7-1 with one game left in the 2018 season.
While they won't be going to the playoffs, they know that their game against the Ravens in Baltimore on Sunday holds the key for another rival in the division and if they play past week 17 – the Pittsburgh Steelers.
Steeler fans and even Pittsburgh star wide out Antonio Brown have taken to social media to express their support of the Browns this week, as a Cleveland win in Baltimore and a Steelers home win over the fading fast Bengals would give them the AFC North title and a home game next weekend.
A Browns loss to the Ravens and it won't matter what the Steelers do, as they would miss the playoffs unless of an unlikely tie in the Sunday night game between the Colts and Titans.
Thursday Browns interim coach Gregg Williams was asked how many gifts he has received from the Steelers this week, trying to spur the Browns on to victory.
"None personally. I have just heard some things from family and that kind of stuff," Williams said.
"There are several guys on that staff that we have been on several staffs together with, too, and a couple of players over there I have had the chance to coach. It is what it is. We have to go ahead and do our job.
"It is about how we focus to do our job. That is just one of the other window dressing things that goes on out there."
Most Browns players have been diplomatic about how they are handling questions about the Steelers, saying that winning Sunday in Baltimore isn't about them, but about a Browns team that would head into the offseason with a ton of momentum and a mark in the division of 4-1-1.
"I am just going into the game and approaching it as we are trying to finish 8-7-1," Browns CB Damarious Randall said.
"Whatever results of that, it just results of it. I do not really think about if we win, we are helping Pittsburgh or if we lose, we are helping the Ravens. I really do not look at it like that."
The Browns already have a win over the Ravens 12-9 earlier in the season in overtime, but that was a very different Ravens squad, one that didn't have rookie QB Lamar Jackson taking all the snaps under center.
Now they have to prepare for not only him, but a hostile atmosphere in Baltimore in basically what will be the Browns Super Bowl and a playoff game for the Ravens.
Keeping the Ravens out of the playoffs would be a treat for the Browns, but to the players on the team it's more about building momentum for 2019.
"I just take enjoyment in winning, period. That is it," Browns WR Jarvis Landry said.

NEO Sports Insiders Newsletter
Sign up to receive our NEOSI newsletter, and keep up to date with all the latest Cleveland sports news.