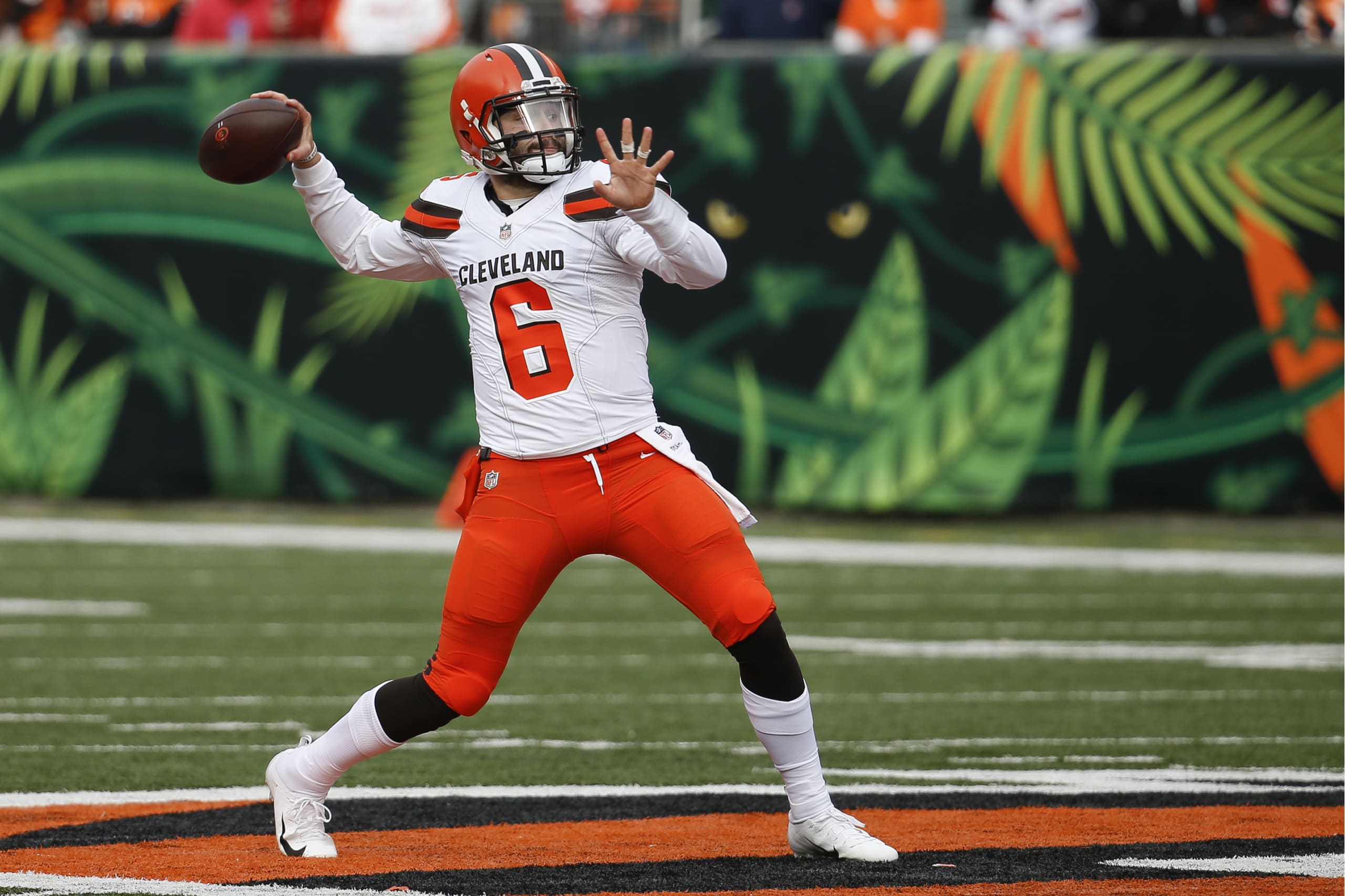 CINCINNATI – It's been a year of ending streaks for the Cleveland Browns. A Week Three win over the Jets snapped a 19 game winless streak. Two weeks after that a hard-fought 12-9 victory over the Ravens was the franchise's first win on a Sunday in 36 games and their first win over a division foe in three seasons. Now, a 35-20 win over the Bengals ended what was a 25-game road losing streak, which dated back to 2015.
Ironically enough, the Browns former head coach Hue Jackson was in the building to see his former team conquer another one of the streaks he helped perpetuate over two and a half seasons. After joining the Bengals staff as a special assistant to head coach Marvin Lewis, Jackson was on the losing end of Cleveland toppling its latest streak.
In three games, interim head coach Gregg Williams has won more games than Jackson did through his first two seasons has the team's head man. Throughout the week, Browns players downplayed the notion that Jackson's presence on the opposite sideline provided any extra motivation for the team, but they sure came out with a little extra juice. Cleveland scored a touchdown on its opening drive of the game and never looked back, exploding for a 28-point first half. Third-string quarterback Jeff Driskel tried to rally the Bengals late but the whole was just too big to dig themselves out of.
Here are five takeaways from the Browns fourth win of the season:
1) First Half Explosion
This game was truly a tale of two halves. The Browns got off to a scorching hot start to the game, scoring a touchdown on their opening drive of the game for the first time this season on a 10-play, 78-yard drive. It was a beautifully executed drive on all fronts, capped off with Nick Chubb punching it in from one-yard out. Cleveland quickly followed that up by blocking a 54-yard field goal on Cincinnati's first series of the game to keep them off the scoreboard.
The Browns were far from done though as they scored touchdowns on each of their next three possessions, hanging 28 points on Cincinnati before halftime. Baker Mayfield hit fellow rookie Antonio Callaway from 11 yards out on the second score. Mayfield found tight end David Njoku for six on the third drive of the game. And it was Chubb mossing a Bengals defensive back on a 22-yard pass from Mayfield for the fourth TD of the half. That one is worth watching again.
WHAT. A. CATCH.#CLEvsCIN pic.twitter.com/fyMblnLZIB

— Cleveland Browns (@Browns) November 25, 2018
28 points were the most by Cleveland in the first half of a game since 1991. The quick-striking offense the Browns showcased on Sunday was nonexistent when Todd Haley was calling the shots. Freddie Kitchens has pushed all the right buttons since taking over as OC and it's culminated in an offense that is averaging 28 points per game under his guidance. The fact that it's the Browns rookies who are leading the charge speaks to the bright future ahead for that group.
2) Second Half Disappearing Act
Now for the bad. That hot start was wonderful to see from a Browns offense that has had its fair share of first-half struggles this year. But those struggles reared their ugly head in the second half where the Browns scored just one time and nearly let Cincinnati off the mat.
What's wild is that the Bengals comeback effort was led by an unlikely name in third-string quarterback Jeff Driskel who took over for Andy Dalton in the third quarter after he left with an injury. At the time Cincy was down 35-7 and Driskel had Browns fans a little nervous after leading the Bengals on back-to-back touchown drives at the end of the third quarter and early fourth quarter. Driskel went on to lead a drive deep into Browns territory with a chance to make it a one-score game but wound up turning it over on downs. Cincinnati turned it over on downs again on their final drive of the game, which ended at their own 45-yardline.
Meanwhile the offense that exploded for 258 points in the first half was almost non-existent in the second. The Browns went three and out twice, punted four times and only crossed the 50 once on their own. It was the definition of a Jekyll and Hyde performance from the offense and it almost cost them. As this young team continues to grow they'll get better at keeping their foot on the gas.
3) Woke up Feeling Dangerous (Again)
Two weeks ago everyone got to hear Baker Mayfield miced up parading around the field talking about how he woke up feeling dangerous after completing his first 13 passes and leading the Browns to a win over Atlanta. He looked pretty dangerous against Cincinnati on Sunday too. Mayfield picked up where he left off against the Falcons, completing his first six passes of the game on Cleveland's opening drive.
For the day he completed 19 of his 26 passes for 258 yards and a career-high four touchdowns. In his first six games Mayfield had thrown eight TDs and six interceptions. Over the last three games, the No. 1 overall pick has nine touchdowns and one interception. What changed since then? Hue Jackson and Todd Haley were fired. That's hardly a coincidence. Freddie Kitchens has been revolutionary for Mayfield. The results speak for themselves.
4) Turnover Machines
The Browns defense just continues to one of the league's top dogs in regards to forcing turnovers. An interception and a fumble recovery against Cincinnati brought there total takeaways to 27 for the season. Safety Damarious Randall snared his third interception of the season in the second quarter, tying him with rookie CB Denzel Ward for the most on the team this season. The fumble came in the third quarter via an errant snap from Billy Price that was recovered by Emmanuel Ogbah and set the Browns up at the Bengals seven. Most importantly though, the Browns scored touchdowns off both turnovers, which was a well documented issue for this team throughout most of the season. It's encouraging to see them finally turning takeaways into points.
5) So much for that insight…
Leading up to Sunday it sure didn't seem like Browns players were too worried about what Hue Jackson knew about their playbook. In fact, one reporter asked Baker Mayfield about it being an advantage for Cincinnati and Mayfield's literal response was "just no."
When push came to shove out on the field it clearly didn't matter at all. Cleveland couldn't be stopped for the entire first half and when the Bengals finally started figuring out how to slow the Browns down it was too little too late. Whatever the motive for hiring Jackson was – some have wondered if Cincy having two games left on the schedule against Cleveland was a major factor – it resulted in a 0-2 record since he joined the staff.

NEO Sports Insiders Newsletter
Sign up to receive our NEOSI newsletter, and keep up to date with all the latest Cleveland sports news.