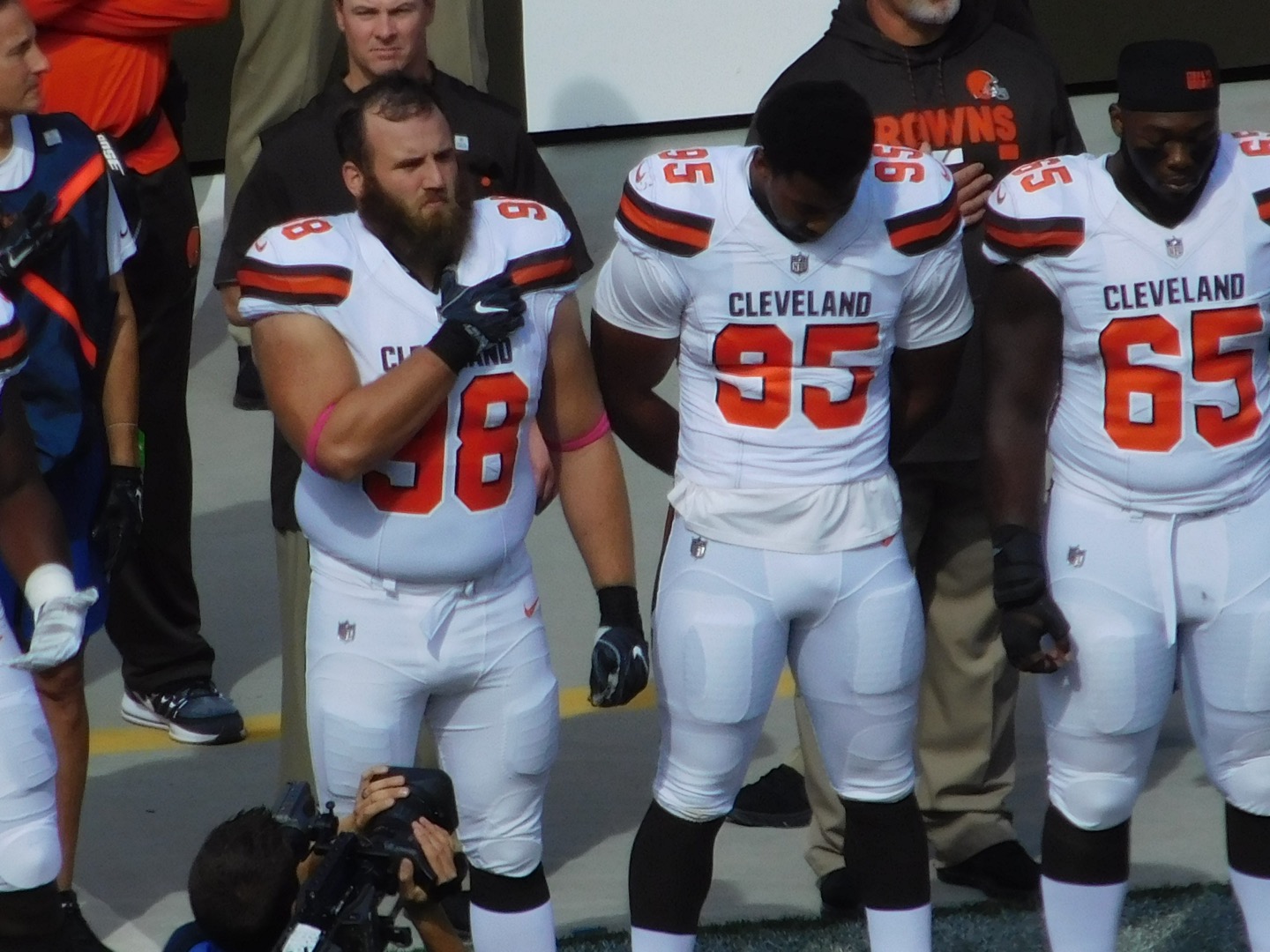 By Nick Broulis
Will the Browns, once again, make the NFL draft seem like rocket science? The Broulis Beat Report knows there's definitely a chance. That and more in this edition of the Broulis Beat Report.
Here's my main frustration when it comes to the Browns. Why does it seem like they feel they must take a QB in the first round? They make you feel like the entire team revolves around the QB. I was told quite a few years ago by some people, that Cleveland's biggest problem, when it comes to the draft, is they're always drafting a quarterback high and not selecting the best player available. This team needs so much more than a quarterback.
Isn't it obvious?
During the off-season, Cleveland should be doing what they need to, to bring in a quality veteran QB, who can be named the starter. So, therefore, why waste your #1 pick on a quarterback, that shouldn't even see playing time in 2018, unless he's forced into action due to injury from two other quarterbacks. Yes, I'm talking about the veteran QB and DeShone Kizer. Cleveland needs to draft immediate impact players with their first 4 picks. This team is so deprived of talent, that the first four players should be able to be starters in week one.
I don't want to hear anyone say, "You're just not allowed to draft a RB that high". There is no rule against drafting a running back high. Saquon Barkley is THE BEST player in this draft. So, common sense is, you take him at 1, then you take the best player available at 4. You keep with that philosophy until you come to the conclusion that whatever QB is still on the board, you say to yourself, ok, this is the best play available on the board. That's when you take the quarterback.
But, knowing the Browns, they'll do the complete opposite. I agree that a good quarterback can make others around him better, but this team is not in a position to take chances. They need to go with the safest pick. Neither of these quarterbacks have blown me away, that's for sure. All of them need to sit one season.
I've had talks with other people about the Browns offensive line and that it isn't the best. Here's my counter. While I agree that Cleveland definitely doesn't have the best offensive line, it's not the worst. Isaiah Crowell is an average back at best.
Now, behind that same line, there is no argument that Duke Johnson was clearly the better back and again, he ran behind the same line. Cleveland doesn't have the worst line in football, sure, there's room for improvement, but having a running back with great balance, speed and field vision, like Barkley, would be nice to add to an offense that was beyond unwatchable at times.
Speaking of the offensively line, I'm leaning towards left tackle Joe Thomas retiring. Right now, I don't think the Browns have his replacement on the roster. Spencer Drango took over for Thomas and did a decent job and should be given a chance to win that position, if Thomas does indeed retire. While I agree that it would be smart to draft an offensive lineman at some point during the draft, I wouldn't be using a high pick to do so.
This draft doesn't have many good lineman, let alone offensive tackles, that are worthy of a high draft selection. It would be smart for Cleveland to use some of their cap space and go out and sign one of the top left tackles through free-agency and that will give them time to scout linemen in the next draft and allow them to possibly see if Drango can be Joe Thomas' replacement.
I'm hoping the Browns go out and sign former Brown Terrelle Pryor. While Pryor didn't have a good season last year, he seemed to enjoy and play well when in Cleveland. The Browns could get him at a good price as well. I also noticed that tight end Jimmy Graham is an unrestricted free-agent.
Seattle has never used him enough in my opinion. He's a big target and 31 years old. While I realize the Browns have a lot of players at the tight end position, it wouldn't hurt to sign a player like Graham and add a veteran to that position. Especially as talented as Graham. Cleveland could use Graham and second year man David Njoku in their two tight-end sets, especially when they enter the red zone. Cleveland could use some veterans at the skilled positions and bringing in both Pryor and Graham would help on the offensive side of the ball.

NEO Sports Insiders Newsletter
Sign up to receive our NEOSI newsletter, and keep up to date with all the latest Cleveland sports news.