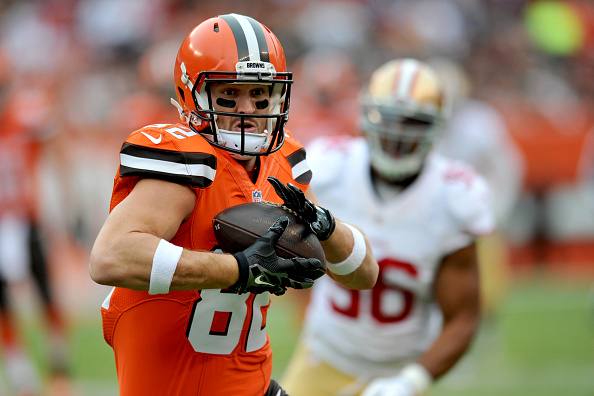 Like most Browns news, it wasn't about what actually happened but more about what didn't happen. This time it involves the Pro Bowl. The big shock was that TE Gary Barnidge did not make his first Pro Bowl while OT Joe Thomas (ninth) and C Alex Mack (third) are left as the representatives for the Browns.
Thomas should not come as a surprise to anyone. He has yet to miss a snap in his career and seemed to not allow many pressures from his position for an offensive line that played relatively poor this season. People may argue that his false starts seemed to increase, but once again that is minor when compared to protecting your QB from taking any hits.
Mack making the Pro Bowl comes as a little bit of a surprise. Mack is still regarded as one of the top centers in the NFL but his production was also not as great this year. The Browns currently rank 29th in the NFL rushing yards. Some of that may stem from playing behind for most of the season, with their losses coming at an average of just over 15 points per game.
At the same time, that does not justify being fifth worst with an average YPC of just 3.8. That fact might be more of a combination of poor clay calling, blocking, and running backs not doing their job. Mack is right up in there in the middle and should be helping direct blocking schemes in addition to making key blocks to spring the big runs.
He is also part of that middle that has allowed the third highest sack total with 46. Once again the sacks aren't his entire fault. Cam Erving and Mitchell Schwartz have been routinely beat; Johnny Manziel is still pretty new to diagnosing defenses allowing for unblocked defenders, and the horrendous receiving core forces for the QB to hold onto the ball longer.
At the end of the day, Thomas and Mack are not the ones to blame for the struggles and their reputation is still great. It's evident by their selection to multiple Pro Bowls in what is unfortunately becoming a popularity contest.
The Pro Bowl like all the all-star games is becoming a popularity thing. Most of the games are pretty terrible to watch. In the NFL nobody wants to get hurt in it so defense is meaningless. If I'm a captain for the game, I'm picking about seven or eight players on offense before I'd even waste a pick on defense. It's the same in the NBA where you end up with finals of like 148 to 144. Most of the other events surrounding it don't even do justice anymore.
Nobody cares about a NFL skills competition (they got rid of it) and the slam dunk contest is running out of steam just because you can't make up any more new dunks to top the ones we have year in and out. The only one that does it right is baseball. The game has meaning for homefield advantage so the players play their hardest in game. The Home Run Derby is also among the most entertaining things to watch in sports. With the All-Star games, the thing going for it is that you have the best of the best all in one place.
However that leads us to the big controversy. The best of the best are not getting rewarded like they should. Those are the kinds of guys that end up with the title of All-Pro and get the stat honors but don't get the publicity or public awareness of the Pro Bowl.
The prime example was four years ago when Yao Ming was technically voted a starter in the All-Star game despite suffering a season ending injury and only playing in five games that season. It's stupid. The fans should not have a vote in these things unless you make it like the Heisman where it's so miniscule or you rename it the popularity game. If this is going to be the game where the best players are, how can Barnidge be left out? Time for a blind resume:
Player A 65 receptions, 822 yards, 4 TDs
Player B 48 receptions, 564 yards, 12 TDs
Player C 68 receptions, 930 yards, 9 TDs
Do you have any guesses? Player A is Travis Kelce. Player B is Tyler Eifert. Player C is Gary Barnidge.