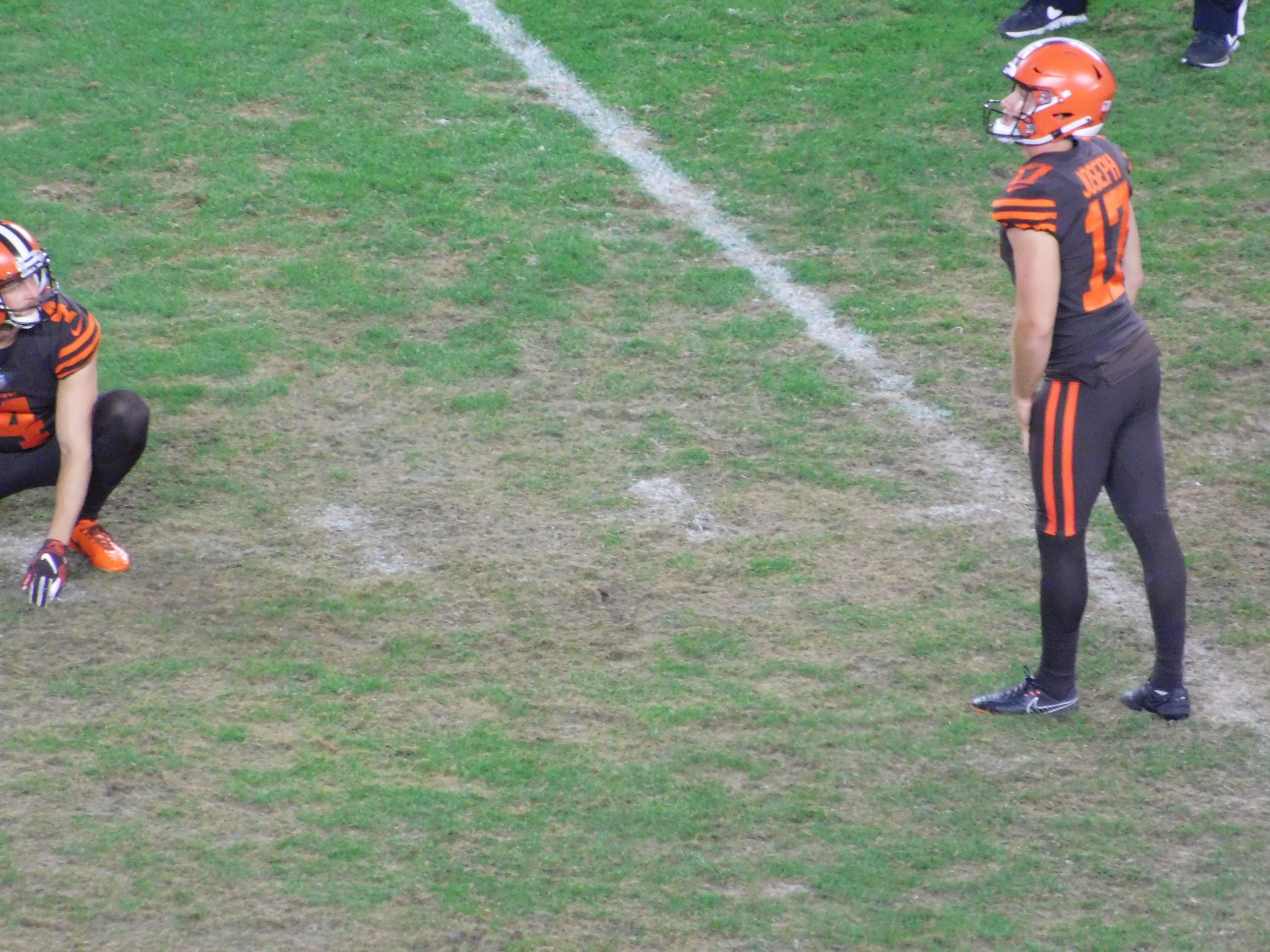 Through five games the Cleveland Browns special teams have been far from special. Of course, the most egregious of special teams blunders belonged to placekicker Zane Gonzalez, who lost his job after missing two field goals and two extra points in that Week Two loss to the Saints.
If you thought the Cleveland's placekicking deficiency was resolved after Gonzalez was replaced with undrafted rookie Greg Joseph, think again. Joseph was a perfect three-for-three on PATs and four-for-four on field goals in his first two weeks of work, but left Browns fans weary after missing a PAT in Sunday's win over the Ravens then barely squeaking that game-winning 37-yard field goal through the uprights.
As inconsistent as the placekicking has been, the Browns special teams woes hardly stop there. So just how bad have Cleveland's special teams been? Let's take a look…
Kickoff Returns

Let's start with kickoff returns.  The Browns 12 kickoff returns are currently tied for the third most in the NFL with a handful of teams. On those 12 returns they've totaled 235 yards, a figure that sits just outside the top 10. It's their average yards per return (19.6 yards) though that is worrisome. That average ranks in the bottom third of the league. In recent years, team's are attempting to return less than 40-percent of kickoffs so you have to make the most of the kick that are returnable. The Browns have not.
Punt Returns
Bad as their kick returns have been, the Browns punt returns have been even worse. On 12 punt returns Cleveland has accumulated just 68 yards, which ranks near the middle of the NFL. However, that equates to a minuscule average of just 5.7 yards per attempt. Only nine teams average less yards per attempt on punt returns.
Jabrill Peppers
Jabrill Peppers called Browns fans wishy-washy last week after he faced criticism for getting off to a slow start to his sophomore season. Included in that are his struggles as the team's primary returner. Peppers has looked completely lost at times. One of his most egregious errors came in the season opener against Pittsburgh when he signaled for a fair catch on a punt at his own 19 in overtime with at least 20 yards of open field in front of him. Those yards could have been crucial in Cleveland winning that game instead of walking away with a tie on their resumé.
Of the Browns 12 punt returns, Peppers has taken nine of them for 49 yards, which ranks 16th among the 40 qualified punt returners. That qualified number drops to 18 players though when looking at average yards per return, where Pepper's 5.4 average ranks third worst.
As far as kickoff return go, his marks are better. On eight returns he's ammased 170 total yards and a 21.3 yards per return average. Regardless, it's not as if the 2017 first-round pick has been some spark in the role. Of the 13 qualified players who have returned kickoffs this season, Peppers ranks ninth in avg. yards per return. In the battle of field position, having the right guy back fielding kicks is essential, and while Peppers is a tremendous athlete his numbers aren't really flipping the field in the Browns favor.
Opposing Kick and Punt Returns
Speaking of being set up with good field position, the Browns struggles on special teams doesn't stop with their own returns. That's right, opponents are finding just as much if not more success returning kicks against Cleveland's coverage teams.
Now it must be noted that the majority of the time teams aren't even returning kickoffs against the Browns because they're continually booming their kicks into the end zone. Truthfully, not giving your opponent the option of returning a kick is the best defense against poor kickoff coverage. Regardless, on the five kicks opposing teams have returned, the coverage has surrendered 138 yards for an average of 27.6 yards per return. That's the fifth highest average yards per attempt in the NFL.
The Browns punt return coverage is even worse. Cleveland is leading the league in number of punt returns against (18) and total yards allowed on those punt returns (225). Meanwhile, their 12.5 avg. yards allowed per return ranks as the fifth highest. Again, in the field position battle covering kicks is crucial. The Browns struggles in this area have provided their opponents with an average starting field position around the 30-yard line (29.95 to be exact) and that's the fourth worst mark in the NFL.
In a season where the Browns boast a top 10 defense in a handful of categories and an offense that is gaining steam on a weekly basis with Baker Mayfield under center, it's a shame that their third phase isn't nearly up to snuff. Special teams coach Amos Jones has his work cut out for him. If his groups don't show massive improvements by the end of the season he'll be looking for work this winter.
Follow: @Spencito_

NEO Sports Insiders Newsletter
Sign up to receive our NEOSI newsletter, and keep up to date with all the latest Cleveland sports news.