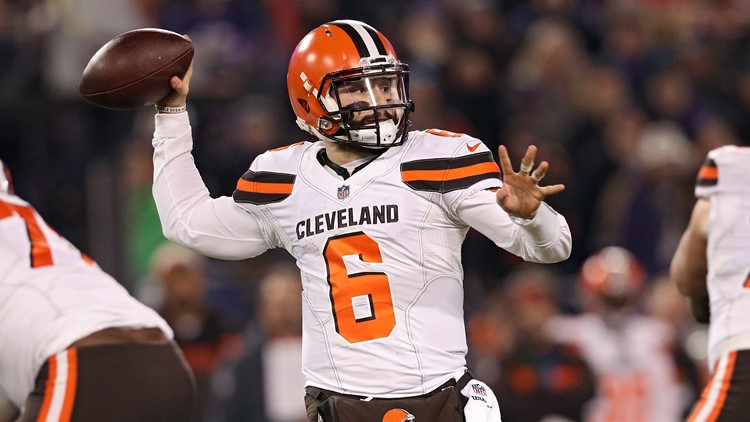 When the Cleveland Browns drafted Baker Mayfield, they hoped they were getting a unique, talented quarterback that could take the offense to the next level. After seeing how well he played last season, it is safe to say they got the right guy.
However, if they want to get the most out of his talent, skill, leadership, they need to give him the best team they can to work with. He has a good running back in Nick Chubb, a good possession receiver in Jarvis Landry, and an up-and-coming tight end in David Njoku.
What he doesn't have is a home run hitter; a receiver that defenses fear and can break the game wide open on any given play.
So—how do they go about getting one and who should they get?
There are only two ways to get someone of course, either through the draft or the free agency/trade market. You could say that developing one could be a third. Still, the Browns don't have anyone that could fit the bill right now. As it turns out, there is talk tying them to two receivers, one they would draft and the other they would have to trade for.
After having a decent record last year, the Browns are not drafting in the top of the order but with the 17th pick. With that pick, many experts and mock drafts have the Browns taking Ole Miss wide receiver D.K. Metcalf.
He has the size (6'3" and 228 lbs.) teams want in their wide receivers. At the Combine, he proved himself to be an incredible athlete as well after performing well (and there is that picture of him in the gym looking incredibly muscular that has gone viral).
In college, he wasn't a stat monster, and he did have some injury issues. Nonetheless, he has shown enough that he is considered the No. 1 receiver in the draft over guys who did produce more.
Is he a home run hitter? Can he be the missing link for the Browns offense? It is impossible to tell for sure, but there is something to be said in having a young receiver like Metcalf for a young quarterback like Mayfield to work with. If he does end up becoming the home run hitter—even better.
Of course, it doesn't hurt that he wants to be there. He had this to say about playing in Cleveland:
"Just to play with a quarterback like Baker Mayfield is going to be great. You know, it's just another blessed opportunity just to get drafted by the Cleveland Browns organization, so I'm going to take it one step at a time right now."
He looks great, he says the right things, but we don't know how his game will translate to the NFL. We do know, however, how another wide receiver's game has translated to the NFL because he has been one of the most electric and exciting players since his rookie season—New York Giants wide receiver Odell Beckham Jr..
Officially, he is not on the market, but Giants officials have done a terrible job of convincing people that is indeed the case leading to tons of speculation. Recent rumors have the Browns connected to OBJ with something potentially cooking.
It is just a rumor, for the time being, with nothing to substantiate it. But it is out there. The Browns have the cap space to handle his contract. However, if the rumors are true, do they want to give up a first round pick, a quality offensive lineman, and a later-round pick for him?
On the one hand, if you look at his production, the answer is a resounding yes. However, is he worth weakening your offensive line and the two players those draft picks could have added? Then there is also the cap space that could have been used on a player to fill another need.
Odell Beckham Jr. would give Baker Mayfield a great weapon to work with. However, then he would create a hole on the offensive line and would keep the team from filling another through the draft. As tempting as it must be to acquire him (assuming he is available), the safer, long-term move may be to build through the draft instead.
That may mean the Browns are no better than a team with +2200 odds to win the Super Bowl next season. Their odds in 2020, though…