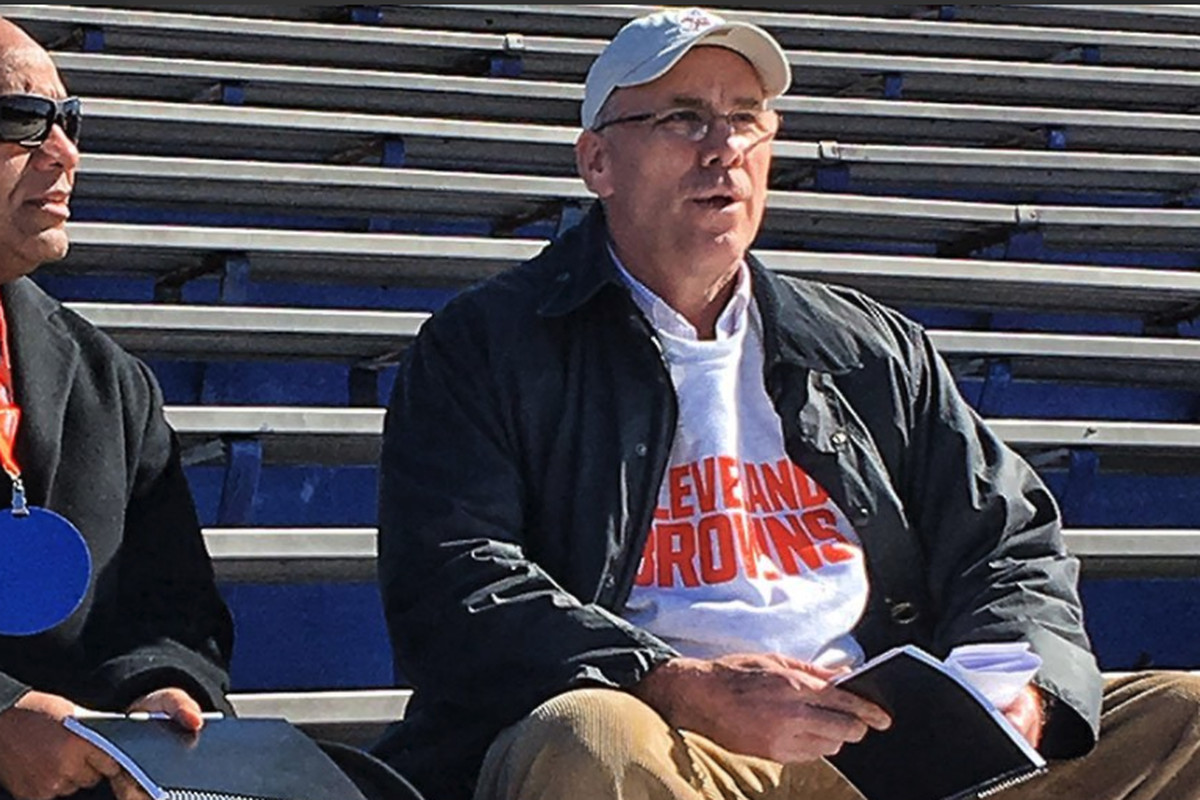 The 2018 NFL Draft keeps rolling on Friday in Dallas, Texas, as the second round kicks off at 7 p.m. tonight. For once, it seems as if Browns fans are pretty confident about how they fared in round one. At least most of them.
That's good for the second day of draft festivities, as Cleveland won't have to backtrack and try to score guys later that they hope become superstars.
Don't get it twisted, if they can find game-changers throughout the middle rounds it's absolutely recommended. But this year's approach provides a different feel to how Cleveland is attacking the draft.
For the first time in years, the Browns refused to trade out of their original spots in the first round. With those picks, they made sure to address the biggest needs on the team– quarterback and cornerback. Not only did they recognize and fill the holes, they grabbed the best prospects at each spot.
Scoring Baker Mayfield was a huge get. Not only is he a proven winner, he's also got the stats to back it up. Too many times it seems pundits get caught up on winning and sell it as the ultimate point to draft a certain player. That's not what's being implied here. Instead, winning at a high level just adds to the resume of Mayfield.
Mayfield is a guy who started off as a walk-on at Texas Tech. He worked his way to the starting job and excelled for the Red Raiders. After one season, Mayfield felt it was necessary to go test himself again and transferred to Oklahoma University. It didn't take long for him to snatch the starting role once again and from there, the legend grew.
After falling just short of the Heisman Trophy honors his junior season, Mayfield claimed the highest individual award college football has to offer along with getting his Sooners into the College Football Playoff. His last image from his college career was a barn-burner against Georgia, a clash in which his squad fell 54-48. Mayfield had a dazzling performance that left fans wanting him to be their guy. Now, he's the future in Cleveland.
Denzel Ward was an excellent pickup for a number of reasons. The Browns needed secondary help desperately. Despite adding talent in free agency, Cleveland was sorely missing a guy who would line up with the game's best receivers and give them fits. Ward is that guy.
While he isn't going to pick a lot of passes off, that's nothing to worry about when it comes to Ward. The former Buckeye wreaked havoc in the secondary over the course of his two years starting for the team. Whether it was swatting down passes or laying the lumber on big hits, Ward has a knack for the ball and isn't afraid of contact.
It also doesn't hurt that Ward is a hometown guy. He played football at Nordonia High School before moving on to Columbus and Ohio State. Familiarity is a good thing to have when you first start your career, so having family close by should really benefit Ward.
Some may wonder why the Browns didn't grab Bradley Chubb with the fourth pick, as that was met with a lot of disagreement amongst fans. However, it appears Cleveland is very happy with Emmanuel Ogbah and Myles Garrett serving as their pass-rushers off the ends. That led to Ward being selected while Chubb went fifth overall to the Denver Broncos.
But for those worrying that Cleveland may just neglect adding any additional pass-rushers, don't fret. Projected first-rounder Harold Landry out of Boston College along with Michigan's Maurice Hurst remain as two of the bigger pass rushers on the board. The talent pool doesn't drop off from there, as Ohio State's Sam Hubbard also remains available at the start of the second round.
After selecting a quarterback with their first pick in the draft, the Browns could also improve their offense with talented playmakers such as SMU wide receiver Courtland Sutton and LSU running back Derrius Guice still out there. Texas A&M's Christian Kirk and Georgia's Nick Chubb also highlight some of the studs left for taking.
With picks 33, 35, and 64 slotted for Cleveland in the second round, the team has a good opportunity to continue improving on both sides of the football. But with no third-round picks in this year's draft to begin on Friday, one must wonder if a trade may be in the works for John Dorsey and company.
All in all, it was a solid day one for the Browns. They didn't trade down, they grabbed the best prospects at needed positions, and even grabbed a Buckeye. Day two is sure to be even more eventful with all of the talent left on the board.

NEO Sports Insiders Newsletter
Sign up to receive our NEOSI newsletter, and keep up to date with all the latest Cleveland sports news.