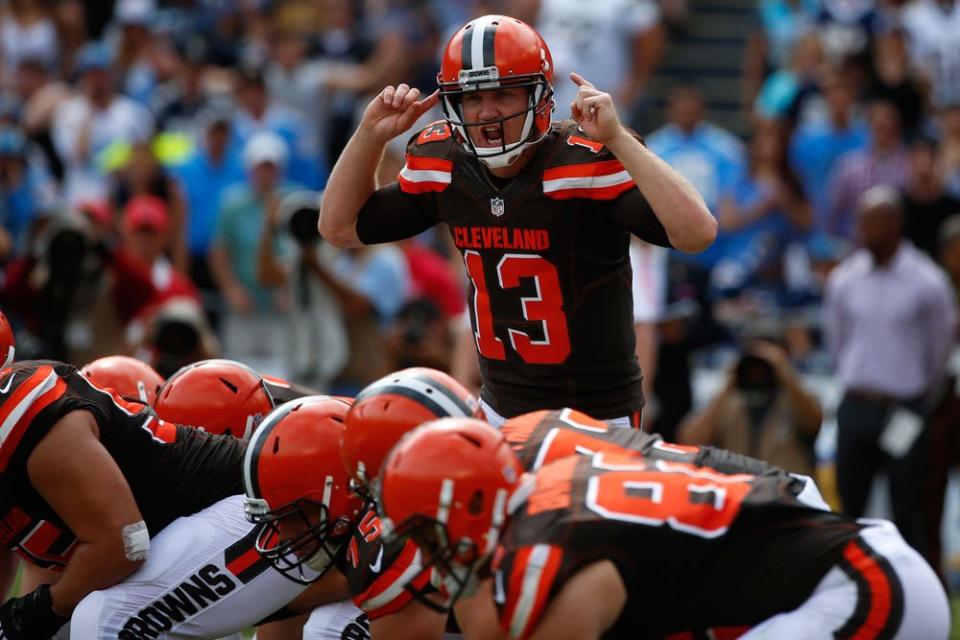 The Cleveland Browns terrible and well documented history with quarterbacks since returning to Cleveland in 1999 is now officially historically bad.
With Robert Griffin III being placed on injured reserve, veteran Josh McCown will start at quarterback Sunday against the Baltimore Ravens at First Energy Stadium for the Browns home opener. With McCown starting, this now means that the Browns are the only team in NFL history to use more than one starting quarterback in 15 consecutive seasons.
Obviously, this isn't a record that the organization is going to hold their heads up to. This comes after Griffin was running towards the sideline to get out of bounds late in the fourth quarter and ended up busting his shoulder in the process.
Here is the complete list of the Cleveland's quarterbacks for each year since their return:
2001: Tim Couch
2002: Tim Couch, Kelly Holcomb
2003: Kelly Holcomb, Tim Couch
2004: Jeff Garcia, Luke McCown, Kelly Holcomb
2005: Trent Dilfer, Charlie Frye
2006: Charlie Frye, Derek Anderson
2007: Derek Anderson, Charlie Frye
2008: Derek Anderson, Ken Dorsey, Brady Quinn, Bruce Gradkowski
2009: Brady Quinn, Derek Anderson
2010: Colt McCoy, Jake Delhomme, Seneca Wallace
2011: Colt Mccoy, Seneca Wallace
2012: Brandon Weeden, Thaddeus Lewis
2013: Jason Campbell, Brandon Weeden, Brian Hoyer
2014: Brian Hoyer, Johnny Manziel, Connor Shaw
2015: Josh McCown, Johnny Manziel, Austin Davis
2016: Robert Griffin III, Josh McCown
That is an ugly list to look at. Josh McCown was the starter last year at the beginning of the season and during the first drive of the first game of the season against the New York Jets, McCown scrambled and dove for the endzone when her was nailed in the head by a defender and suffered a concussion. He's been in the league for 17 years so its hard to see McCown being completely healthy for the entire time that Griffin is out.
Cody Kessler better start prepping as soon as possible because if history tells us anything, its that it repeats itself.

NEO Sports Insiders Newsletter
Sign up to receive our NEOSI newsletter, and keep up to date with all the latest Cleveland sports news.