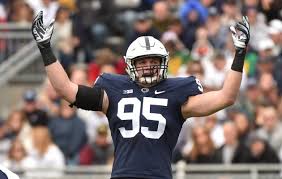 The Cleveland Browns beefed up their pass rushing ability with their third-round pick in the 2016 NFL Draft, selecting DE Carl Nassib out of Penn State with the No. 65 overall pick.
Nassib, 6'7″, 272 pounds, led the nation with 15.5 sacks and six forced fumbles in 2015.
He was named BIG 10 Defensive Player of the Year.
The addition of Nassib as well as second-round pick Emmanuel Ogbah at No. 32 could be a great combination to improve the team's pass rushing ability.